Ladies love gifts, and now that Christmas is here, take advantage of the festivities to spice things up. There is a wide range of gifts to select, ranging from flower vases, make-up kits to lingerie. However, the collection outlined below is quirky and quite unique. The products are of good quality and for keeps. Make this Christmas Stocking Filler fun, Happy shopping!!
1. WHAT ON EARTH Cat Butt Tissue Holder Christmas Stocking Filler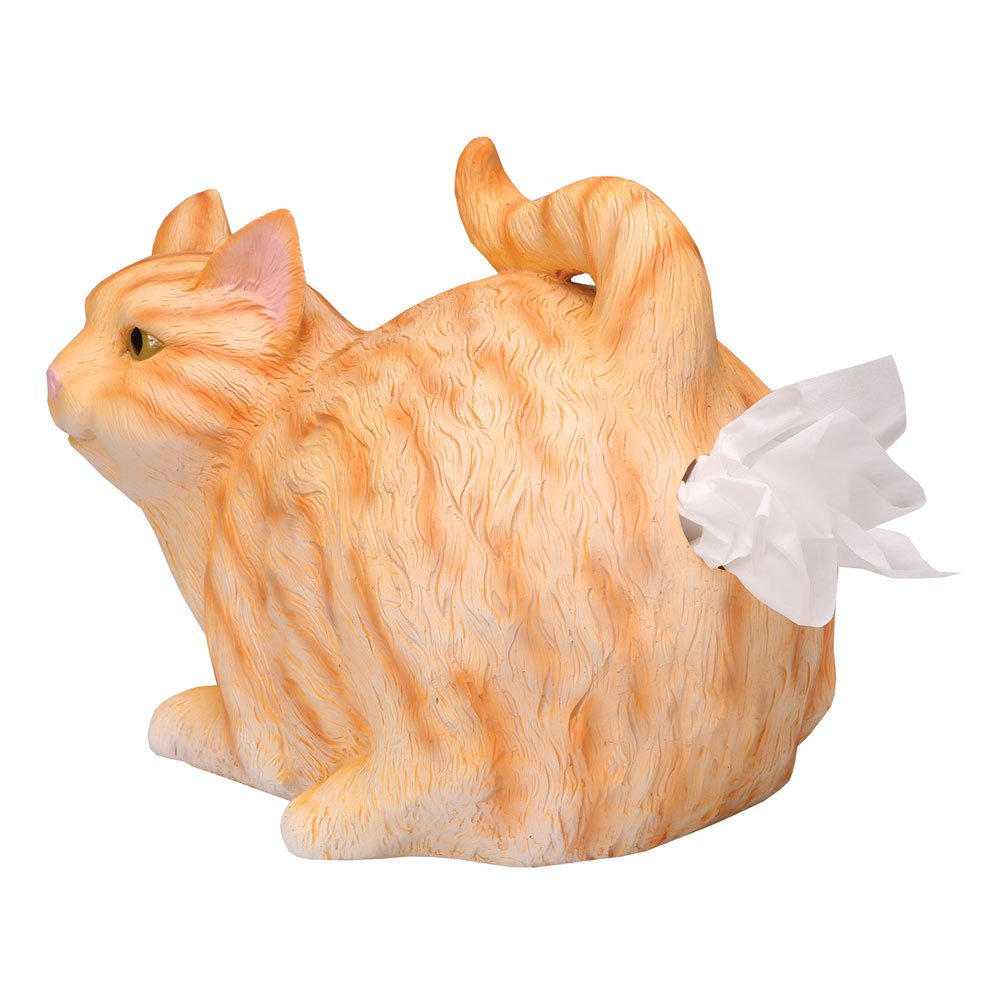 Keep your tissues at close hand with the help of this trusty feline friend. Your female friend, wife or mother is about to get loads of laughs and visitors to their powder room or office to grab tissue from your Christmas stocking filler quirky cat. It measures 12.5″ long x 9.25″ wide and fits standard square tissue boxes, great for a Christmas stocking filler. This makes a great gift for cat lovers far and wide. Each cat butt holder is made of molded resin that is easy to clean and designed to last.
2. 'Size Matters' Wooden Wine Coaster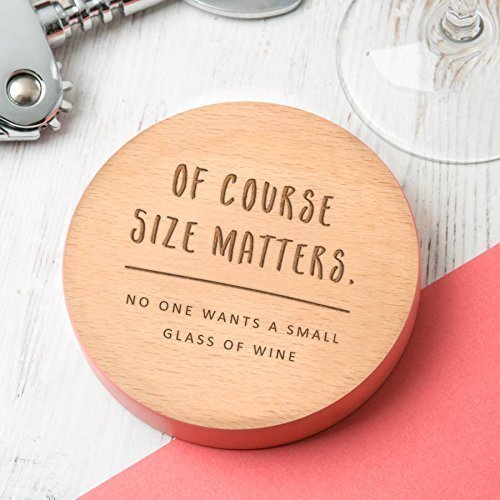 Perfectly handcrafted, this funny drinks coaster engraved with funny words is a perfect Christmas gift for women. there are seven bright or pastel shades colors to choose from. It is handcrafted from a block of the finest quality solid steamed Beech wood and they have a charming design that makes it a beautiful decorative item to display year-round in the living room, dining room or office. At 0.5 inches thick, this chunky wooden coaster is not only made to last but will cause a stir with its wide band of modern colors.
3. 50 Cocks That Won't Disappoint – A Chicken Lovers Cookbook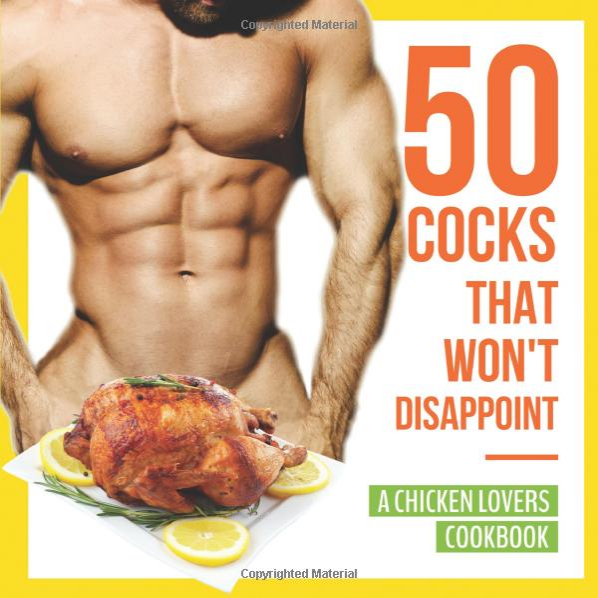 If you are an open minded person about Christmas stocking fillers, then this is the funniest gift item. Well, this is a Dirty Girl Cookbook ideal for your girlfriend, your college girlfriend, your single friend with a cat and Grandma Delores. The book contains 50 recipes which will keep you satisfied all year long. No gift will make your loved ones smile more than this cookbook. Watching their face open up will be worth it more times over and the recipes in there bring families together.
4. PopSolo by tzumi – Professional Bluetooth Karaoke Microphone and Voice Mixer
The karaoke microphone makes great guests at any party and are deigned to make you the star of any scene. This is a great idea for daughters, sisters, girlfriends and wives. It is compatible with any Bluetooth-enabled device (version 4.1), including all IOS and Android phones and tablets. The Popsolo boasts a lightweight enclosed HD speaker and 1300mAh rechargeable lithium battery that provides 5 hours of clear, quality singing. The microphones are built for portability and can easily be carried anywhere. The device measures 10.8″ x 6″ x 3.3″ and weighs about a pound. It is suited for streaming all your music, creating your own original music videos and pairing with all your favorite karaoke applications.
5. Amco 8402 Rub-a-Way Bar Stainless Steel Odor Absorber
This bar of soap is designed to remove odor from hands and is a well suited gift for wives and mothers who spend time in the kitchen. It eliminates smells of garlic, onions and even fish by removing pesky odors. The technology used to manufacture it is such that sulfur compounds bind to the steel efficiently removing the odor. To use, simply rub between your hands as you would with a real bar of soap. A unique feature about this soap is that I can be used with or without water. This makes a great stocking stuffer for avid cooks. It is dishwasher safe for quick and easy clean-up.
6. Female Rituals Yoni Steam Seat and Yoni Steaming Herbs
These are herbs specially formulated for use in vaginal steaming by women of all ages. It comes as a package of herbs and a steam seat. This enables one to carry out steaming in the comfort of their home as opposed to visiting spas hence time and cost saving. The ingredients are the freshest and are all natural. Its design makes it simple to use; in the toilet or on the ground while kneeling while meditating. The custom therapy blend is used and loved by many women around the world. Steaming with the herbs is a good way of keeping that yanni fresh.
7. 2 units -tweexy Wearable Nail Polish Holder – Lilac & Taffy
What better gift to any woman than this set of nail polish holder. They are two separately packaged units that ensure easier polish application and no mess afterwards until it dries up. It holds all nail polish bottles even OPI and fits all fingers perfectly. Two expandable rings are thick enough to naturally keep fingers separated during polishing allowing the hands to relax. The designer envisioned that one would want to do polish application anywhere without a flat surface. On a couch, in bed or in a car. Soft, silicone and durable rubber are used to make the holder hence perfectly indestructible. There are a wide range of colors to choose from and comes in two separate gift boxes.
9. Willow Tree Friendship, sculpted hand-painted keepsake box
Keepsake boxes are small places to keep treasures. Inside the box, at the bottom, reveals a message of love or friendship as a hidden discovery. They are packaged in a fitted box ready fro gifting. 3"square x 2"h hand painted raisin box with a bas-relief carving on lid. It is designed ready to be displayed on a shelf, table or mantel. To clean the box, dust with soft brush or cloth. The figure on this communicates through gesture to represent emotion or a mark of memory. They express love, closeness, healing, courage, hope…emotions of a life well lived.
10. CREASHINE Scented Candles Gift Set of 6
This scented candle gift set includes six different perfumes: lavender, fig, Japanese Persimmon, cedar and juniper , spring, wolfberry and blood orange. Each scented soy candle is 6.5 oz, has long burning hours of guaranteed 30-40 hours each to bring maximum relaxation. The candles are perfectly suited for a romantic evening or a therapy session. They are made using lead-free cotton wicks and premium, soft, highly refined perfumed fragrance oils and wax. The scented candles come in a tin with beautiful art pattern which can be re-used as a decorative storage container. Due to its beautiful packaging, it is a perfect choice gift for women.
11. JR.WHITE Mermaid Tail Blanket for Kids Adult, Hand Crochet Snuggle Mermaid, All Seasons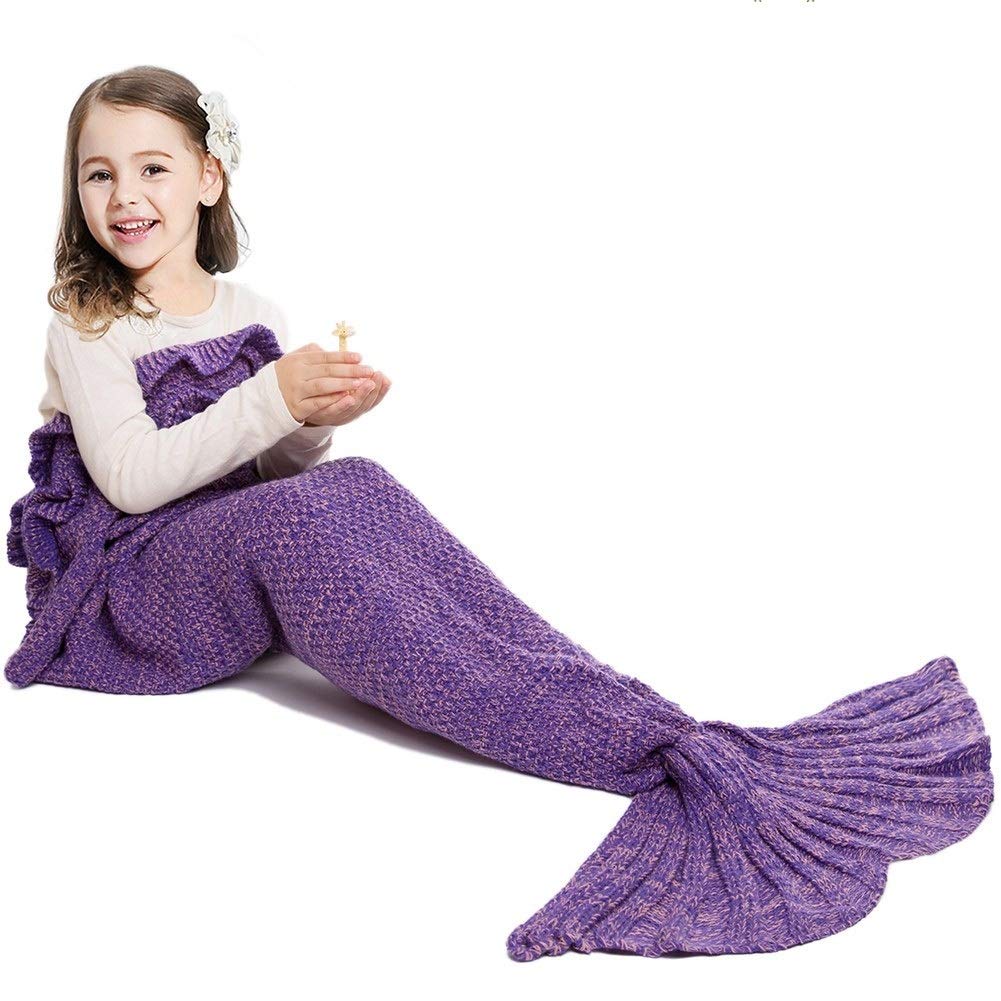 Knit mermaid tail blankets for measures 140×70 cm. The Mermaid blanket suitable blanket gift toy for girl, top gifts for 3-8 year olds. The blanket comes with a mermaid pendant necklace and it is hand-crocheted. It is deigned to slip inside for girls to look and feel like mermaids. This is a dream gift and is a better surprise than ordinary toys. The back and bottom of the mermaid blanket are open for an easy in and out. This can be used on the sofa, in camping, sleepovers, in bed or in a car.
12. Badgerface Exfoliating Foot Scrub for Christmas Stocking Filler
Women love to take care of their skin. Treat your wife, girlfriend or sister to this wonderful product. This has a luxurious blend of all natural botanicals and extracts to elevate skincare routine. It is formulated to repair damaged skin since it is infused with sunflower oil. It also contains Lavender and Geranium for maximum healing. The essential oils used are pure, therapeutic grade and are perfectly balanced for optimum performance. Wholesome ingredients used are sourced and formulated without artificial preservatives, scents or colors. this is the perfect gift for women who value personal care with a little side of humor
13. Nose Eyeglass Holder Stand As A Christmas Stocking Filler
If your lady is constantly losing her glasses, it may drive you nuts. Have a nose stand sitting next to a home computer so that she can easily place the glasses on this nose. It is an adorable little statute that has a personality of its own. The stand looks nice, stands steady and holds glasses securely with its weighted base lined with felt. Little nose pad is as cute as a button and is a great ornamental gift for her. Apparently, it can spark conversation in the office with co-workers on a boring work day. The base is weighted and made of polyresin, therefore, it is sturdy and won't topple over
14. USB Flash Drive – Techkey Crystal Jewelry Pen Drive with Silver Polishing Cloth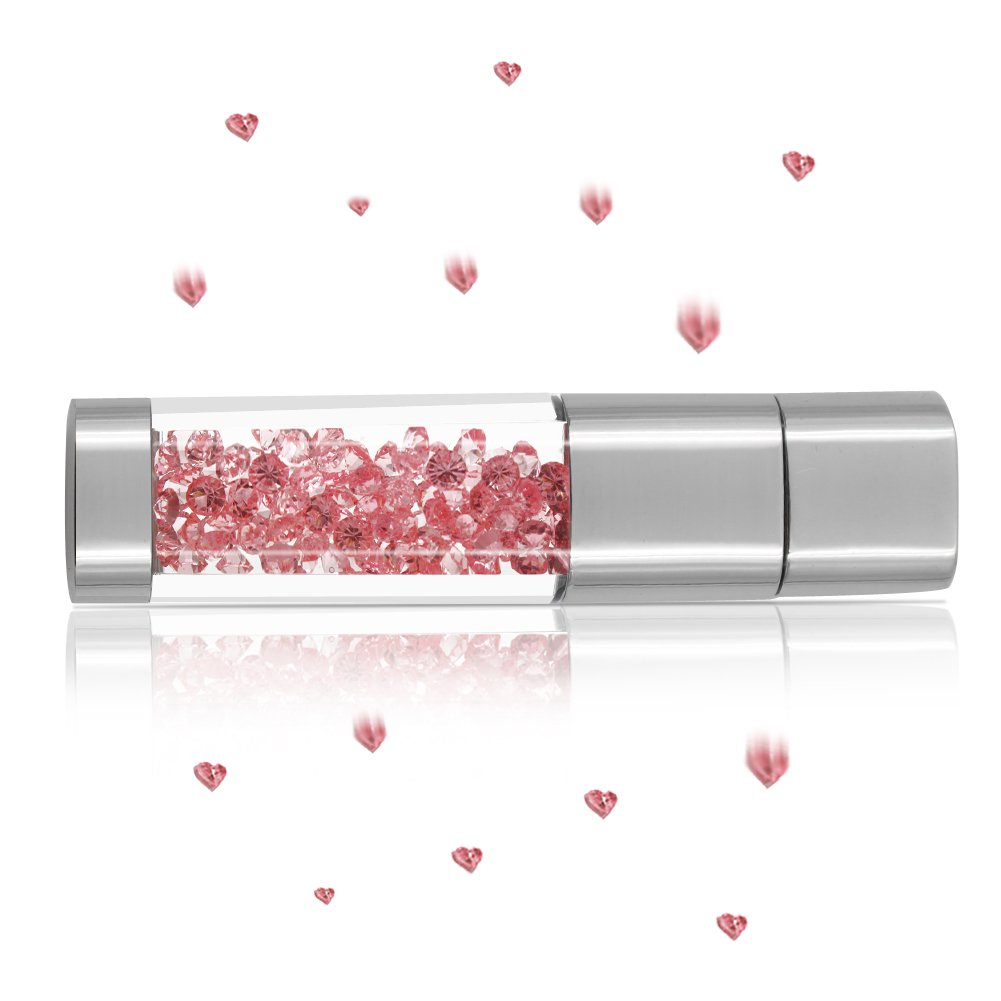 The flash-drive optimized for laptops, computers and devices with 2.0 ports, windows, Linux, Mac, Unix, Chrome OS supports. Has an available capacity of 64GB hence provides plenty of storage space. This gift idea is well suited for a working woman. It also comes in pink and amethyst colors, which are ideally feminine. One can use it to store files, pictures, music, movies and storage has never been so much fun. It comes with an exquisite frame package velvet bag. The product is constructed to the high standards for outstanding quality, performance and reliability.
15. Unite Stone Anniversary Gift with 24K Gold Foil Artificial Forever Rose
This unique gift that doubles up as a Christmas and an anniversary gift. Blue rose is one of the rare roses in the world so are diamonds. It is a never-fade artificial flower, never perishing and never-color changing. This rose will take your regards to her who will keep youth forever. The gift is a first-choice kind for wife or girlfriend, daughter or mom. . All material used are environmentally friendly, Acrylic with 24K gold foil gilded. Additionally, it is handmade and given a clean finish. These artificial flowers add a beautiful décor to the house or office. Each rose comes packaged in a lovely matched blue box.
16. Stone & Beam Modern Farmhouse Triangle Pattern Stoneware Home Decor Flower Vase
Women love flowers, and what a way to spice things up than getting them a vase. With or without flowers, this vase adds a sophisticated touch to a table top or window sill. A reactive glaze gives it an off-white, variegated finish. Geometric triangle patterns add a modern taste to classic silhouette complementing any style room. Neutral colors, modern patterns and classic shape blend in styling a room. It is 100% stoneware and the reactive glaze ware makes each piece one of its kind, sorts of a mix of modern and rustic. The measurements are 6.6″Diameter x 9″H and as a result of its durability it works well for handling flowers.
17. MAMI WATA Fruit Infuser Water Bottle
What a beautiful tube-shaped gift box, which just screams luxury. While tap water can be tasteless and boring, WATA provides a solution in the form of fruit infusion kind of bottle that allows your wife, mother, sister or daughter to enjoy deliciously-fresh fruit-infused drinks. The bottle is made of durable and shatter-proof plastic that is BPS free. The bottle has a bottom infusing mechanism which ensures infusion water tastes better and longer.