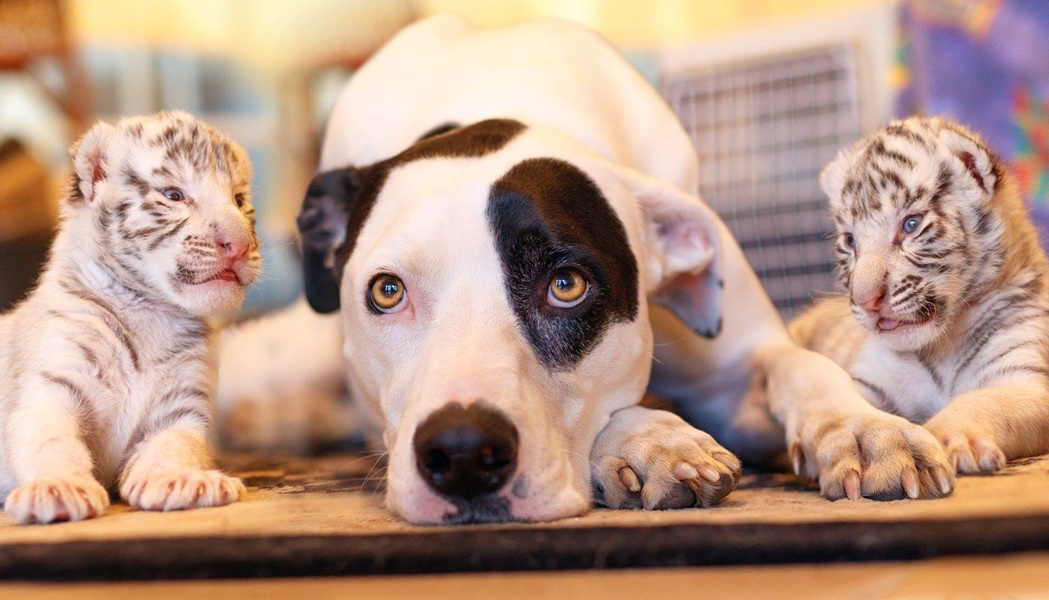 Two orphaned tiger cubs have found an unusual mother figure – a male pointer mix dog with motherly instincts, called Leon.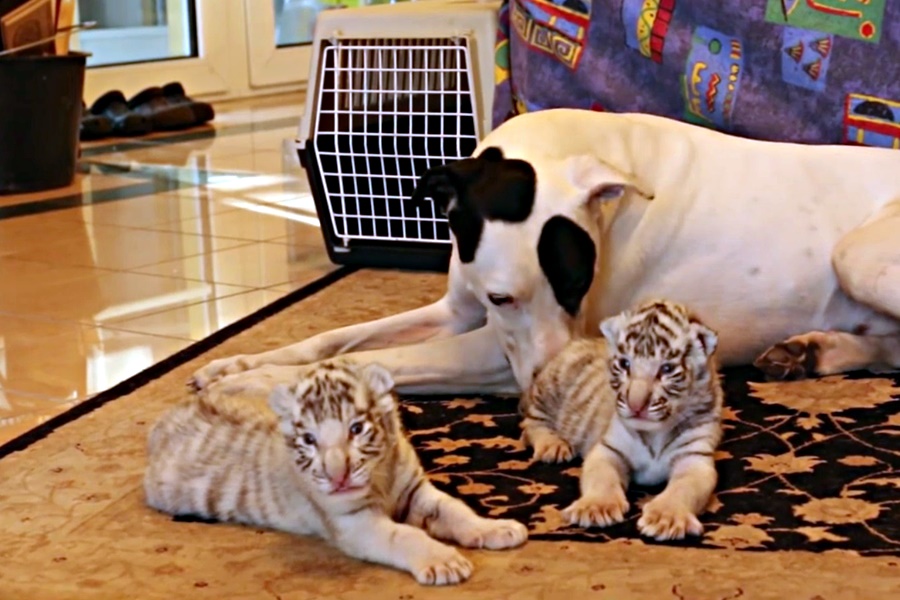 A German Zoo has its own mama dog who lovingly nurtures abandoned cubs. But here is what's truly exceptional about this heartwarming story: the "mama dog" is actually a male canine with outstanding motherly instincts.
Leon, a six-year old pointer mix owned by a zoo keeper at the Safaripark Zoo in Germany, has recently become a surrogate parent for two tiger cubs that were abandoned at birth.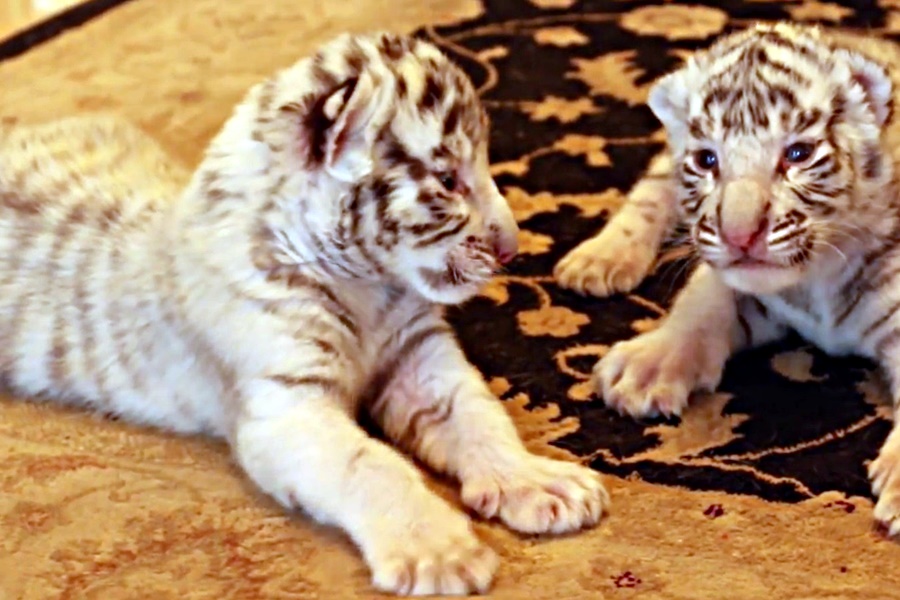 White Bengal tiger cubs Peach and Pearl were born a month ago in the Safaripark Zoo, in Stukenbrock, Germany.
Due to their critical condition at birth, they were soon rejected by their biological mother.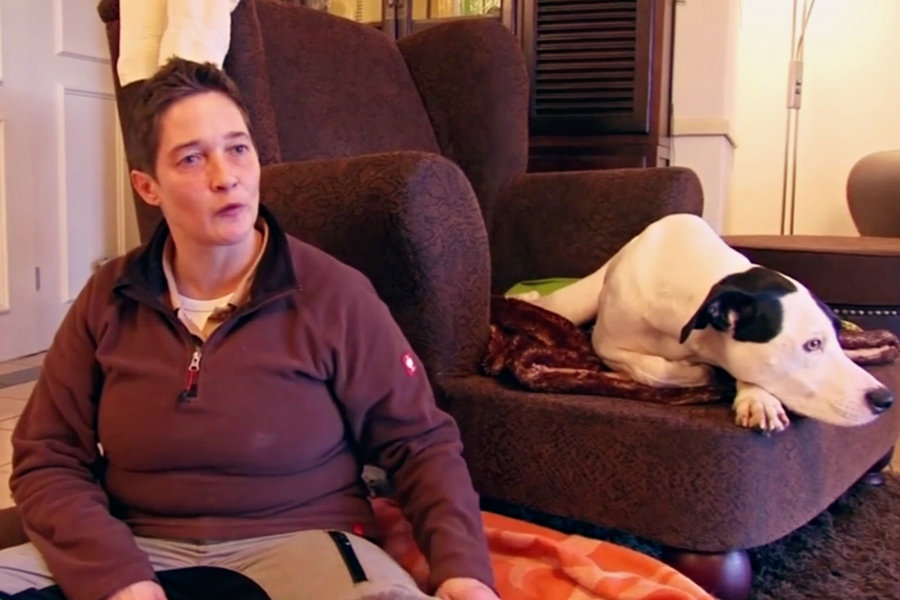 When Leon's owner Jeanette Wurms noticed the tigress didn't show any interest in the newborn cubs and refused to touch them, she took immediate action.
"I did the same you would do to a child with hypothermia: body contact. You pull up your T-shirt and your sweater and place one on each side. I then rushed inside to feed them milk," Wurms recalls.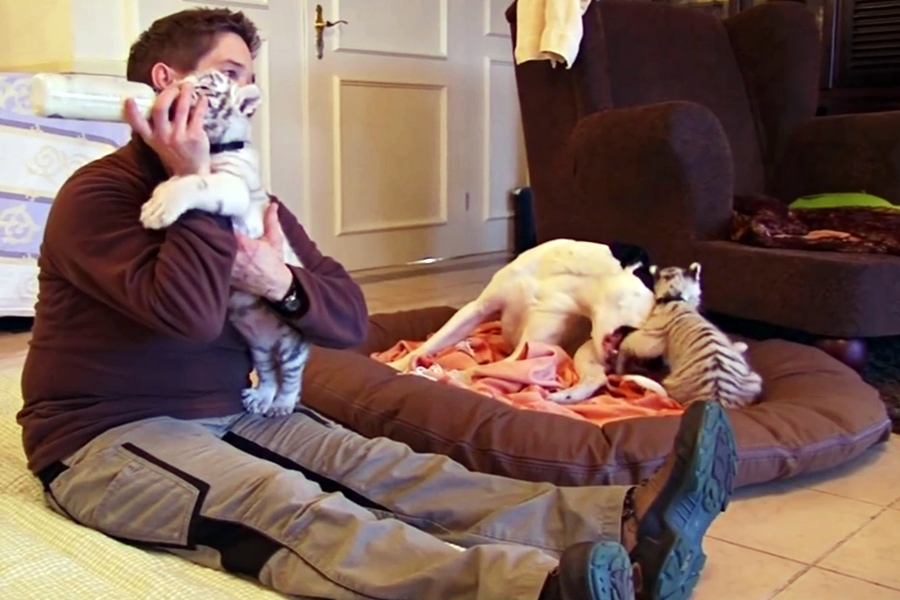 At first, zoo authorities started looking for a stand-in tiger mom. They ended up filling the position with the caring canine and his owner instead.
The tiger cubs have been living in the keeper's apartment on the zoo's premises ever since their birth.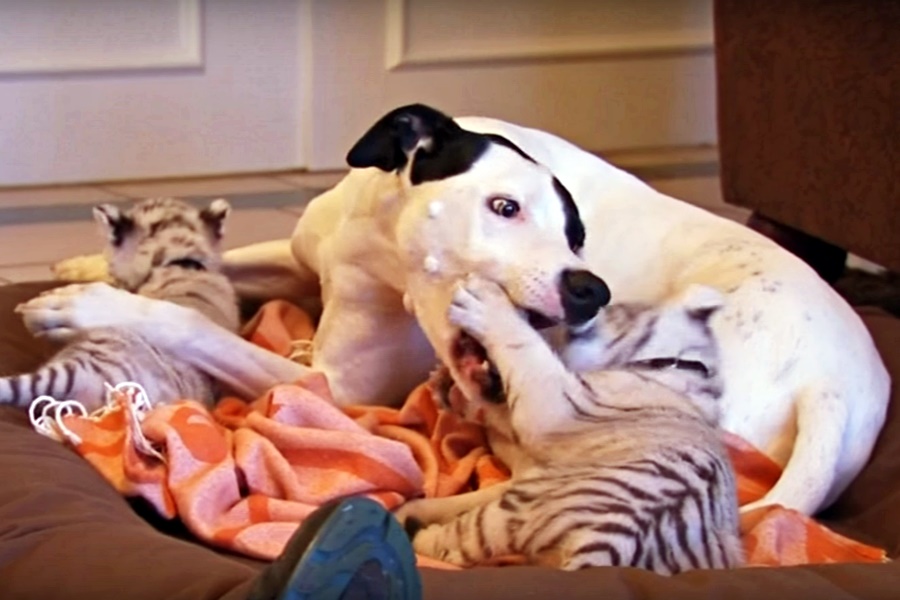 Leon has instantly taken up the role of surrogate parent, helping his owner raise now one-month-old Peach and Pearl.
The six-year-old pooch is acting as an educator and entertainer and has assumed the task of breeding the cubs.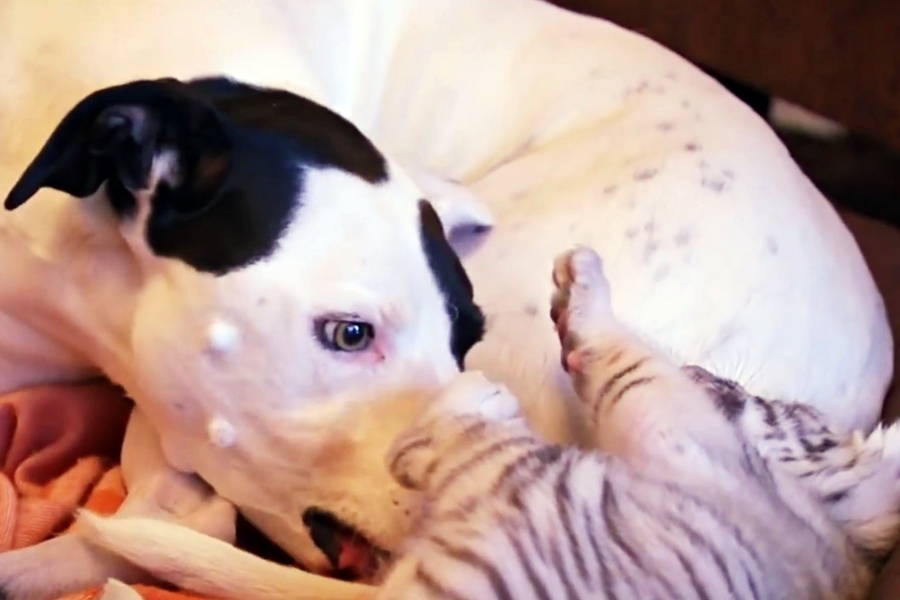 "What's extraordinary about Leon is that he is a male with such motherly instincts which are very remarkable," Wurms says.
"He also acts as their entertainer and that's certainly exceptional."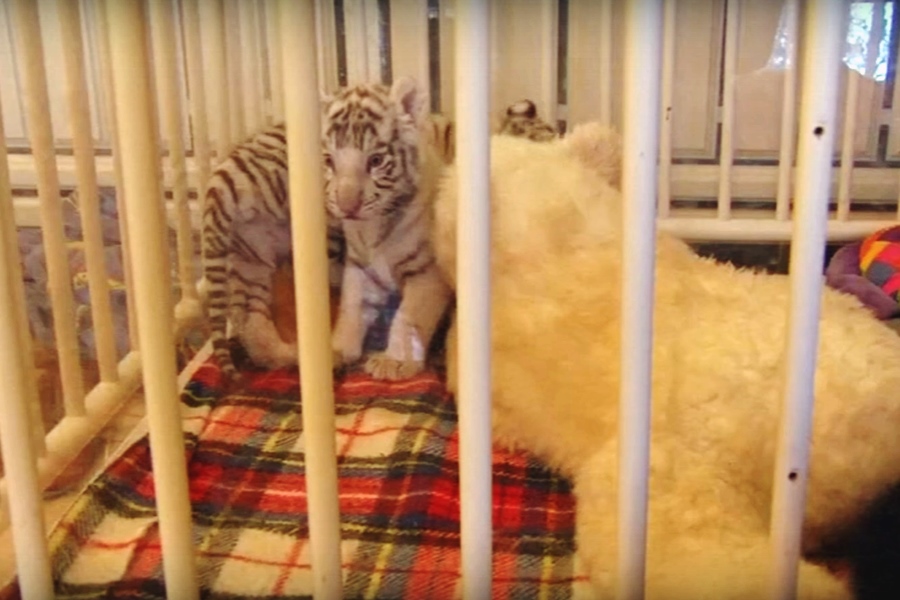 According to zoo staff, the tiger cubs do not pose any threat to Leon and his owner.
As a matter of fact, Peach and Pearl are constantly trying to be near Leon. The three animals have struck an unlikely friendship and have become inseparable.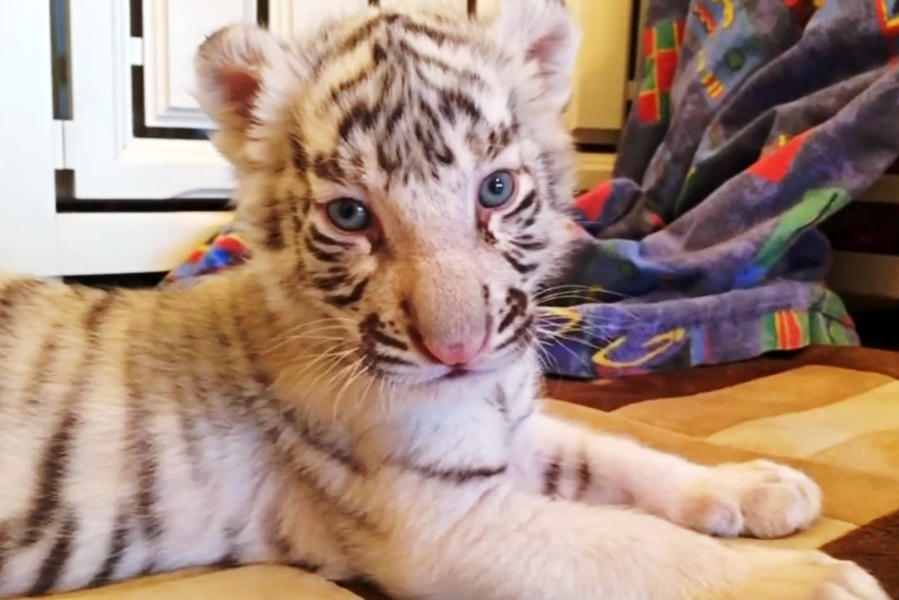 Leon is tending to the tiger cubs' emotional needs and showering them with attention.
The lovable pooch helps the cubs adjust and develop important social skills, something they would have learnt from their mother.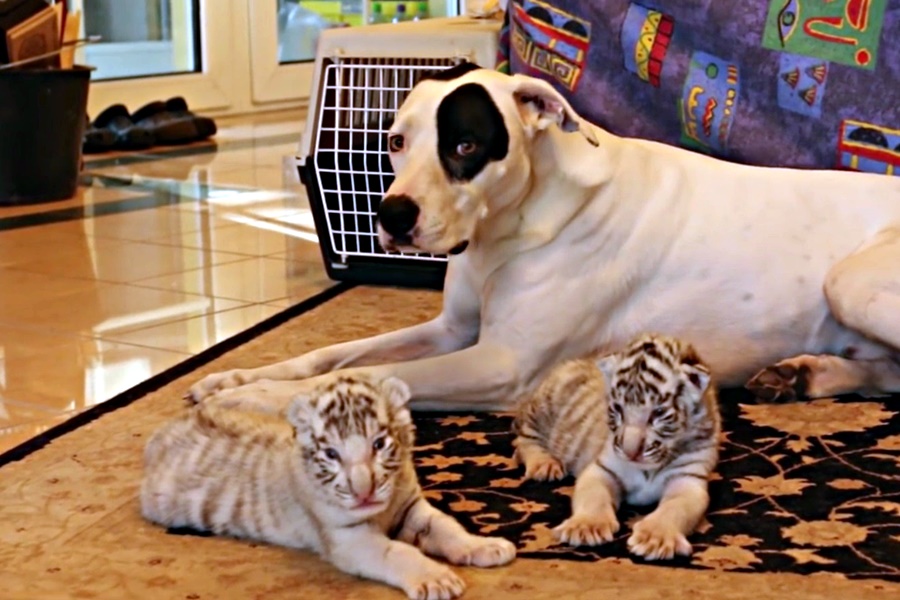 Playing with Leon also helps Peach and Pearl get exercise, which is of great significance for their physical and mental health.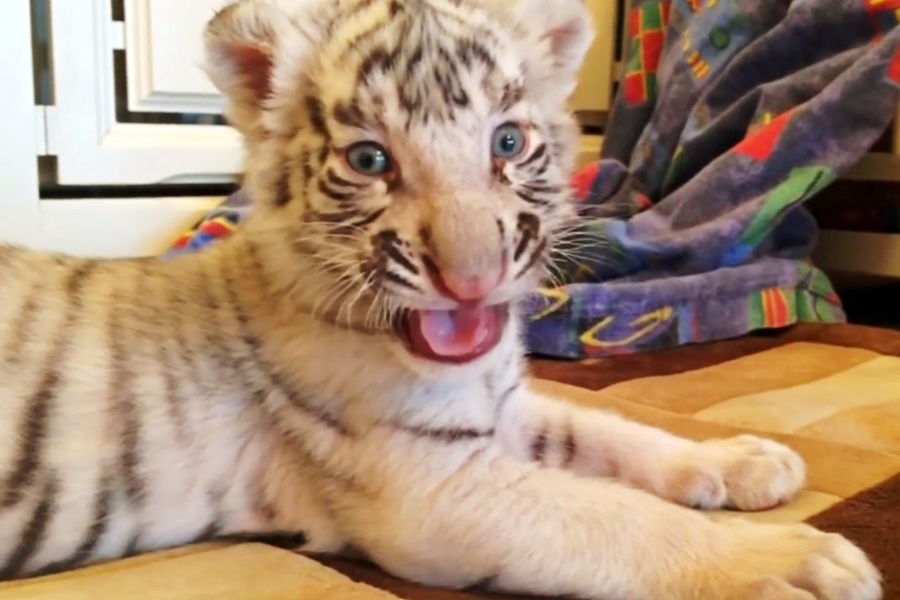 "The hope is that these two white tiger babies will become two queens of the jungle," reads a message published on the zoo's website.
"Now the little tigers are lovingly hand-fed, cuddled and looked after."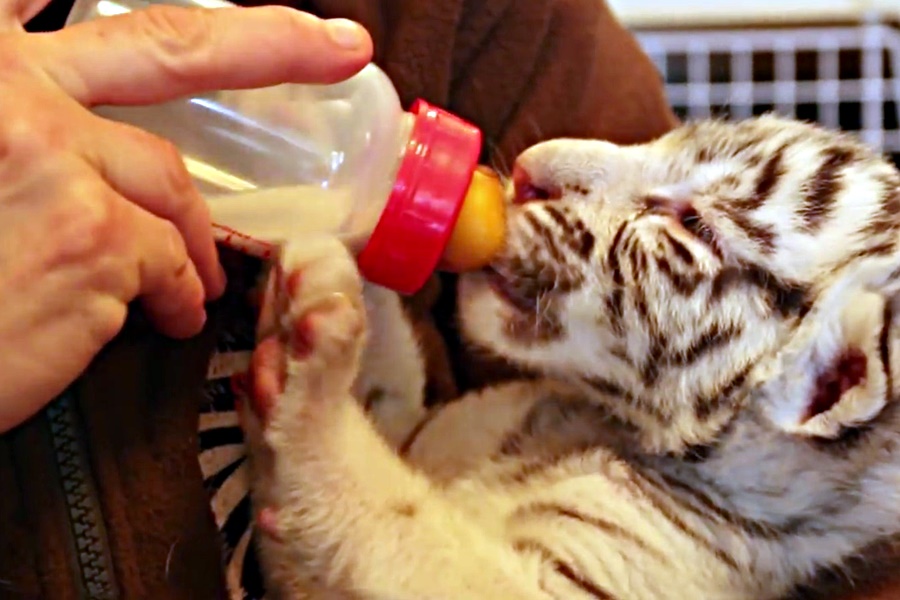 Once the cubs get bigger, they will have to be separated from Leon and his owner, as they can become potentially harmful and have unforeseeable reactions.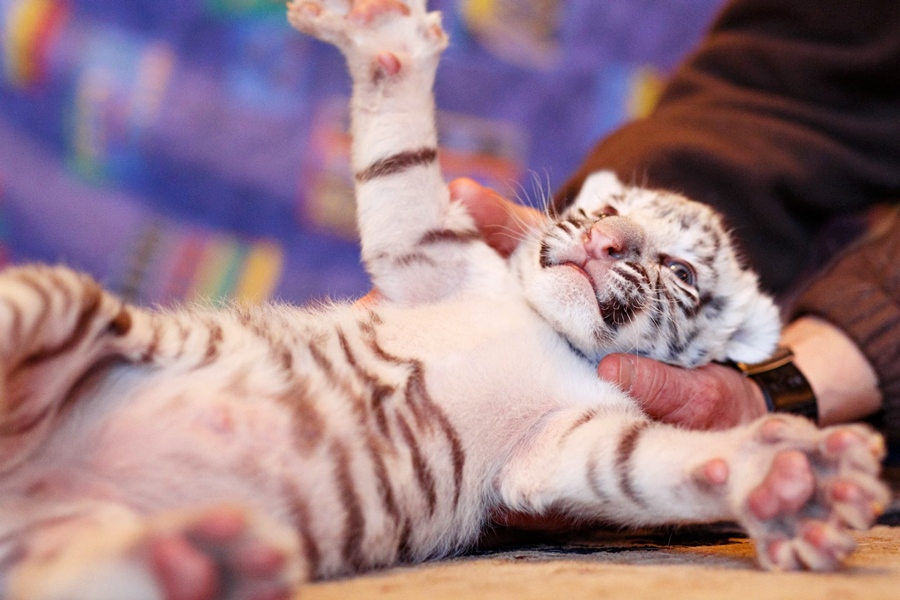 Bengal tigers like Peach and Pearl are fully grown when they are 2-3 years of age.
As adults, they may weigh up to 717 lb (325 kg) and reach a length of 130 in (3 metres).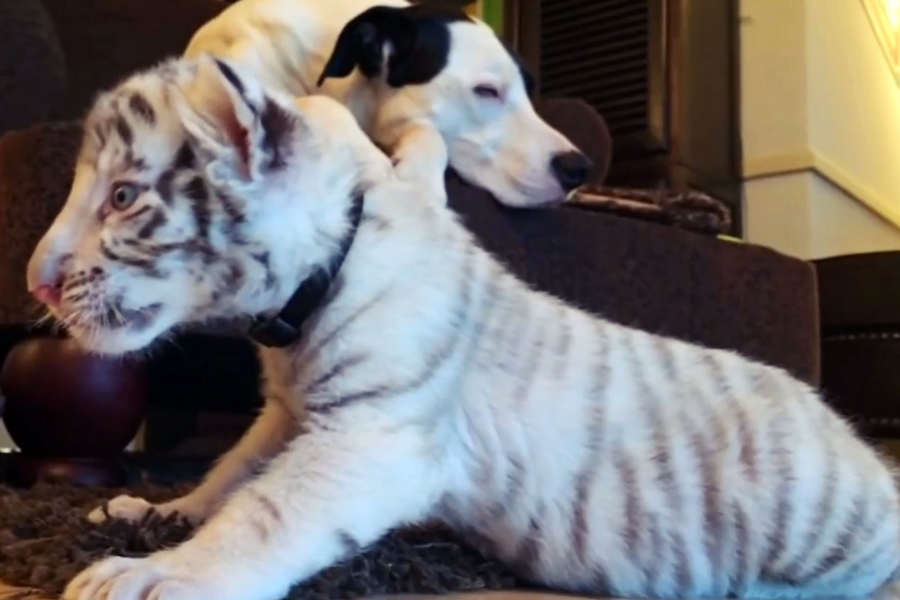 "These are not pets. They are animals of prey. They can react unexpectedly and humans cannot deal with their violence and their strength," Wurms explains.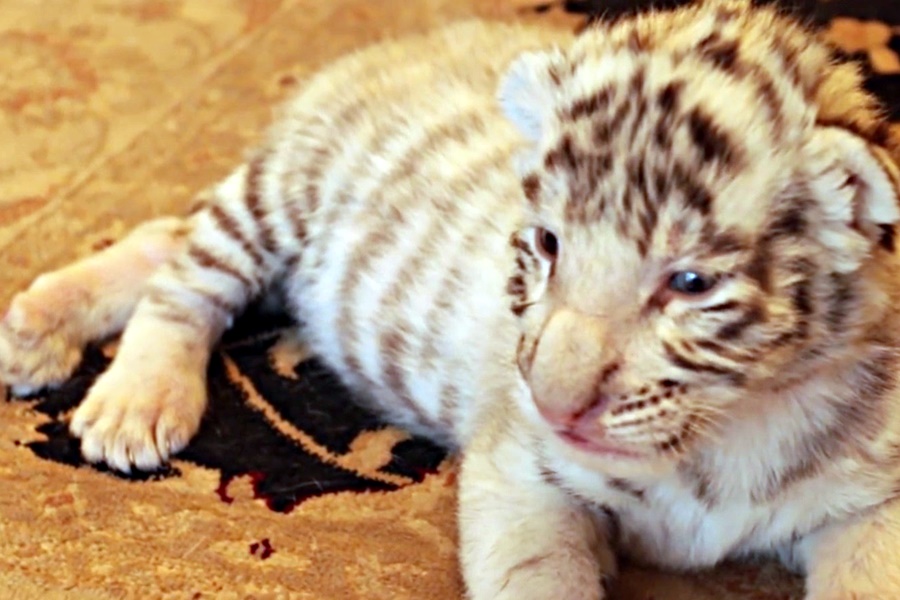 "Much too much can happen too quickly which is why they belong to a place where they are of no danger to humans, but where they can develop in a way which allows them to become animals of prey," Wurms says.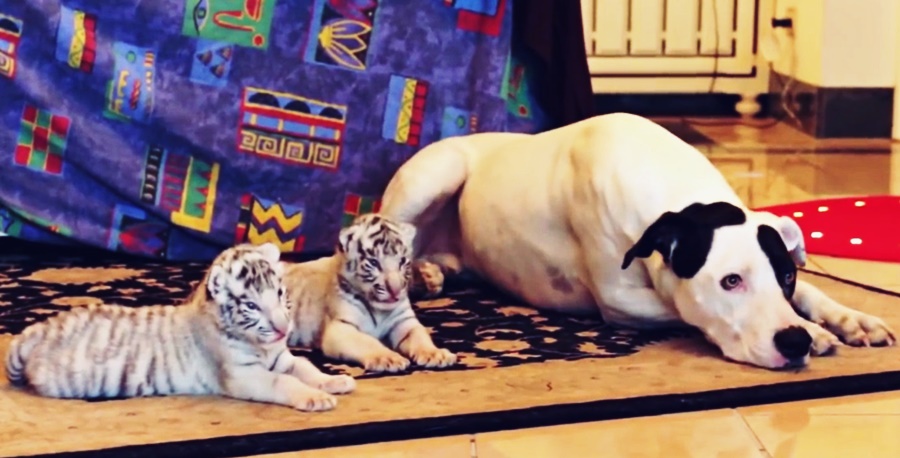 According to the zoo keeper, occasionally petting and caressing the wild animals through the bars allows for close contact without jeopardizing the keepers' lives.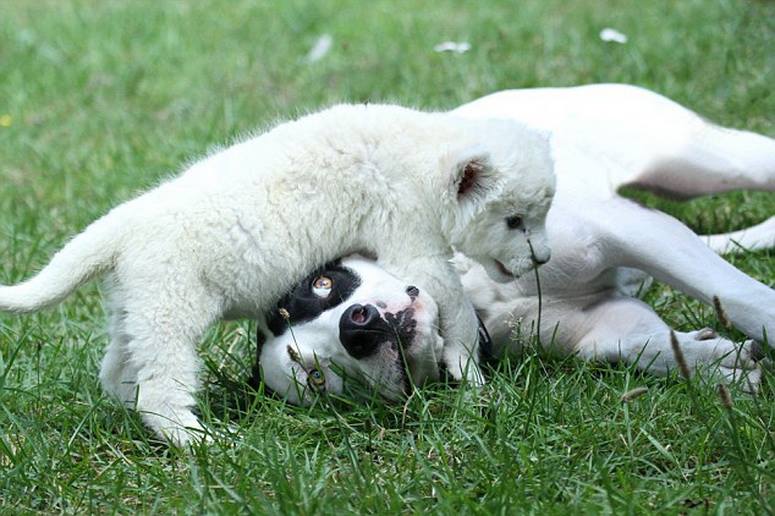 This is not the first time Leon has acted as a surrogate parent for abandoned cubs at the zoo.
Four years ago, when he was two years of age, the caring mutt adopted a lion cub that had to be separated from his mother shortly after birth due to an infection of the umbilical cord.