It has been16 years since we experienced and witnessedthe magical world of Harry Potter and undoubtedly was captured by it's awesomeness. At one point, we excitedly wait for the next movie to be released and be left wanting more after we finish the film. Books or films; there is a thing about Harry Potter Series that is so captivating that made everyonebelieve in magic!
Of course, the story will not come to life without the brilliant and exceptional casts who portrayed the role convincingly. Though the movie franchise was star studded with award winning actors and actresses, the success of the films will never happen without those little people who stars as the important characters of the films. We watched those awkward child stars grew up and was definitely amazed of how hormones and growth spurts made them more lovable. All Potter-heads around the world are surely curious of how these cute Harry Potter Stars look like now.
Here is the list of 20 Harry Potter Stars and their Transformation:
1. DANIEL RADCLIFFE aka HARRY POTTER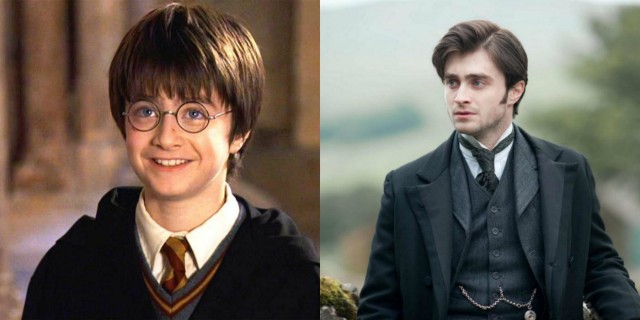 The Boy-Who-Lived is surely living his life now. Daniel Radcliffe achieved his world wide fame after landing on the lead role as Harry Potter. Surely, this cutesy did great justice to the story's main character as he proved his exceptional acting talent at a very young age. All through the years of filming the franchise, the world literally watched him grow up to be a dashing actor and was for sure became millennial teenager's first crush. Now, Daniel managed to get out of the Harry Potter limelight and continue to amaze his fans with new roles and movie genres he played a part from. Rest assured that we will expect Daniel in great movies in the near future.
2. EMMA WATSON aka HERMIONE GRANGER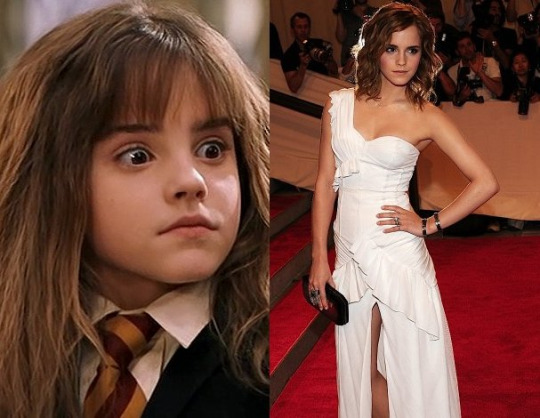 Now this bushy haired, overly enunciating know-it-all girl, turned out to be a classy, elegant and exceptionally beautiful actress. Emma Watson was indeed one of the HP stars who showed drastic transformation not just on how she looks but also onher role in the society. She is now a known feminist/activist, appointed as UN Women Goodwill Ambassador and landed on the 26th spot of the Time 100 list of most influential people of the world. Now that's real Beauty and Brains!!!
3. RUPERT GRINT aka RONALD WEASLEY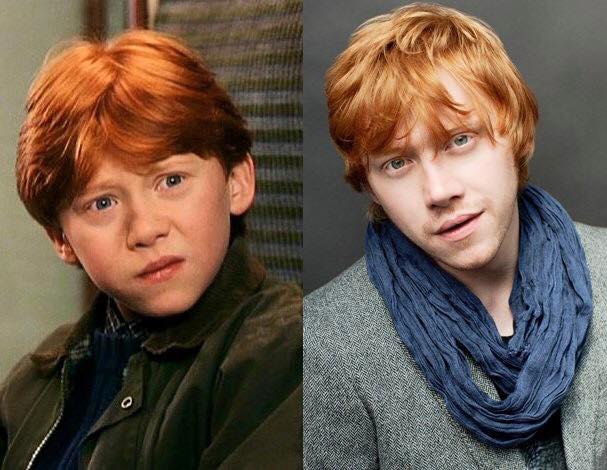 To complete the Golden Trio, there is no other actor who can portray Ron Weasley but none other than the adorable Rupert Grint. From the ginger head side kick of Harry Potter, Rupert indeed is a full package of a talented actor, not to mention, he transformed to be a total hunk as well. He still continued his celebrity career after the HP franchise and we can expect to see him in the limelight till now.
4. BONNIE WRIGHT aka GINNY WEASLEY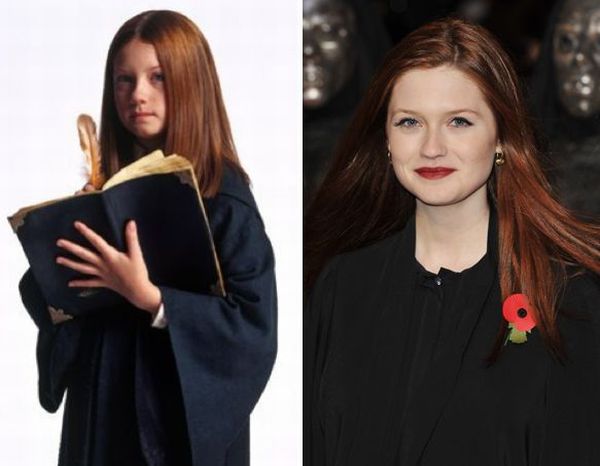 Another HP star that had a surprising transformation is Bonnie Wright. She was already super adorable when she first appeared in the first movie but every time a new movie comes, she changes beautifully as well. She still continues her acting career and appeared to several movies like After the Dark and Before I Sleep.
5. TOM FELTON aka DRACO MALFOY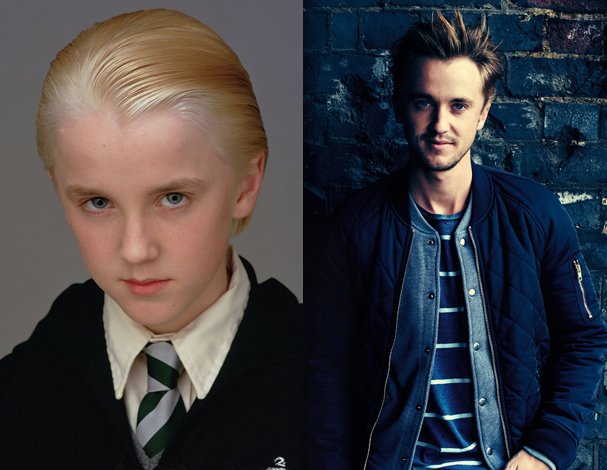 Now, everyone has a love and hate relationship with Draco Malfoy in Harry Potter series. Tom Felton has immensely exceeded expectations in portraying the character itself. However, from the annoyingly adorable blond boy, he grew up to be a dashing lad. Super thanks to his hormones!! Not to mention his great talent on being an effective villain, Tom had appeared in the Rise of Planet of the Apes and Risen. We can also see him in a lot of Youtube videos showing his musical side. This guy indeed has pure talent!
6. EVANNA LYNCH aka LUNA LOVEGOOD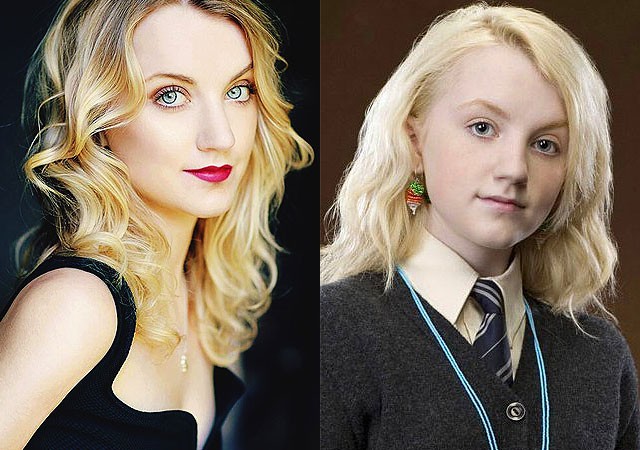 After years had passed, no one can ever call her Loony anymore. Evanna Lynch has proven that her oddity had perfectlyfit on the character of Luna Lovegood. Even the director claimed that Evanna is actually Luna Lovegood. Without the radish earrings and dirty blond hair, Evanna emerged as beautiful young lady who isnow involved in different non-profit organisations, supported same sex marriage and an advocate of positive body image; not to mention she's crazy about her cats.
7. ALFRED ENOCH aka DEAN THOMAS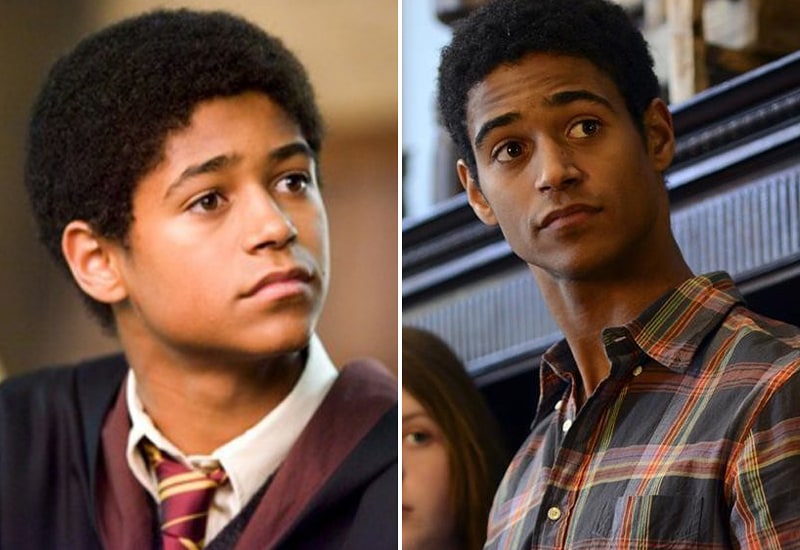 From being a cutesy Dean Thomas, Alfred Enoch has a total change of image after the Harry Potter franchise. He is now playing as the hot and sexy law student, Wes Gibbins in the TV series How to Get away with Murder?. Indeed he is one of Harry's classmate who had gone to a major change of appearance and now continuously proving their talent in TV and Film industry. Wait, did I mention he's super hot now??
8. STANISLAV IANEVSKI aka VICTOR KRUM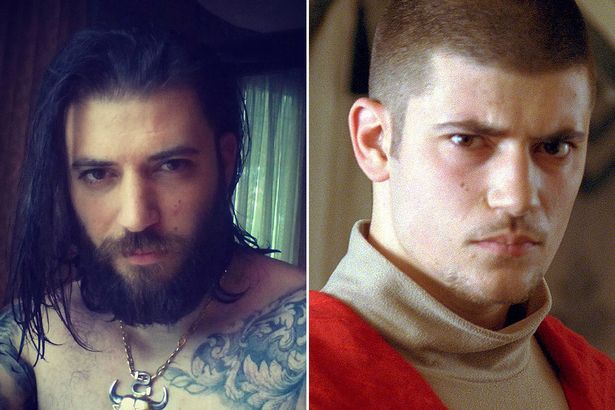 Now, Victor Krum's character was described as a tough and mysterious bloke; Stanislav Ianevski did a great justice to it.There is no surprise that he later outgrew his character and now looked way more tougher. Our beloved Victor is now posing his buffed tattooed body in his social media accounts that left his fans wide eyed and drooling. Naturally, he still is as handsome as before and of course; still super hot!
9. FREDDIE STROMA aka CORMAC MCLAGGEN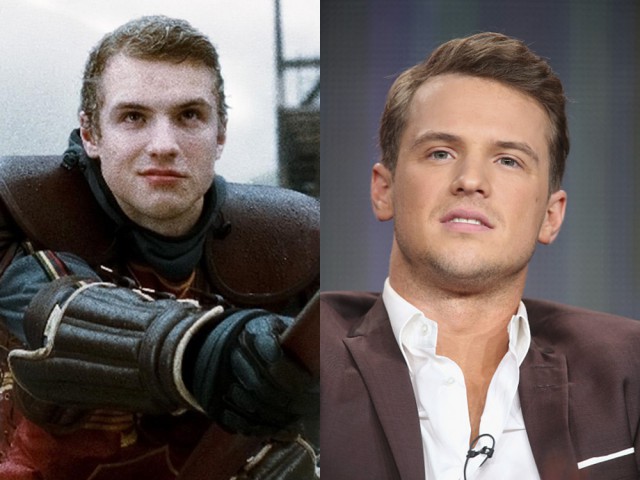 Who will forget the over confident and cocky character of Cormac Mclaggen in Harry Potter series? We already found him super cute in his first appearance in the movie but as time passes his sexiness is becoming more widely noticed.We have seen his musical talent in A Cinderalla Story: Once Upon a Song, his total hotness in Pitch Perfect 2 and his battle against aliens in Extraterrestrial. He also appeared to the famous TV Series: Game of Thrones as Dickon Tarly.
10. DEVON MURRAY aka SEAMUS FINNIGAN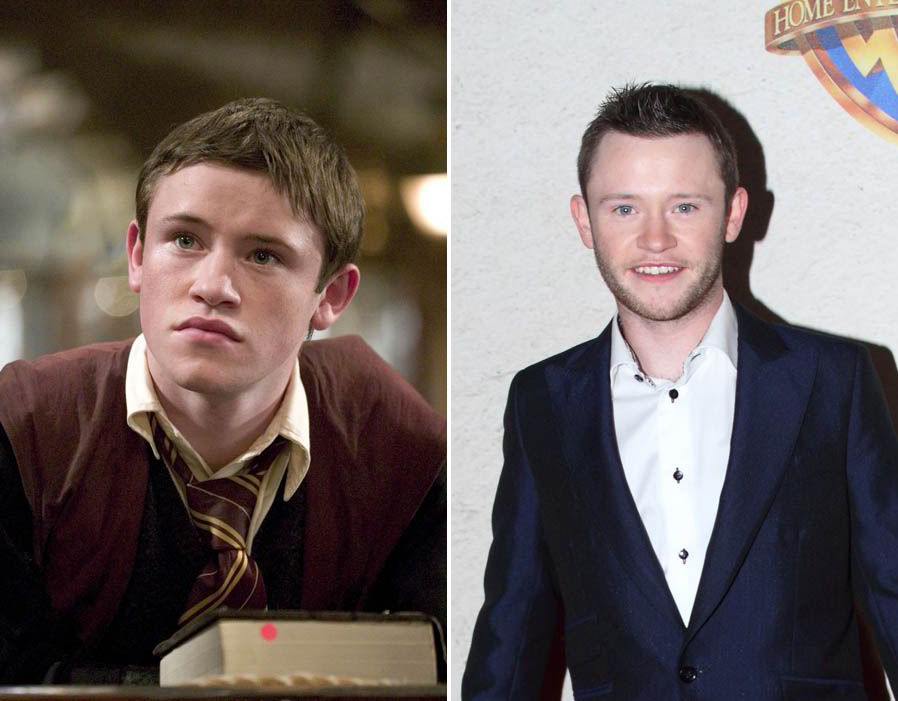 He is known to be the best friend of Dean Thomas in the HP series, Devon Murrayhas not much project after the franchise. Though it is still obvious that he turned out to be another hottie in the Harry Potter alumnus.
11. MATTHEW LEWIS aka NEVILLE LONGBOTTOM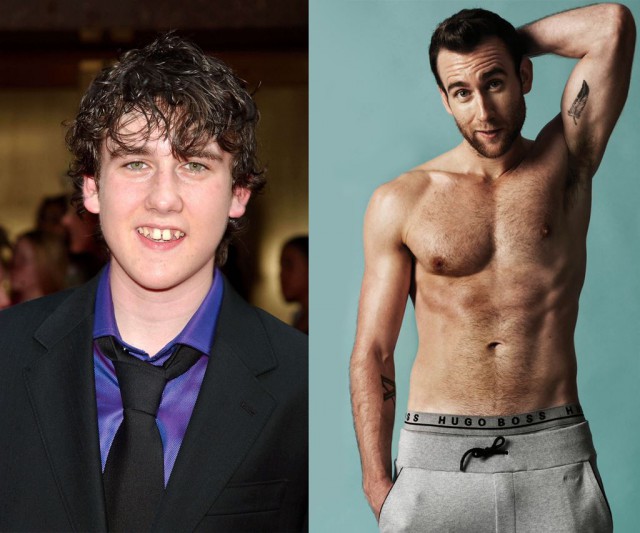 HALLELUJAH, PUBERTY!!!! Who would have thought that the chubby cheeks, always bullied, nervous awkward Neville Longbottom turned out to be this sizzling hot?! Matthew Lewis had proved the world the hormones can indeed make or break you; just like the transformation of Neville's character in the series. Matthew perfectly fit as Neville Longbottom by eventually displaying confidence and inspiration to others. After the HP franchise, Matthew busied himself with modelling, TV and movie appearances.
12. HARRY MELLING aka DUDLEY DURSLEY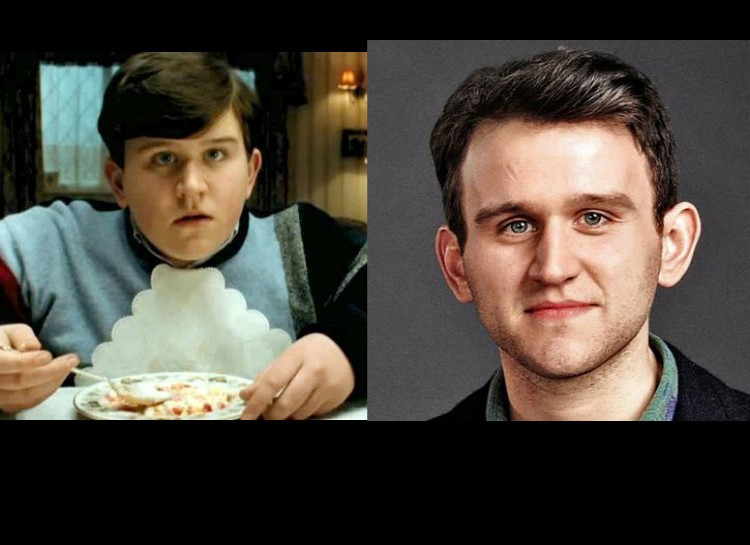 Here's another transformation that had surprised quite a lot of HP fans, Harry Melling aka Dudley Dursley is no longer that fat bully we used to know. He eventually outgrew his baby fats and turned out to be another dashing actor now a days. Though we don't see him much in the limelight, Harry kept himself busy in theatres and plays as well as some TV appearances.
13. OLIVER AND JAMES PHELPS aka FRED AND GEORGE WEASLEY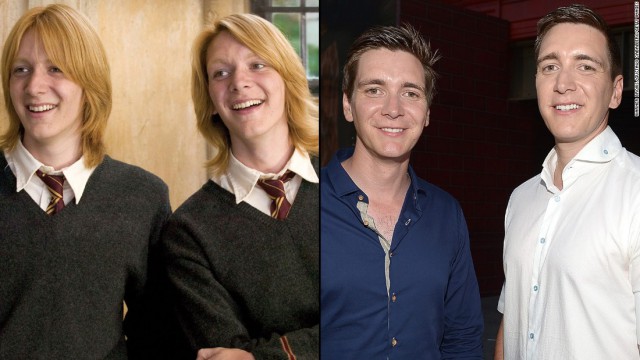 We think everyone will agree that the HP series will not have its comic relief without these hilarious super twins, James and Oliver Phelps. They amazingly portrayed the characters as both are naturally funny. After filming the series, the twins continued their charity works and constantly enjoying golf with their other HP ex colleagues.
14. KATIE LEUNG aka CHO CHANG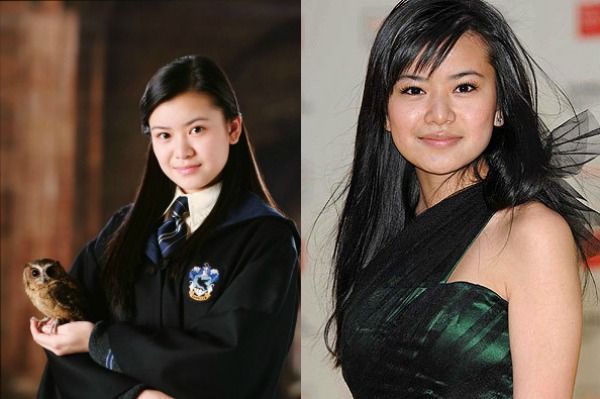 As Harry Potter's first love interest, Katie Leung was perfect for the role of Cho Chang. She has been recognised after being part of the HP franchise and continued her career mostly on stage plays and TV appearances.
15. JOSH HERMAN aka GREGORY GOYLE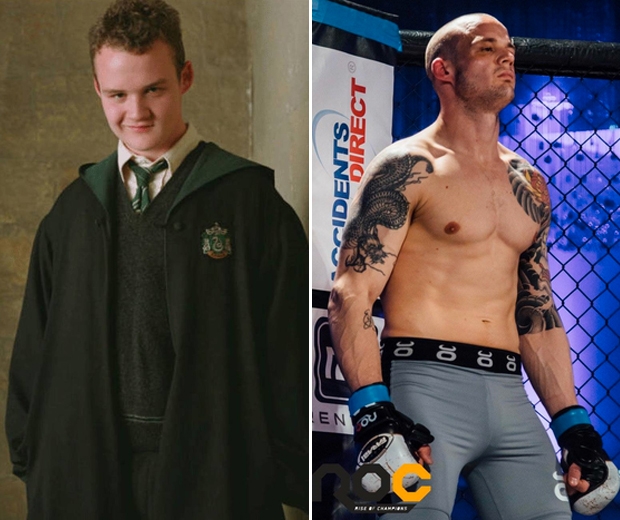 Growing up as part of the Slytherine Gang, Josh Herman also known as Gregory Goyle continued his tough imageby being an MMA fighter. After graduating from Hogwarts and HP series, Joshua worked out from his baby fats and ripped into a total masculine feature fit for afighter. He also still continue his acting career and into several roles for movies.
16. JAMIE WAYLETT aka VINCENT CRABBE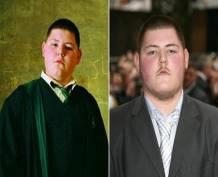 Completing the Slytherine Bullies, Jamier Waylett continued his trouble making legacy in real life. Not so positive ending to this young actor's career, he had faced legal issued from drugs and being part of violent riots where in he was sentenced to 2 years of imprisonment. Now we are starting to believe that most Slytherines just go astray!
17. SCARLETT BRYNE aka PANSY PARKINSON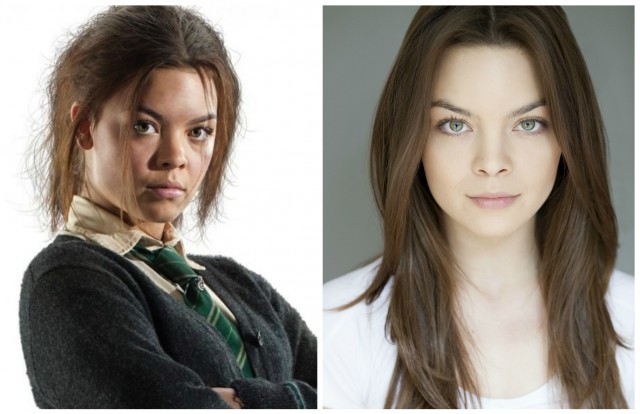 Another Slytherine alumni is Scarlett Bryne who played the role of Pansy Parkinson on the last 2 Harry Potter Movies. What we didn't know is that she actually auditioned for the role of Luna Lovegood but landed on the Slytherine role. Nevertheless, she played the role really well and still continues with her acting career nowadays.
18. JESSIE CAVE aka LAVENDER BROWN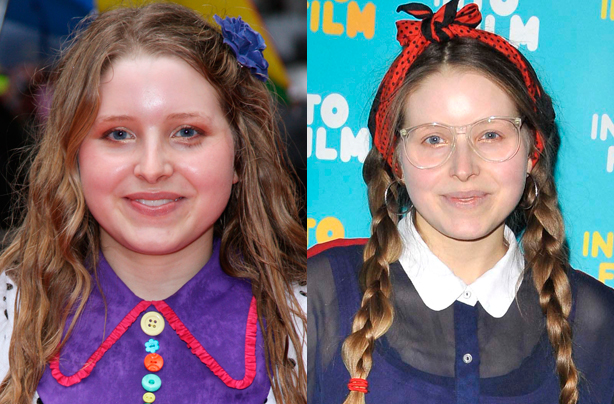 Jessica Cave has been a great casting choice to portray the character of Lavender Brown. Her bubbly and carefree attitude from the story as well as in real life perfectly blended in. Right now, Jessie had showed her colourful personality not only on her fashion sense as well as in her Youtube channel and publications. She is also a comedienne, cartoonist and very recently a mother.
19. AFSHAN AZAD aka PADMA PATIL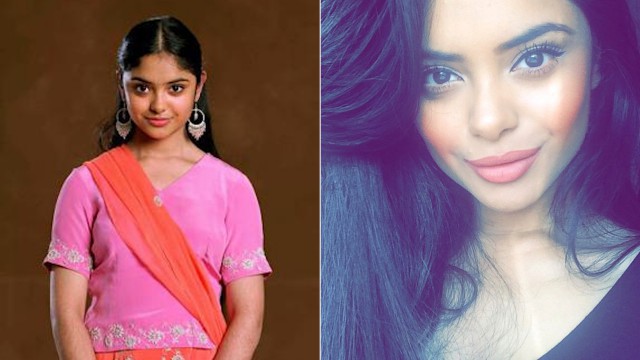 Afshan Azad was also one of the Hogwarts alumnus that transformed into real beauty. Because of her Bangladeshi decent, she exotic features had surprised a lot of HP fans. Right now, she is invading Youtube for her Make up Tutorials and internet had tagged her as Kim Kardasian's Twin as she shows her similar features.
20. SHEFALI CHOWDURY aka PARVATI PATIL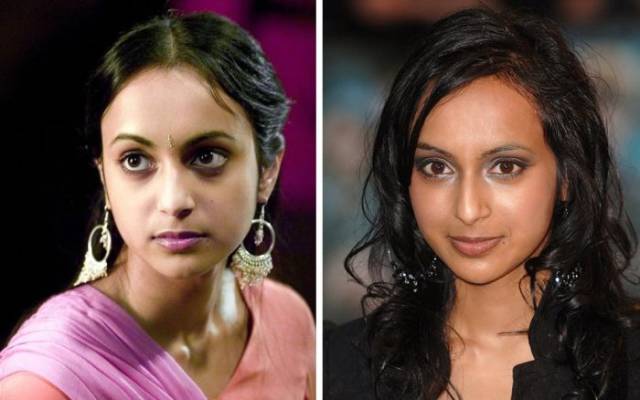 The other half of the Patil Twins, Shefali Chowdury was fortunate to land on the role as Harry's Gryffindor classmate and Yule Ball date. Just like her Afshan (Padma Patil), Shefali has not been in the limelight after filming the franchise but had played a part in the short film I am the Door Way.