Just recently, 2016 Rio Olympics has ended and the event once again allowed athletes all over the world to prove their abilities and talents. Itwas not only packed with action and memorable moments of victories; but was full of controversies and hilarious incidents during the entire event. From embarrassing performances, athletes' misconducts, horrific accidents, water contamination, broken facilities to unsafe environment, here are the list of unforgettable epic fails of 2016 Rio Olympics:
1. ULTIMATE DIVING FLOPS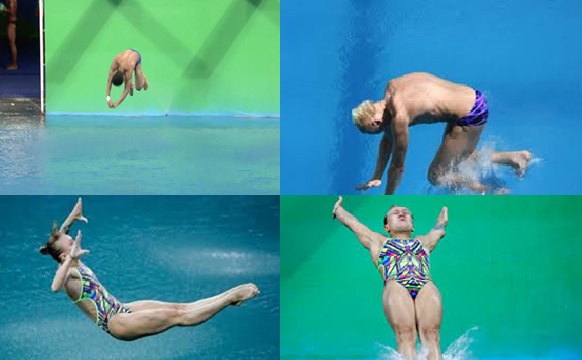 Every Olympic event for sure has several unsuccessful performancesfrom different delegates. Admittedly, these failed executions of their routines became one of the highlights of each event recaps. In this year, Malaysia (Ahmad Amsyar Azman) and Russia (Nadezhda Bazhina and Ilia Zakharov) are just one of the few who showed embarrassing performancesand definitely will be remembered in the years to come.
2. FENCER PHONE FELL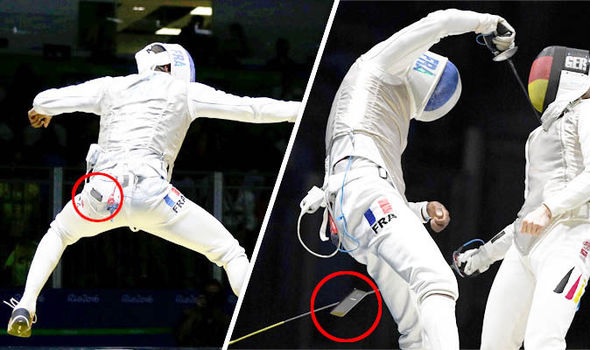 Here are 2 Olympians competing to win and was busy showing off their awesome skills, when all of a sudden; a phone fell from the pocket of the French fencer Enzo Lefort. It was a heart stopping moment and for sure everyone who has dropped their phone would agree. Luckily, the phone was fine; unluckily, Lefort lost against the German opponent.
3. WEENER ACCIDENT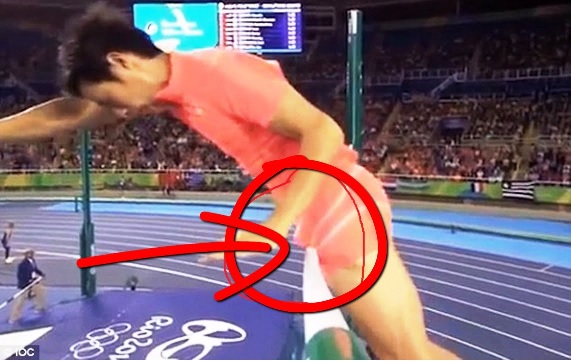 He spent many days training hard waiting for this event to come. On the D-Day, he has his game face on, his goal was to get gold, then BOOM!!!! Hiroki Ogita is Japanese Pole vaulter whose Olympic dreams we are crushed by his penis getting knocked off the bar while doing his routine. His embarrassing moments went so viral all over the internet that he earned global fame. Size, indeed, does not matter! This, sure looks excruciatingly painful but sorry Bro, it's gonna take a while to be forgotten!
4.FIRST HURDLE FALL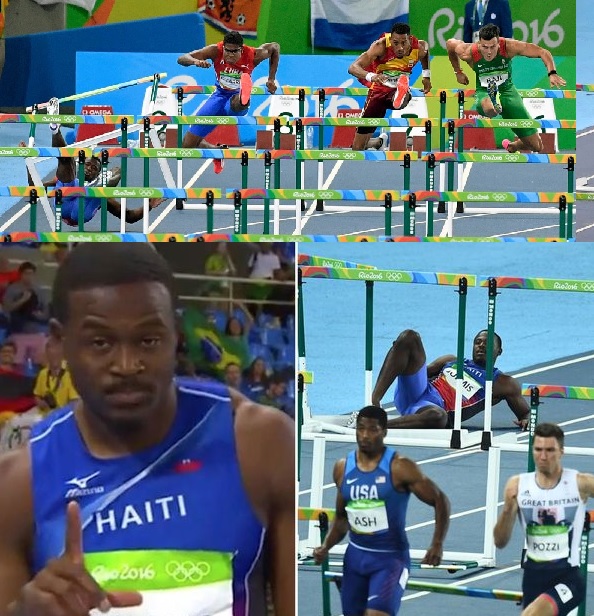 The 29 year old Hatian athlete Jeffrey Julmis literally fell on the first hurdle during the 110m hurdle semi finals which resulted to his disqualification to the game. In spite of the embarrassing moment, he continued and finished the race as his initial goal. After his unforgettable fall, for sure Jeremy will brace himself for the next Olympics for a chance to redeem himself and get the gold.Aren't we all excited to see Jeremy again?!
5. GREEN SWIMMING POOLS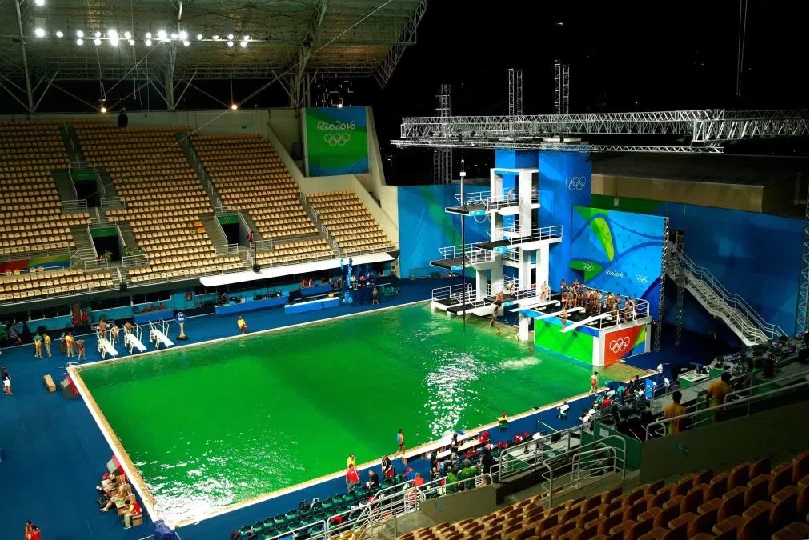 The mysterious green pools of 2016 Rio Olympics caught a lot of attention when the contractors tried todecontaminate the competition pools by pouring Hydrogen Peroxide. The chemical then reacted to Chlorine which resulted to swamp like color of both pools.Though the pools were not a health hazard, Olympic officials decided todrain and replace the water so the competitors and judges will have clear visibility of the performances.
6. LIAR LIAR LOCHTE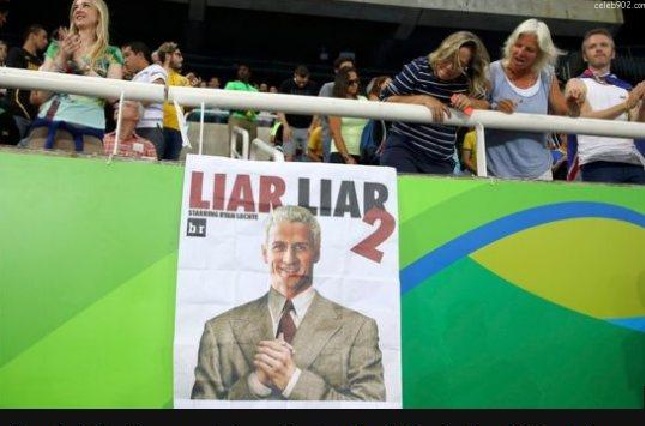 USA Swimming Gold Medalist Ryan Lochte along with 3 other team members reported that they werepulled over by uniformed officer and were robbed at gun point while on their way to Olympic Village. Not long after, he confessed that the story were not accurate. A few days later, he admitted that it was a false accusation and eventually apologized via Twitter. Rio police were upset about the allegations and charged the swimmers for reporting a false robbery. After this, Lochte lost his 10 years sponsorship contract from Speedo but confirmed that he will be joining Season 23 of Dancing with the Stars. This guy sure knows how to be famous!
7. GOAL KEEPER'SNEGATIVE COMMENTS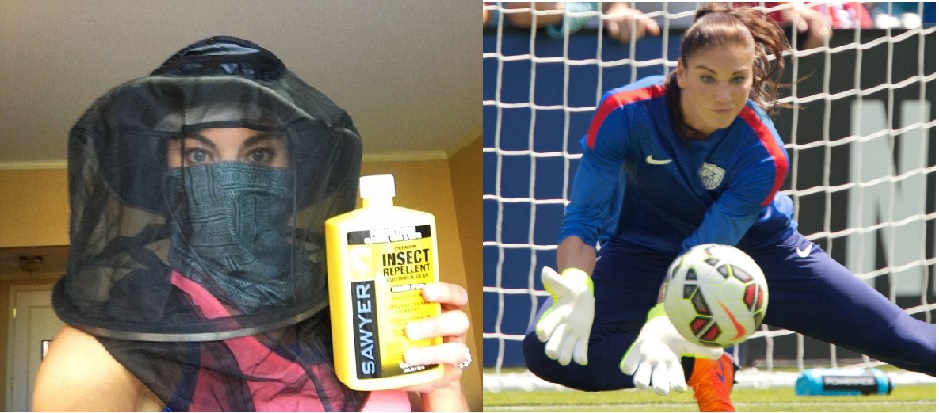 Another American athlete drawn attention during the Summer Olympics because of her negative remarks. The 35 year old US soccer team goal keeper, Hope Solo turned into a Rio Villain after posting her "Zika Virus Proof" pictures on tweeter. Of course, Solo just wanted to be safe;however, some offended Brazilian fans booed her during opening the game of USA vs New Zealand.In addition to her unfortunate reputation, Solo gained 6months suspensionfrom USA soccer team after her bitter comment to Swedish team bycalling them " a bunch of cowards". These comments were blurted out by Solo after their defeat from Sweden during the quarter finals.
8. BOXER CUSS AFTER DEFEAT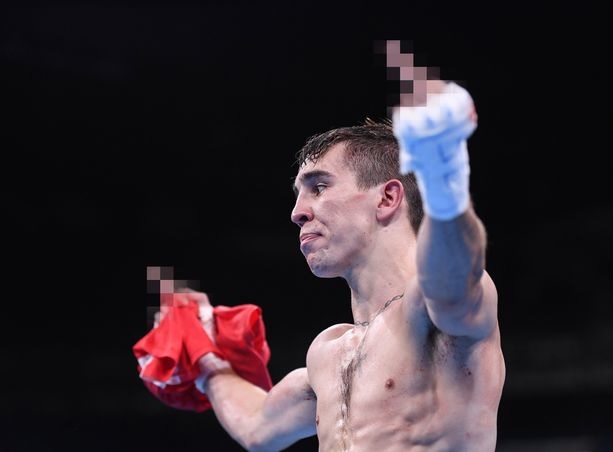 Losing indeed has a bitter taste during Rio Olympics. Another athlete reacted badly after losing on the competition. Irish boxer, Michael Conlan, got furious and swore to judges when he was defeated by his Russian opponent. He claimed that it was not a fair match and the judges' decision was clearly biased. Though he made the crazy outburst, Conlan was still flooded with sympathy from his supporters.
9. OLYMPIC VILLAGEDILEMMA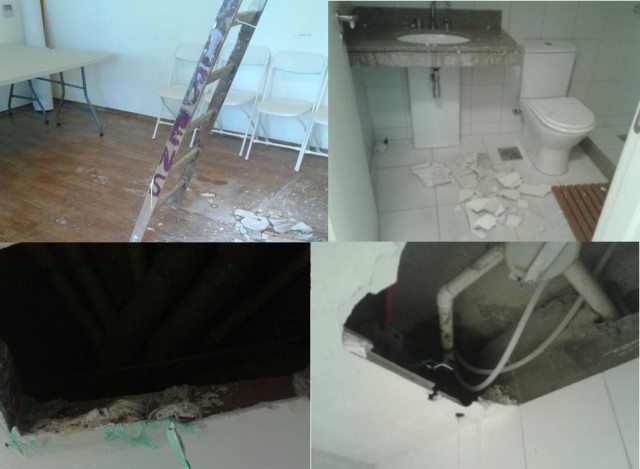 Some delegations were not so warmly welcomed upon their arrival to the Olympic Village. Accommodation appeared to be unfinished and some facilities turned out to be broken including the ceilings and bathrooms. Due to this condition, Team Australia initially refused to move into their accommodation and claimed that the place was unlivable and horrendous. The Rio Olympic village was said to be the largest in Olympic history; Rio Officials did their best to fix the problems and the accommodation waslater on arranged for the athletes.
10. TENNIS PLAYER TRAPPED IN ELEVATOR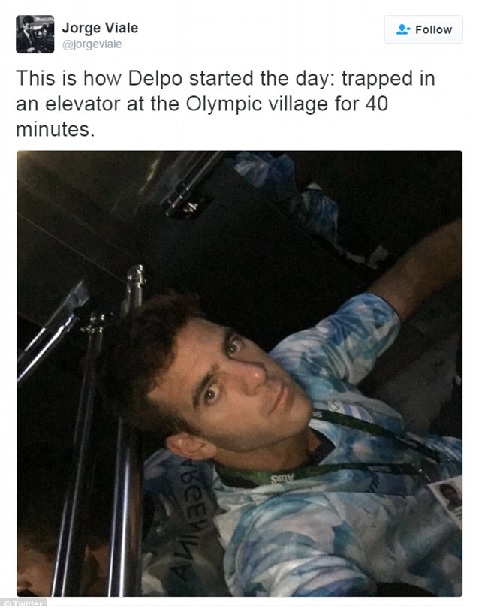 In hisopening match against the World's No. 1 Tennis Star Novak Djakovic, Argentinian Tennis Player Juan Martin Del Potro got stuck in the elevator and was forced to wait for 40 minutes. Instead of getting pissed off and whined, Juan took a selfie and update the world about his condition. Luckily, Argentinian Hand Ball Team, "The Gladiators" came to rescue the trapped tennis player and eventually played against Novak. By the way, he won and beaten the World's No.1! What a luck for Juan Martin!
11. COMMENTATOR MIXED UP SWIMMERS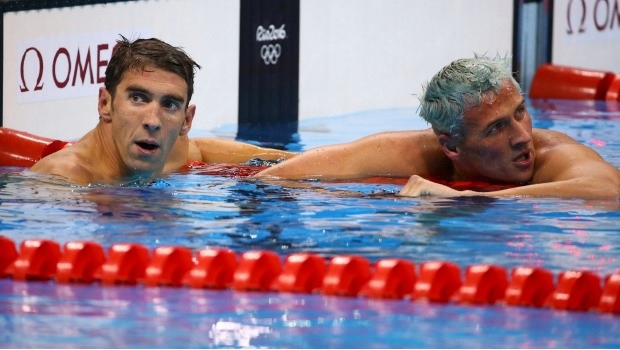 Well, this is just hilarious!!! Canadian commentator Elliot Friedman confuses Micheal Phelps with Ryan Lochte during the 200m medley finals. Friedman was so excited by the idea of Lochte leading the game while it was Phelps the whole time. Finally, when Phelps reached the finish line, Friedman then realized that he mixed up both players and eventually, apologized for his mistake. Because of this, the Canadian anchor received different reactions from Netizens but surprisingly got more sympathy and support. Indeed, people makes mistakes. Some just screws up big time!
12. SUCH BAD FALL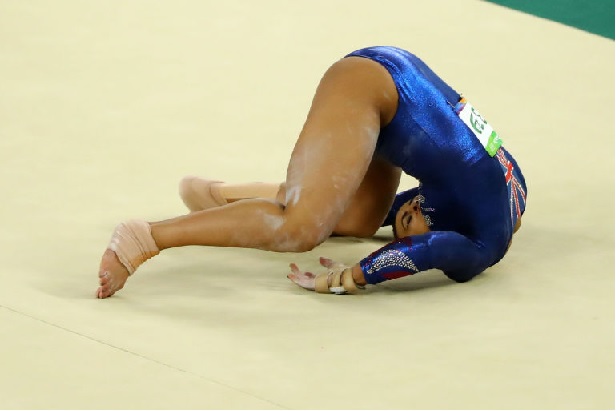 Accidents are not uncommon on any sports competition and they are often so scary. British Gymnast
Ellie Downy fell on her neck during the Olympic qualifiers after an underestimated flip on the vault. She immediately got up from the fall and finished her routine but eventually assisted by the staffafter feeling nauseous and dizzy. Luckily, she did not sustain any serious injury from the incident.
13. GYMNAST BROKELEG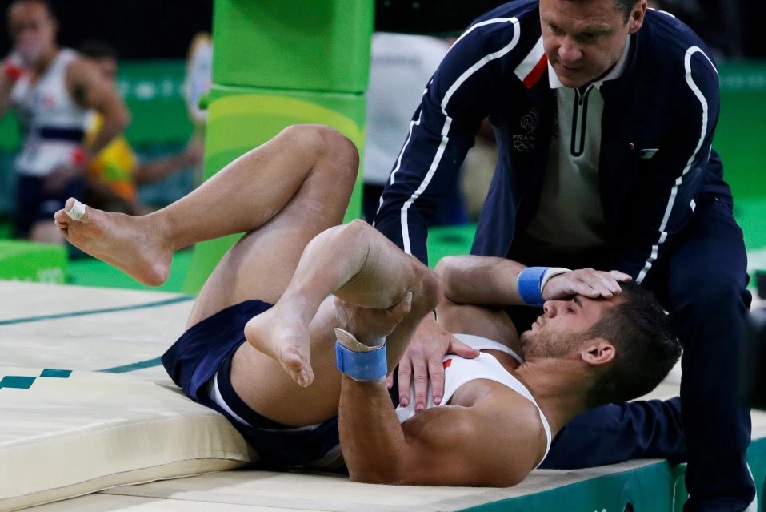 One of the most horrific accident happened in Rio Olympics was the bone-crunching moment of French Gymnast Samir Ait Sait as he broke his leg while completing his routine performance. The sound of his broken bone literally echoed in the whole arena which made everyone feel the agony of the gymnast. Medics aid Samir immediately after the incident, sadly it also ended his goal of getting the gold. Ouch! Ouch! Ouch!
14. WEIGHTLIFTER BROKE ARM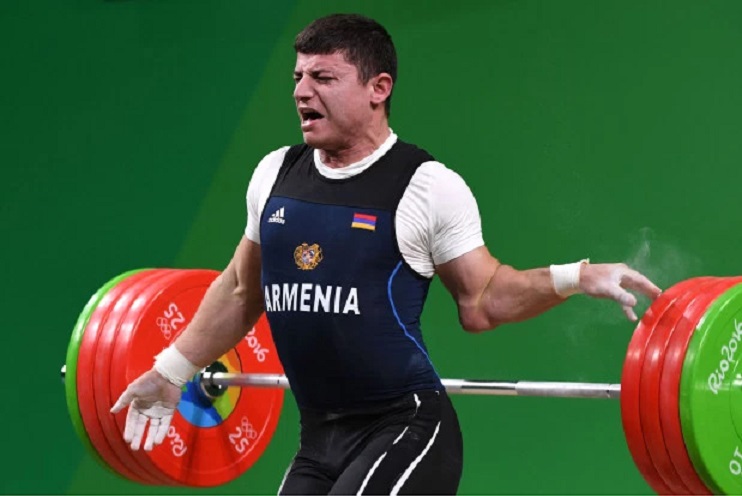 Another horrifying moment in Summer Olympics was when Armenian Weightlifter Andranik Karapetyan dislocated his elbow while attempting to lift 195kgs weights during the finals. The routine ended with a nerve racking screams of pain from the athlete as medics and trainers rushed to help him out. Not only the the injury was excruciatingly painful, but also stopped Andranik's dream to be a Gold Medalist. Poor guy!
15. DUTCH BIKE CRASH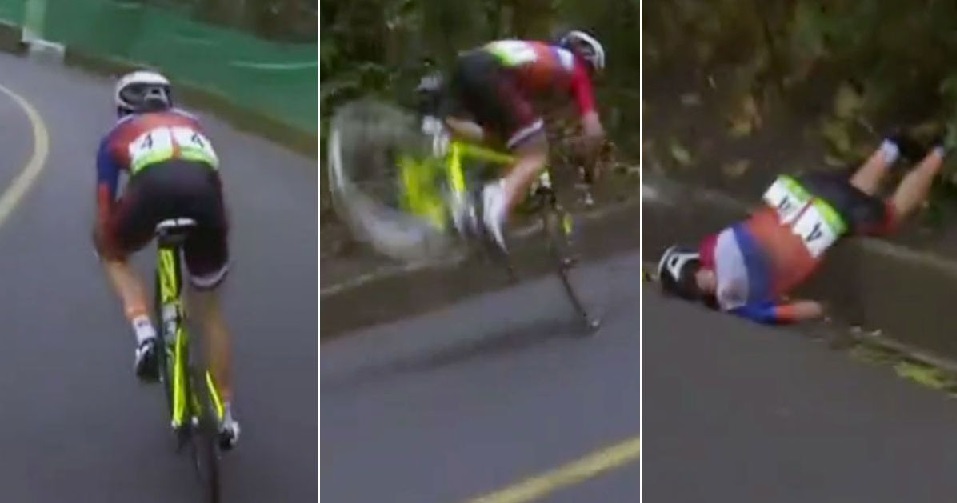 Victory was almost within her reached when Dutch Female cyclist Annemeik Van Vlauten flipped and landed In the ditch while trying to finishthe best race of her life. She was immediately rushed to the hospital where she stayed under intensive care for less than 24hours.Talk about bad luck!
16. ROBEL KIROS HABTE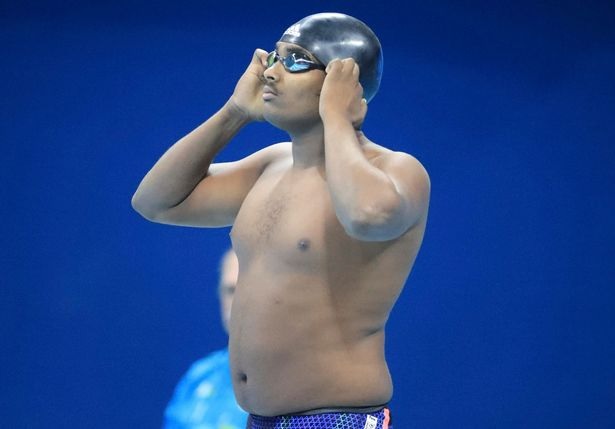 Meet the 2016's Worlds Favorite Olympic Athlete, Ethiopian Swimmer Robel Kiros Habte! This Olympian gained internet fame as he appeared to be so different from the rest of the participants because for his "dad – bod" figure. Though he sported his game face, he ranked 59th among the 59 delegates. But what the heck, he's still an Olympian! Good job Robel!
17. MIDDLE FINGER CHEER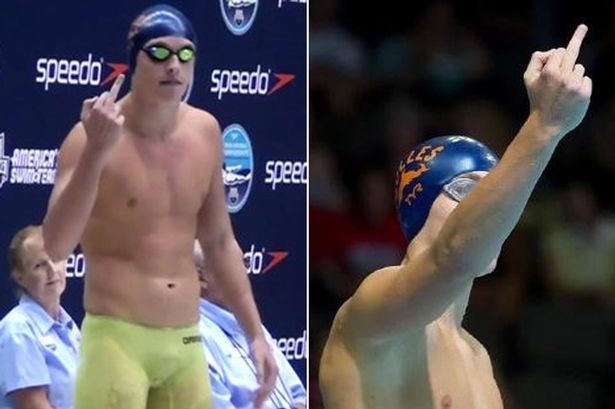 Every athlete has rituals to do whenever they are about to compete. This 21 year old Canadian Swimmer, Santo Condorelli has a unique motivational gesture before every race. Santo raises his middle finger to the crowd but particularly to his Dad; before competing. This has been a practice of the swimmer as advised by his dad for good luck and to build confidence. Best ritual ever!!!!
18. DOPE! DOPE! DOPE!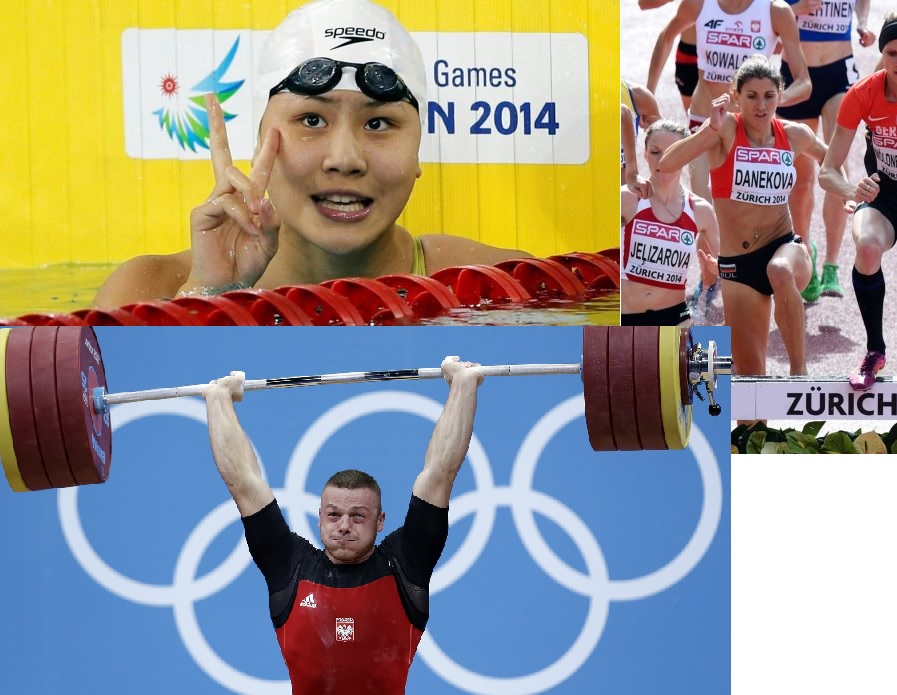 So everyone in Olympics wanted to win and take home the honor but some of the competitorswill do extra mile to achieve this. In this 2016 Rio Olympics, Chinese Swimmer, Bulgarian Steeplechase and Polish weightlifter failed drug test and was suspended for doping. The 3 ended up not achieving any victory after this controversy. Bad move people!!
19. HE GOT IT WRONG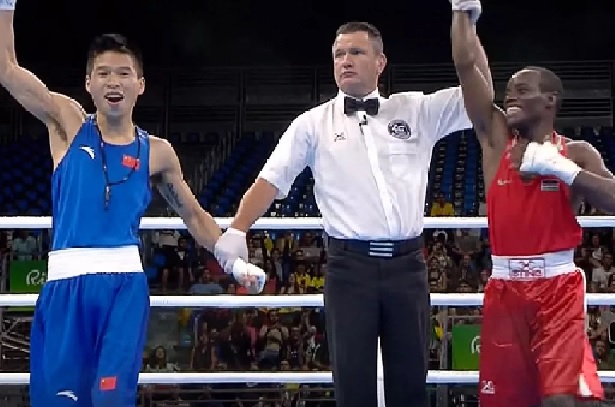 We all have embarrassing moments, but Chinese Boxer, LV Bin, was so unfortunate to have it televised to the whole world. In his match against Kenyan Boxer, Pete Wargui, LV confidently believed that he won and was bouncing on his spot as pre-celebration. Such a heartbreaking scene when he realized that he did not beat the Kenyan. Don't worry, we feel your pain, LV! We feel you!
20. SO SO BORING!!!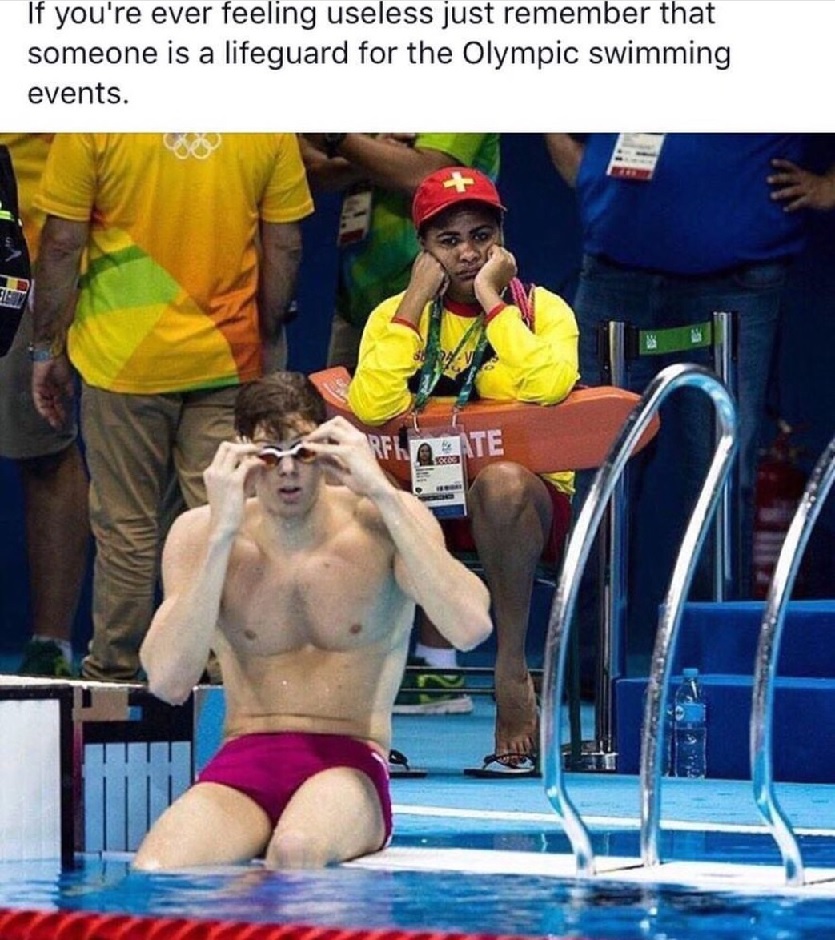 Can't stop laughing! We definitely want tomeet Ms. Lifeguard and give her a pat on the back!