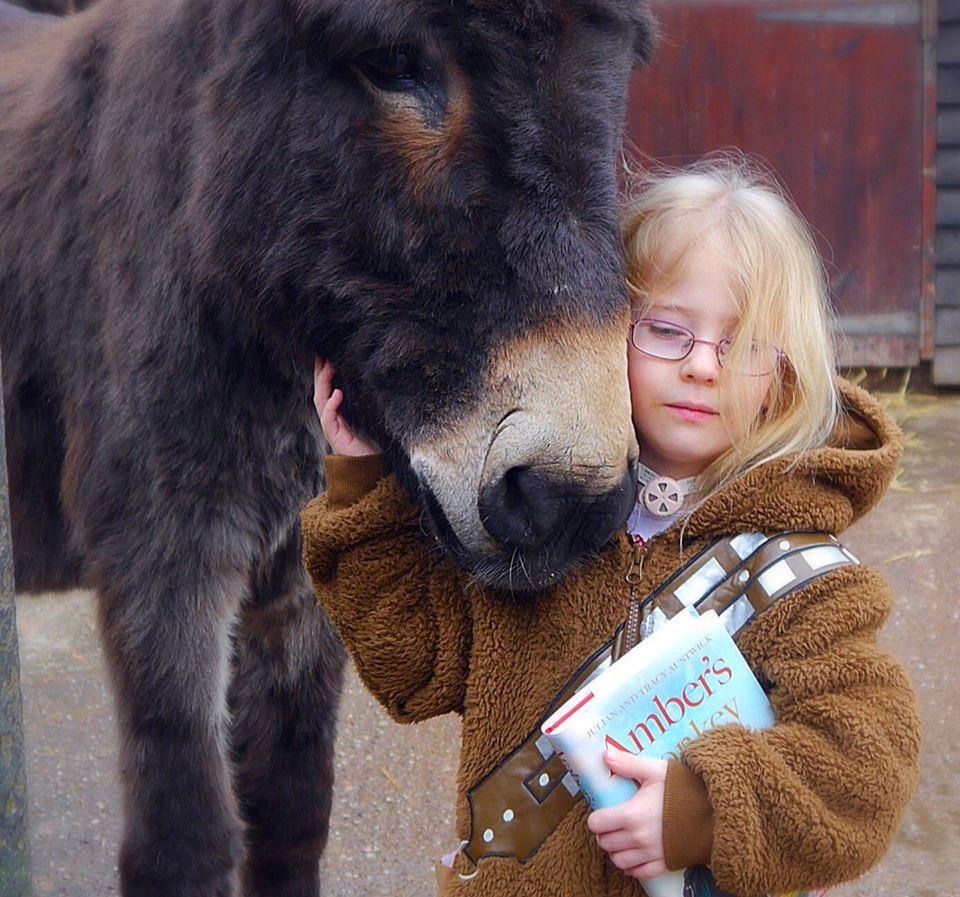 When little Amber Austwick was born, her parents feared that she'd never be able to speak a single word. Born with a damaged voice box, Amber was incapable of making any sounds at all. That is until she met a rescue donkey named Shocks whose love and attention made the impossible happen.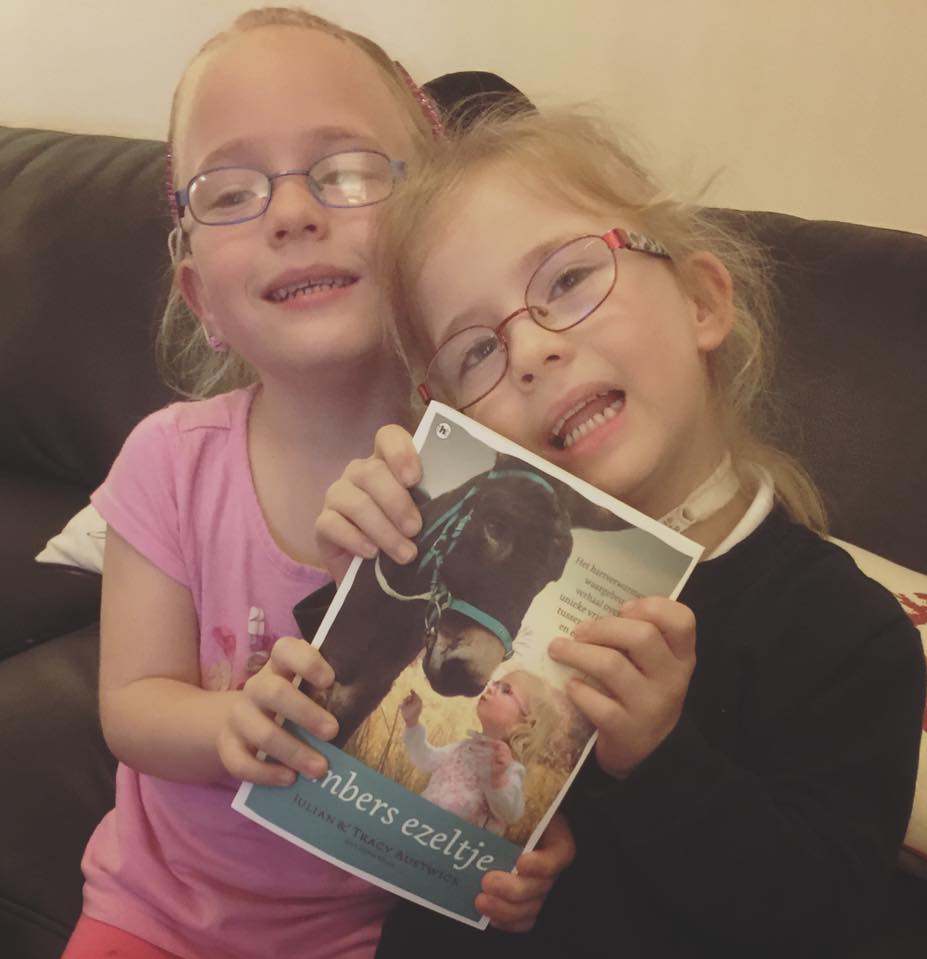 From the moment Amber and her twin sister Hope were born, doctors knew something was terribly wrong. Not only were the pair delivered 26 weeks premature, but they also weighed a shockingly small amount. Indeed, Hope was just 800g while Amber was an alarming 700g.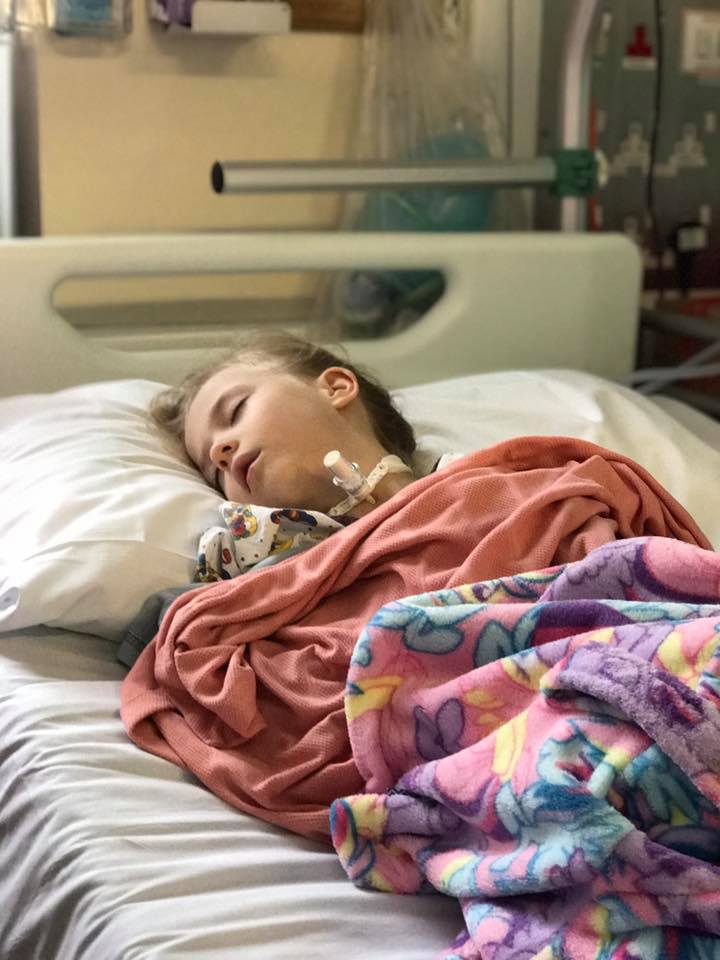 "When Amber was born it didn't look great," her mother Tracy admitted to The Daily Express in 2014. "They took her straight away to resuscitate her as she had bleeding on the brain…We didn't have a clue what was going on."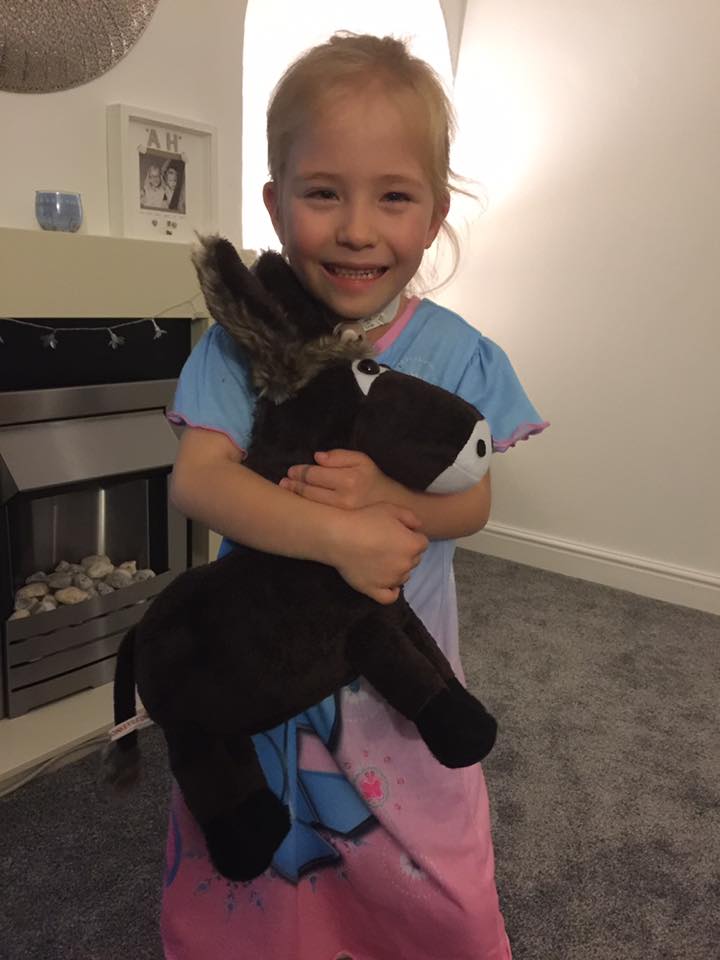 Placed into intensive care shortly after their 2010 birth, the sisters struggled to make it through their first few days of life. Fortunately, Hope quickly gained strength and grew into a strong and healthy baby. However, Amber was not so lucky and continued to exhibit worrying signs that she might not pull through.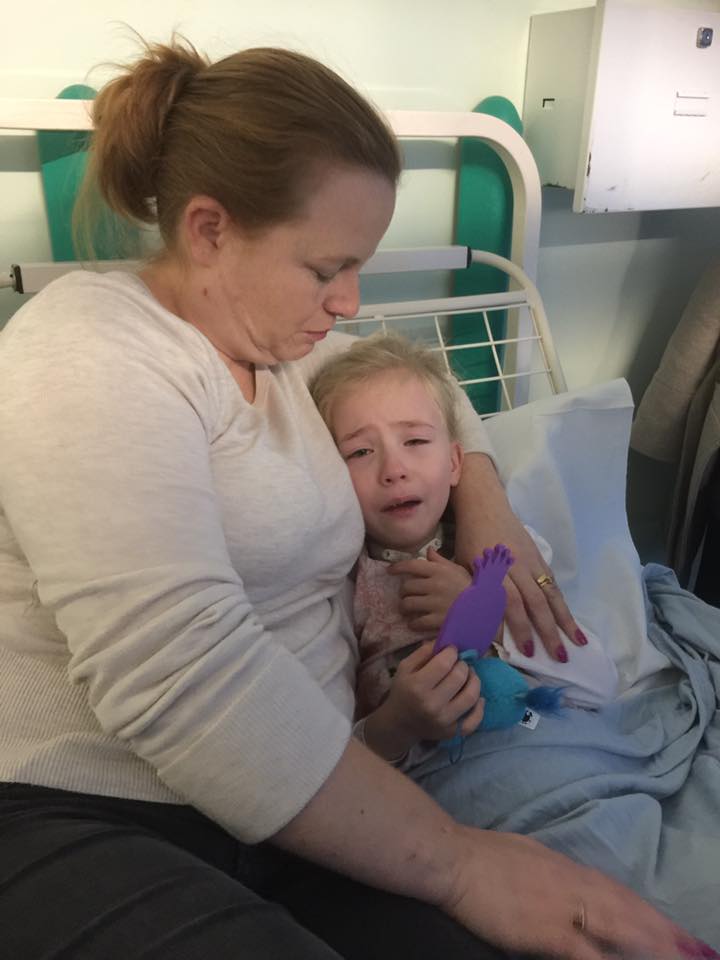 Most alarmingly, Amber was having enormous difficulties breathing and required a tracheostomy in order to allow air into her lungs. While the procedure thankfully worked, it also left Amber without the use of her vocal cords. Effectively, it made the girl mute.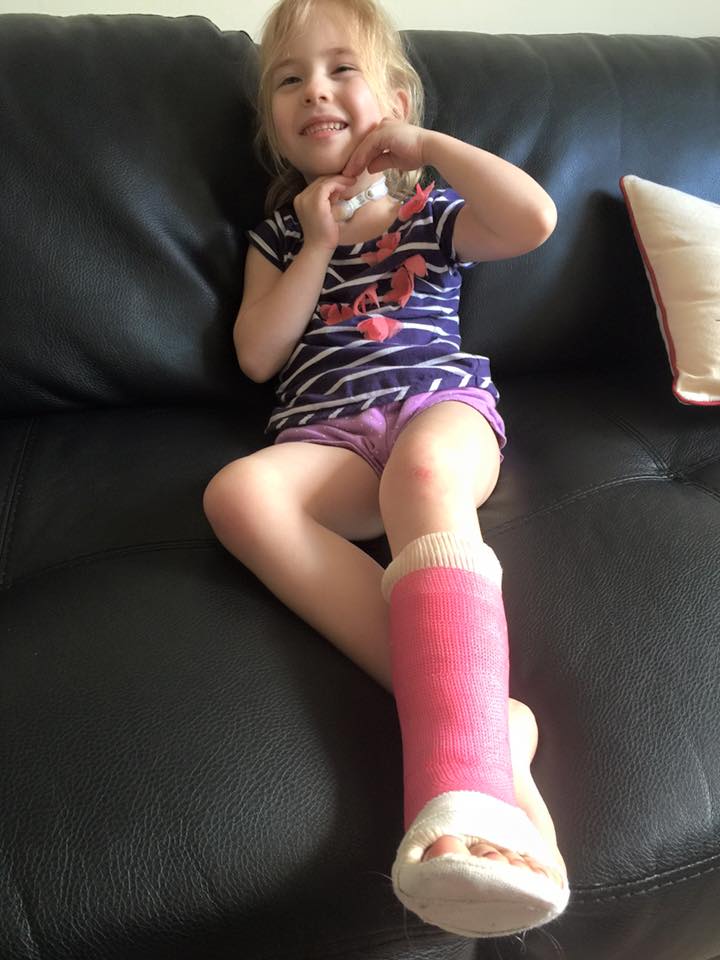 As Amber grew older, further health complications became apparent. Besides requiring physiotherapy and procedures to straighten her legs, she was also diagnosed with cerebral palsy. Worst of all, though, Amber remained unable to utter a single sound. And – with her condition worsening – her parents became convinced they'd never hear her speak.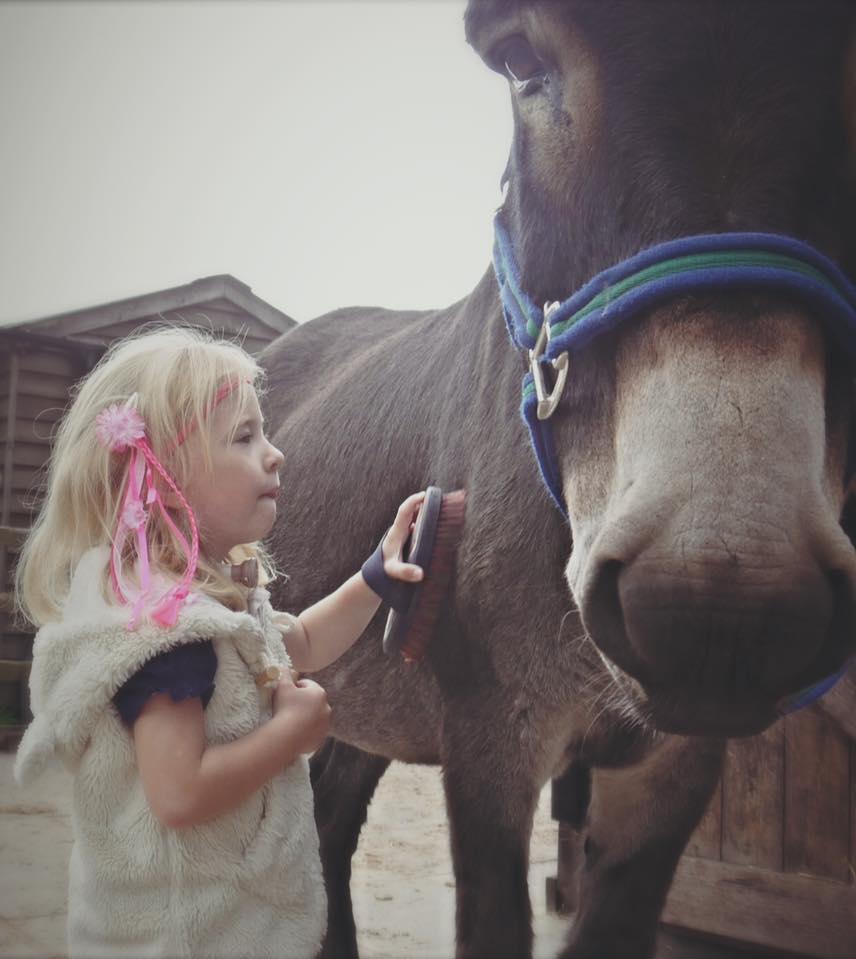 With few options left to turn to, Amber's parents looked towards alternate forms of therapy. In 2013 Tracy and her husband Julian took their girls to the Birmingham Donkey Sanctuary near their native Kingstanding in England. And it was here that Amber first met Shocks…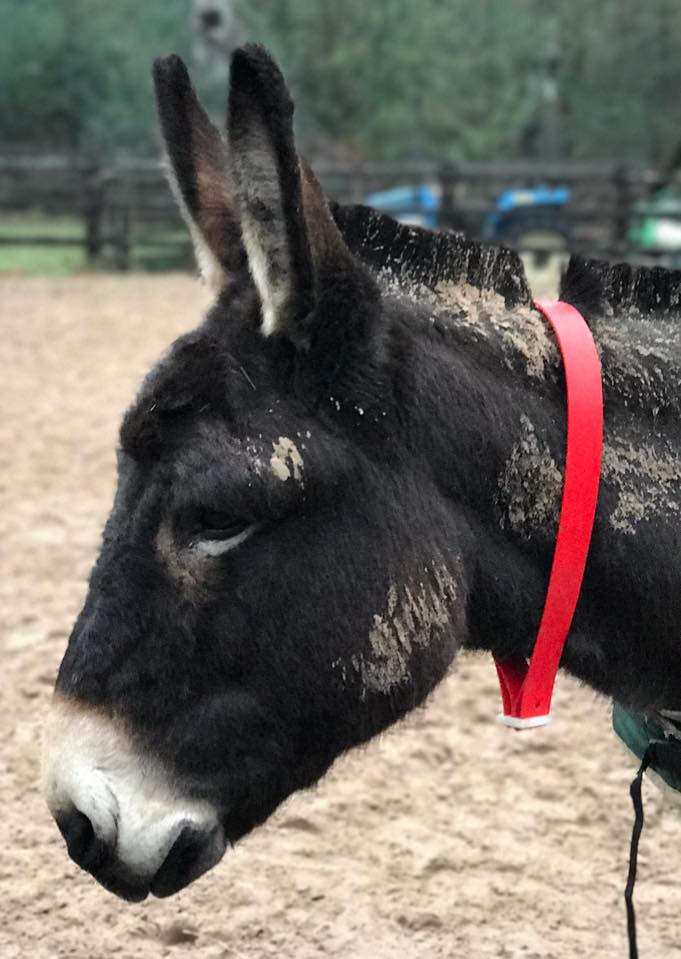 Like Amber, Shocks the donkey had faced unimaginable odds. In 2010 care workers found the animal in a field in Ireland suffering tremendous amounts of pain. To wit, Shocks had sustained a deep cut to his neck thanks to an undersized collar that cut into his skin.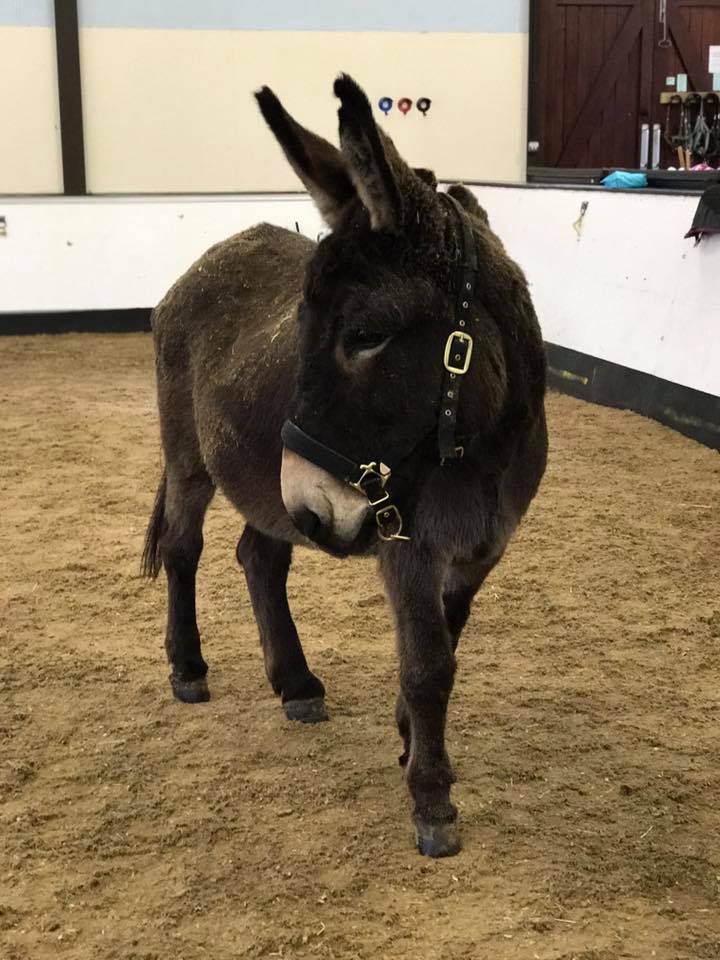 To make matters worse, Shocks' neglectful former owner had also dowsed the wound with bleach in an ill-advised attempt to ease the animal's suffering. Instead, the poor creature only experienced more pain and became scared and withdrawn around other human beings.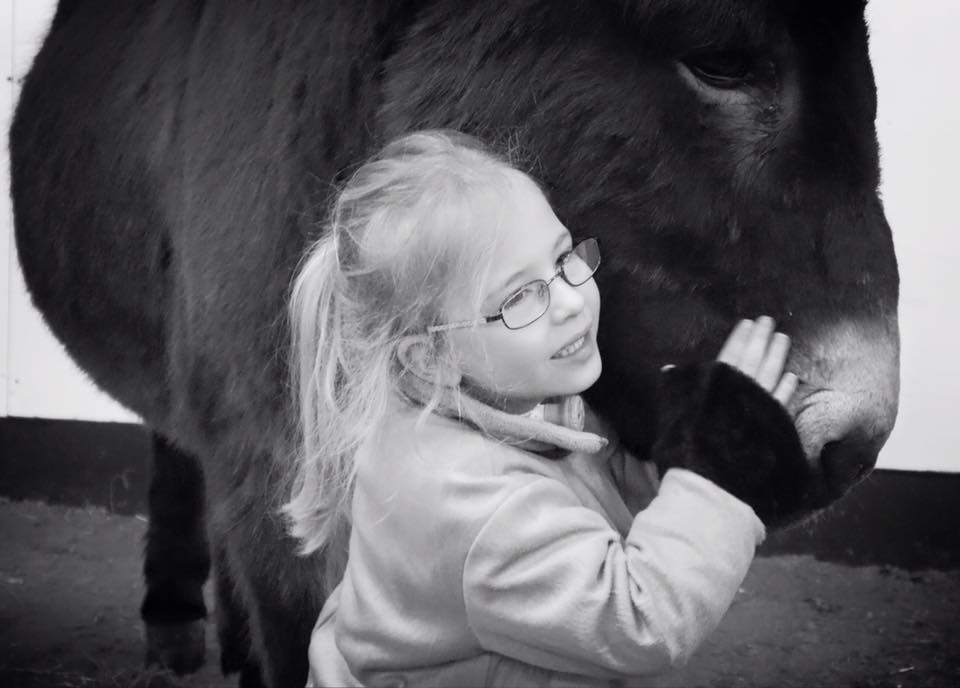 Following the end of his ordeal, Shocks entered into the Birmingham Donkey Sanctuary's care where handlers attempted to soothe him into a better state. Eventually, Shocks overcame his distrust of other people and began to show a previously unseen capacity for caring. Indeed, this trait convinced his carers that the animal would get on great with vulnerable children like Amber.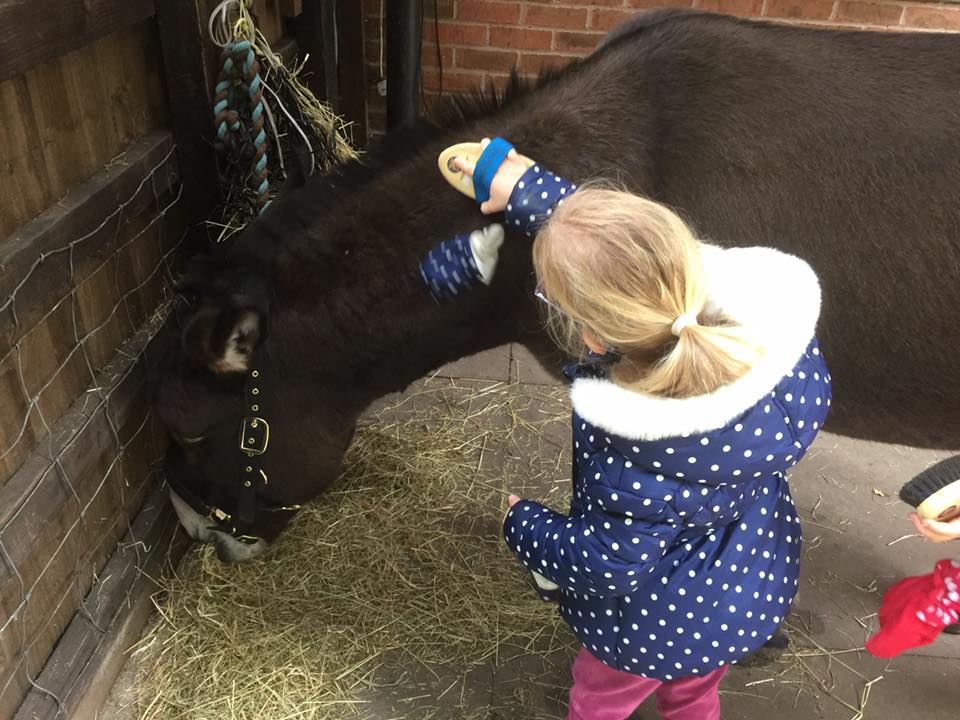 However, when Amber's family first met Shocks, they were unconvinced that the donkey could help their daughter's recovery. "I remember walking in and seeing Shocks, a massive black donkey who looked angry," Tracy recalled to Birmingham Mail. By all means, it wasn't the best introduction.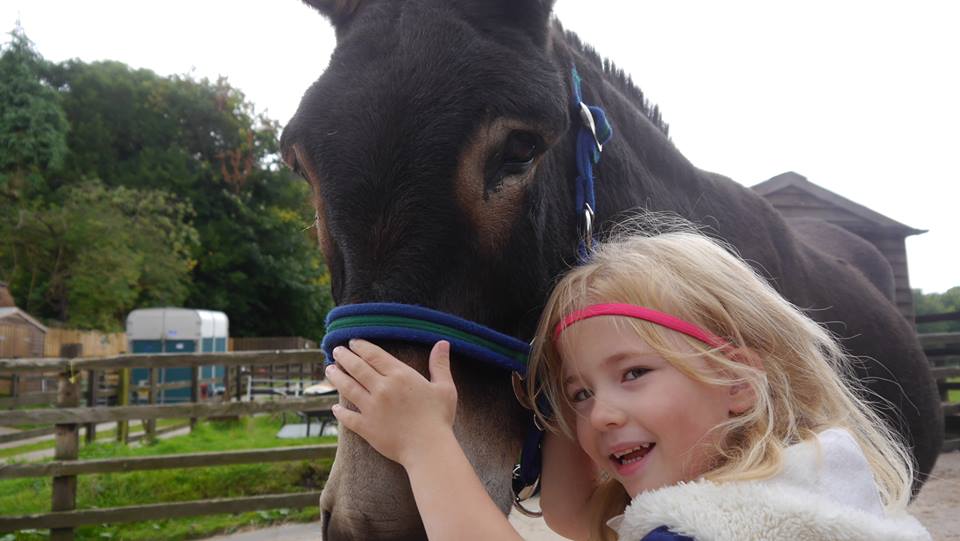 Despite her parent's reservations, Amber instantly took a shine to the rescued animal. "Amber fell in love with him," Tracy continued. "She cuddled his nose – it was like they made friends straight away…It was really lovely, like they'd known each other for ages."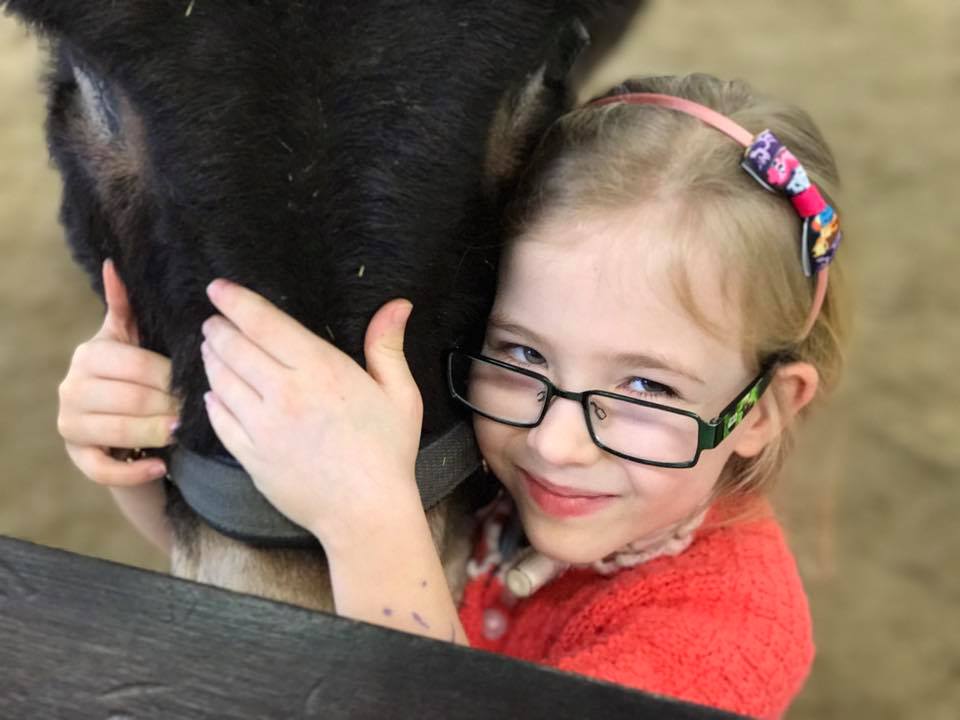 In a twist of fate, Amber was actually the first child placed in Shock's care. And, needless to say, the animal reciprocated her love in kind. "Shocks would lower his head to her and would allow her to hold him around the neck," Julian admitted to The Dodo earlier this year. "They really seemed smitten."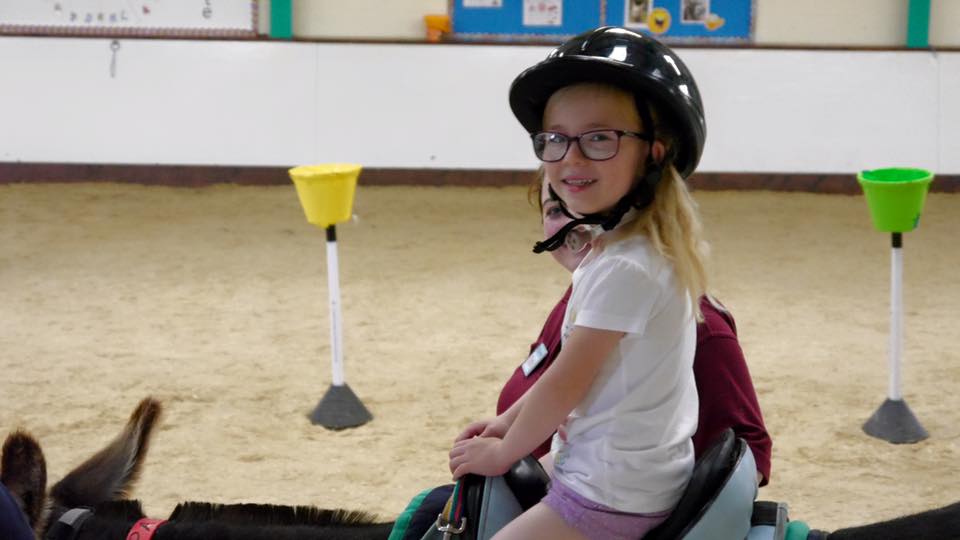 Almost immediately, Amber showed signs of improvement thanks to Shocks' attention. Once physically weak, Amber was now much stronger and began riding the donkey around its stable. Naturally, the two developed a deep bond and became utterly inseparable.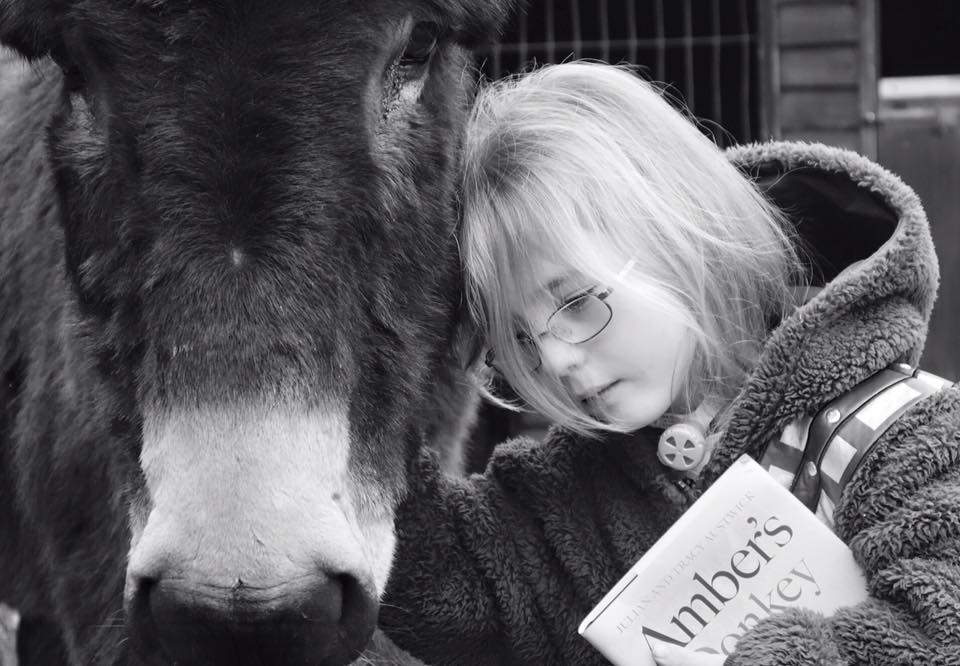 While Amber's newfound friendship was a blessing in itself, the Austin family soon found themselves welcoming even happier news. Upon reaching her third birthday, Amber found out that she was eligible for a surgical procedure to potentially restore her voice. With great hope, Tracy and Julian took their daughter to the hospital one last time.
Amber's progress was slow, but the infant began showing signs of improvement. After leaving the hospital, Julian sang his daughter a song to see if he could coax her into using her voice. Much to his amazement, Amber reacted with a burst of laughter.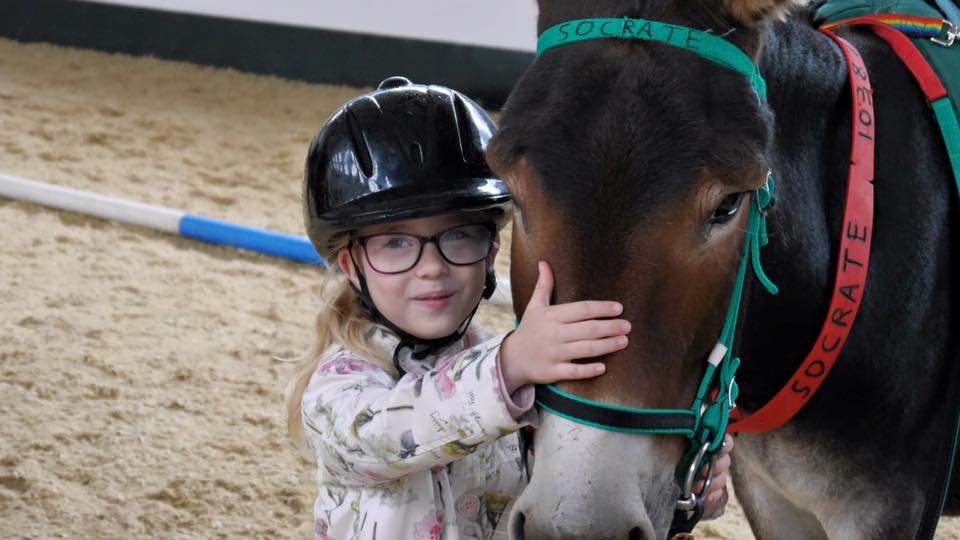 "It was such a happy moment," Julian told Birmingham Mail. "We had seen her laugh, but never heard it before." Tracy herself was equally overcome by this development: "We had no idea if her vocal chords were paralyzed. It was such a relief to know she had a voice."
But though her giggle was a positive enough sign, Amber still remained unable to talk. Speech therapists assured her parents that she would one day find her voice, yet still the girl stayed mute. However, there was one thing that could coerce Amber into making her first words – her best friend Shocks.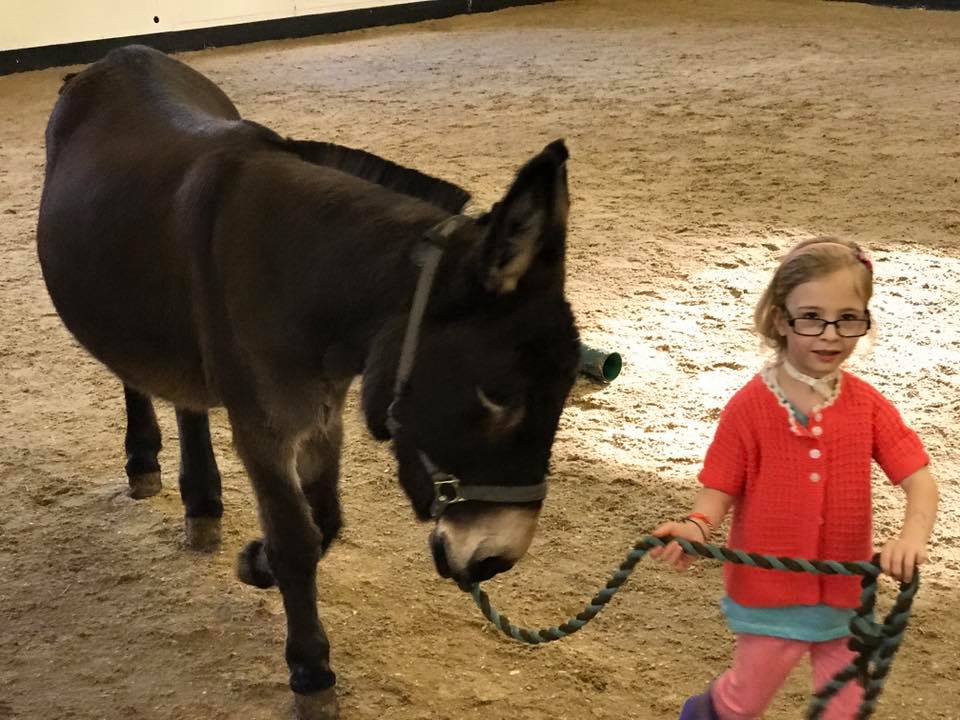 In late 2013 Amber and her family made a visit to the Donkey Sanctuary. After a day spent in the company of Shocks, Amber hugged her favourite pal goodbye when all of a sudden a miracle occurred. Putting her head to Shocks' ear, Amber opened her mouth and said, "I love you, Shocky."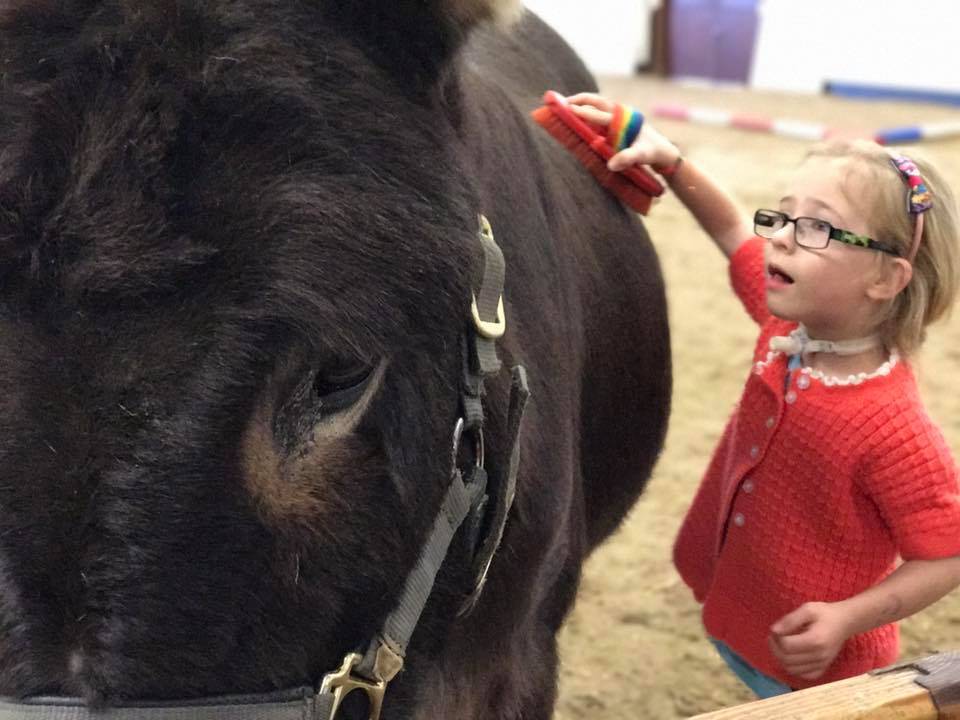 Stunned and amazed, Tracy and Julian couldn't believe their ears. Finally, the moment they had spent the last year hoping for had arrived. "We were delighted," Julian admitted to The Dodo. "It was such a proud moment and of course a massive relief to know that she could speak."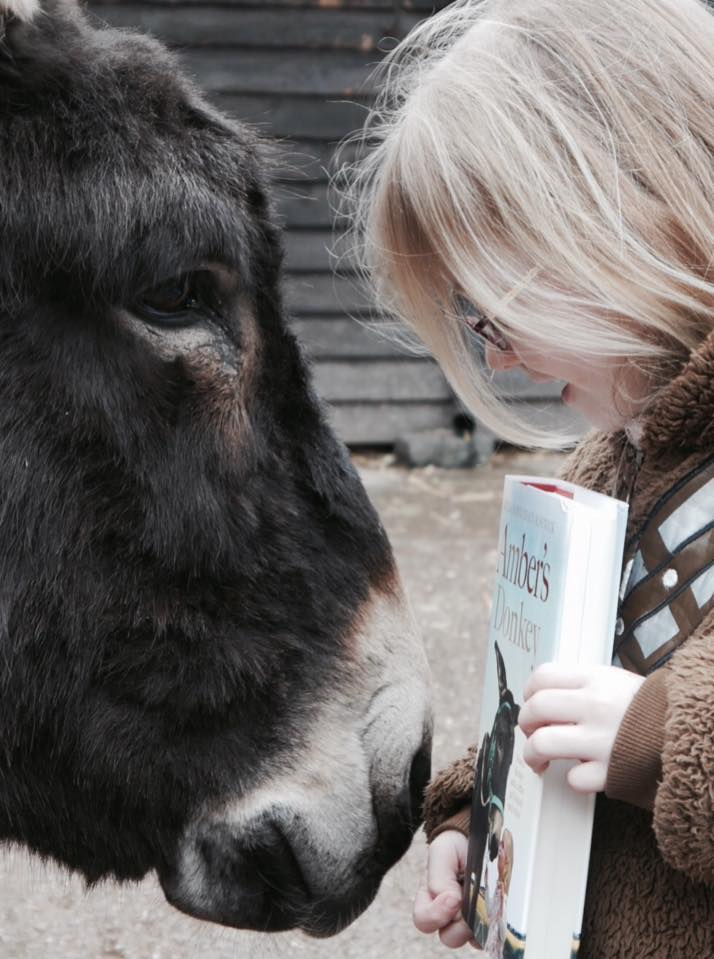 Thanks to Shocks' unconditional love, Amber was able to recover something that her parents had feared lost. And Tracy and Julian are both adamant that their story can inspire others not to give up hope. Just this year, they even released a book about their experience named Amber's Donkey.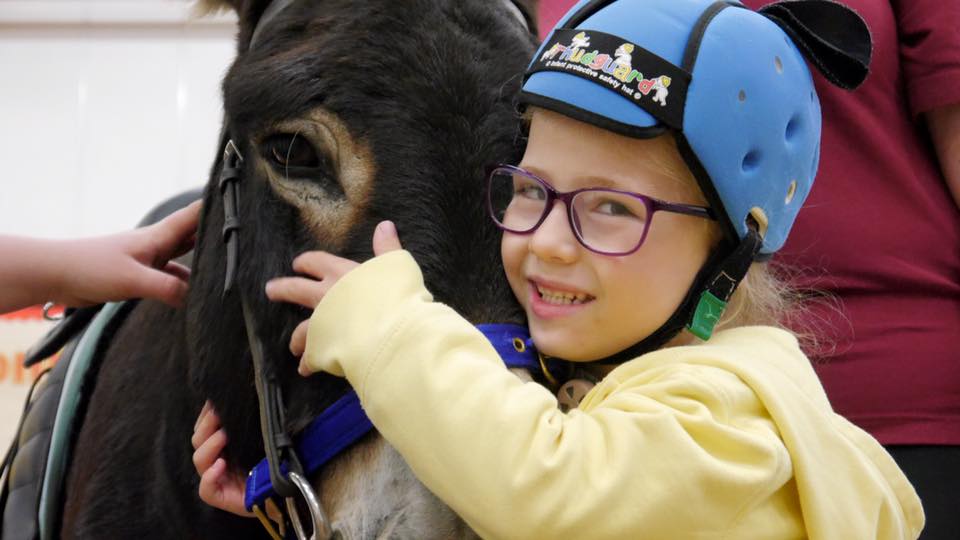 Today, Amber – now seven – is living a life she had once thought impossible and still remains utterly devoted to Shocks. From hopeless origins, both Amber and Shocks overcame their adversities through one another's help. As Julian put it, "I'd say they healed each other."