Fall season is here and it's that time of the year where most children gets giddy dressing up in their costumes, sauntering around town knocking from door to door hoping to fill up their baskets with goodies that'll last them for the night. Those were the days to say the least.
Currently, as the millennials dominate the scene nowadays. Halloween has gotten a whole lot crazier and even more fun when it comes to dressing up and deciding what costume to wear for Halloween night. Because people can actually dress whatever they want or whatever they can think of, sometimes these halloween costumes get way out of hand. From ridiculous to out of this world hilarious. There is no doubt why Halloween is one of today's generation's favorite holiday.
Here are 20 of the Most Hilarious Halloween Costumes of All Time:
1. The Headless Serial Killer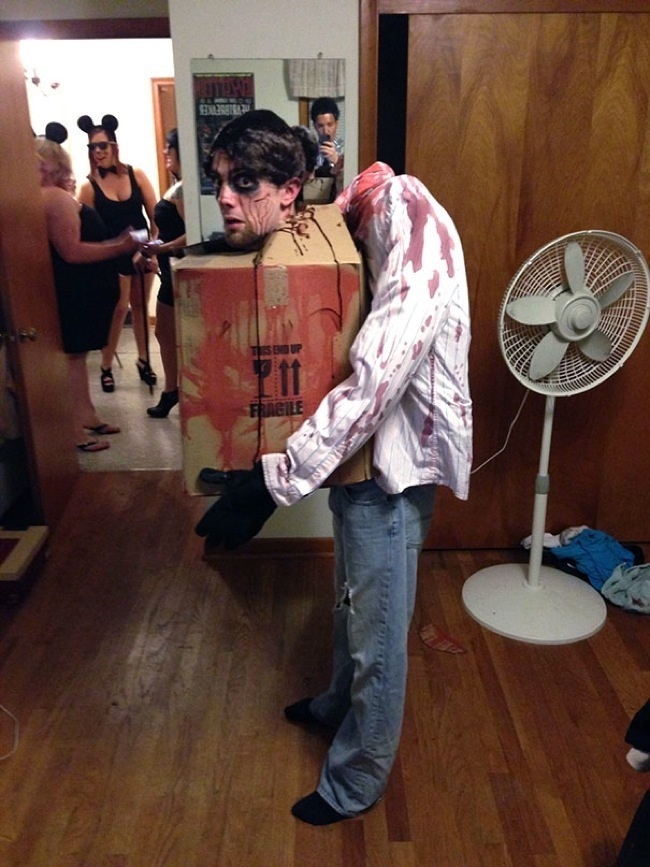 When the girl you've been crushing on for a long time at your school invites you over to a Halloween Party and you went way beyond the effort for your costume just to impress her.
2. One Night Stand, Literally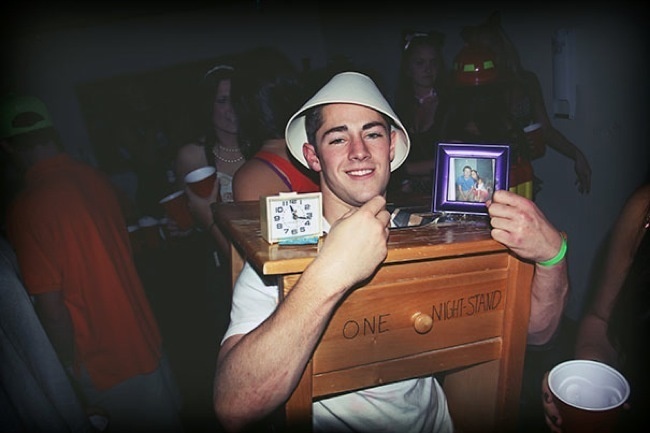 A little clever humor should do the trick. The term one night stand is usually coined to describe two people getting cozy with each other for at least one night. But if you come to think about it, it can actually become a great idea for a unique costume in halloween.
3. Cast Away Halloween Costume, feat. Wilson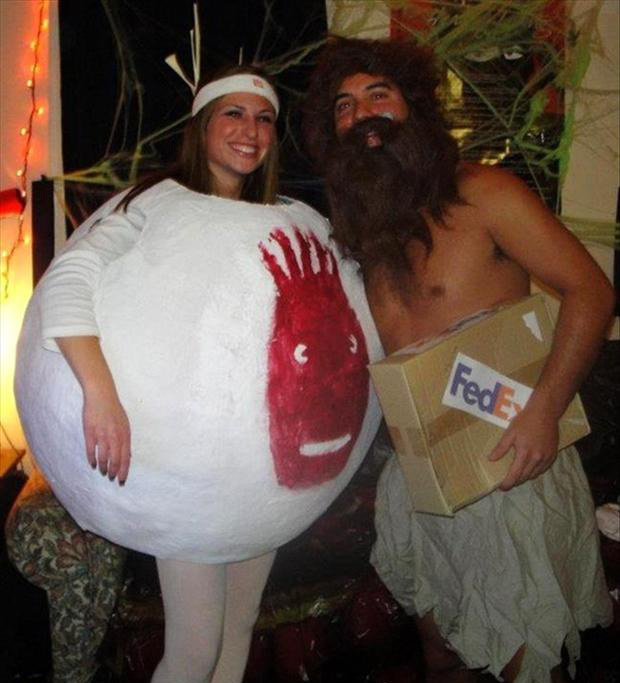 When Tom Hanks made the famous ball Wilson a big thing, everyone started to dress like him, er.. It. Cosplaying the two main Cast Away characters is definitely not a bad idea for a couple who decides to go together on Halloween Night.
4. Trojan Condoms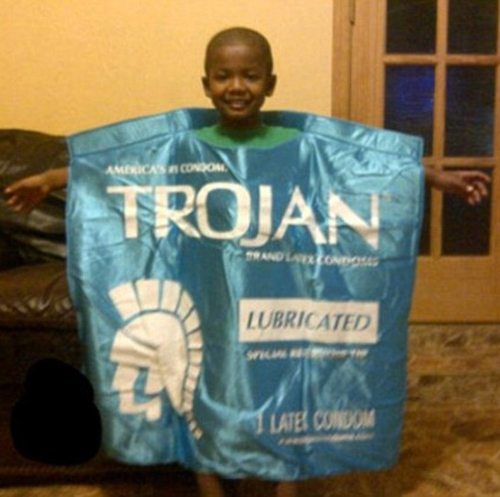 This kid surely knows what his dad forgot to put on 10 years ago when he was dating your mom.
5. Lego Men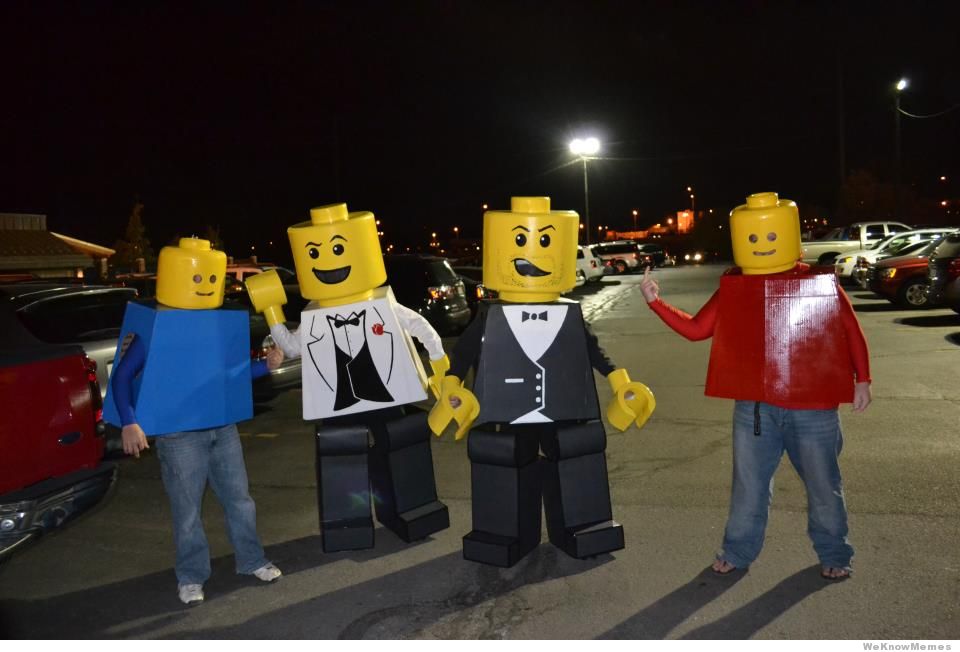 When you and your squad decides to go to the club all dressed up as lego man, you'd know the party's just getting started.
6. Comic Book Couple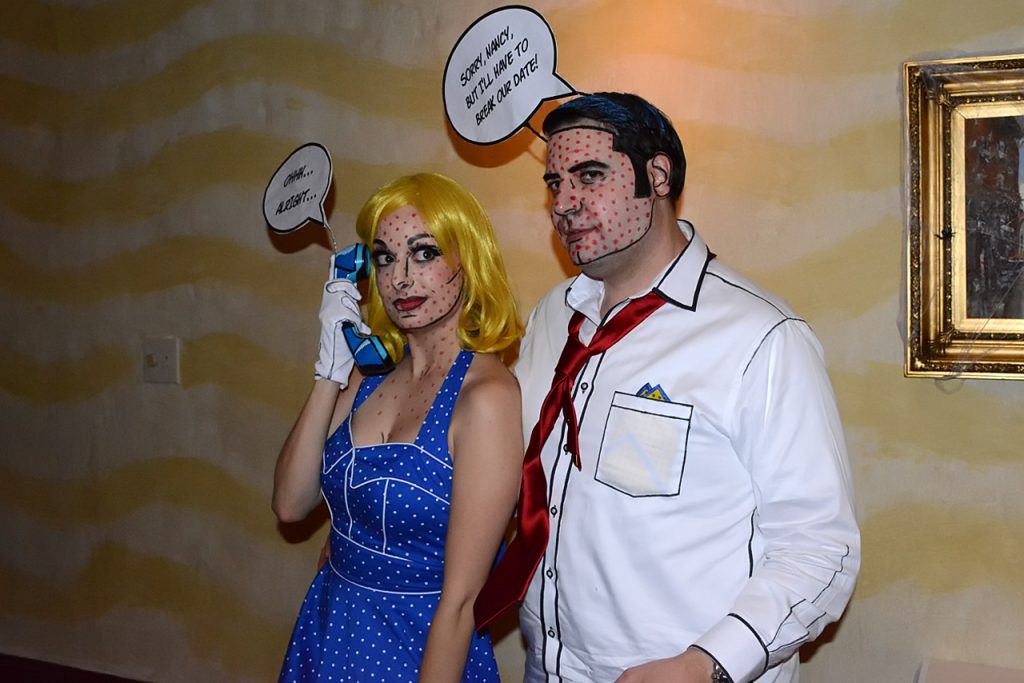 Another favorite is the comic book costume where you can easily do it yourself at home with just make up and face paint. This costume is also one clever unique ideas to go to a halloween party.
7. CAT DOG


So how do we exactly walk with this costume again? Has these girls ever figured out how to maneuver their costume? I'm guessing they need to watch nickelodeon again for practice.
8. Mount Rushmore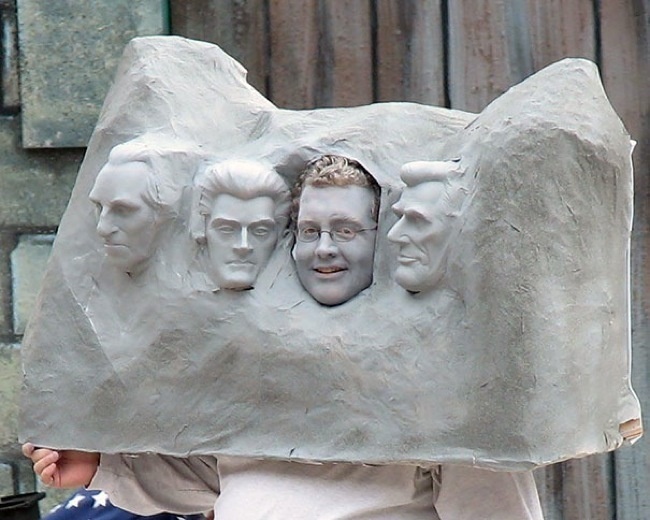 When you love history so much you can't wait to spend your halloween night together with your classmates George Washington, Thomas Jefferson and Abraham Lincoln.
9. ZOMBIE BABY WOMB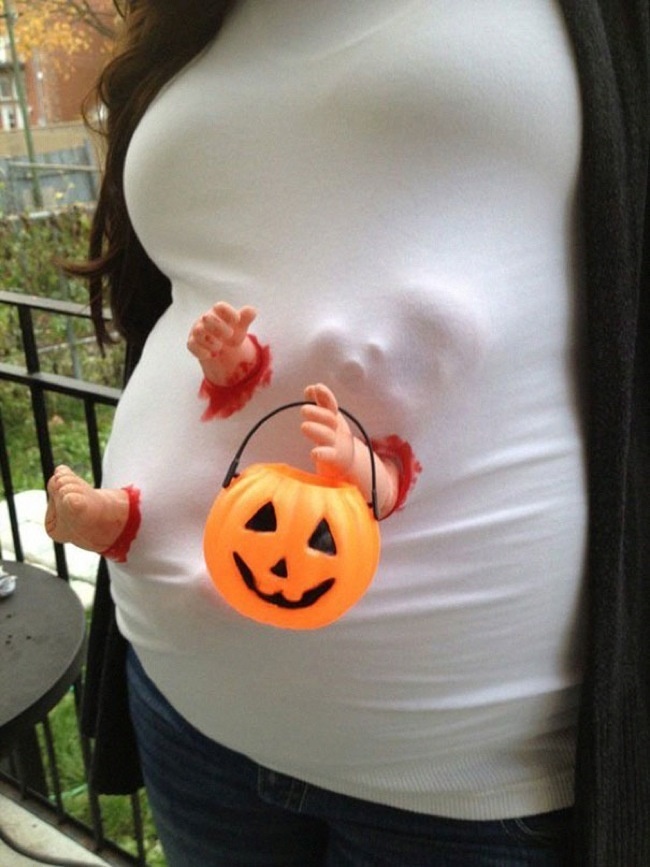 Who said pregnant women can't dress awesome this Halloween. This lady cleverly saw an opportunity to dress herself and her unborn baby as the zombie foundling!
10. The Beer Club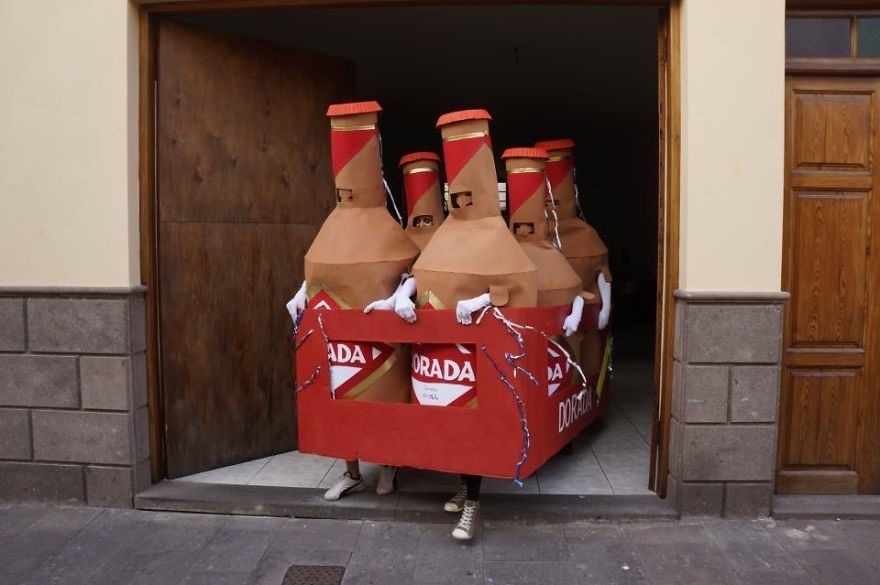 Here comes the beer brigade! Alright, who's up on getting piss drunk tonight?
11. Busty Couple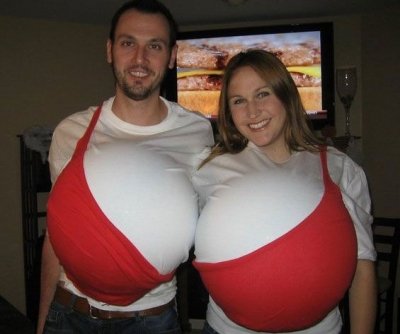 Nothing is more refreshing than to see halloween costume of a busty couple, literally! So the main point of the costume is too look like a voluptuous women's chest together. But what happens if the two couple's are separated? Would the costume make any sense at all? Hmm…
12. Wrecking Ball Pug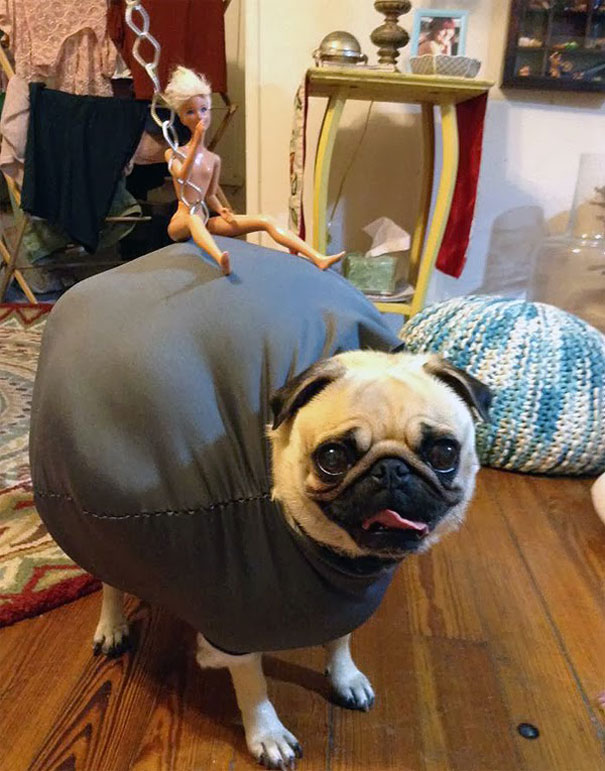 When every dog has their days, this pug surely owned Halloween night with his wrecking ball costume from Miley Cyrus' famous hit.
13. Human Centipede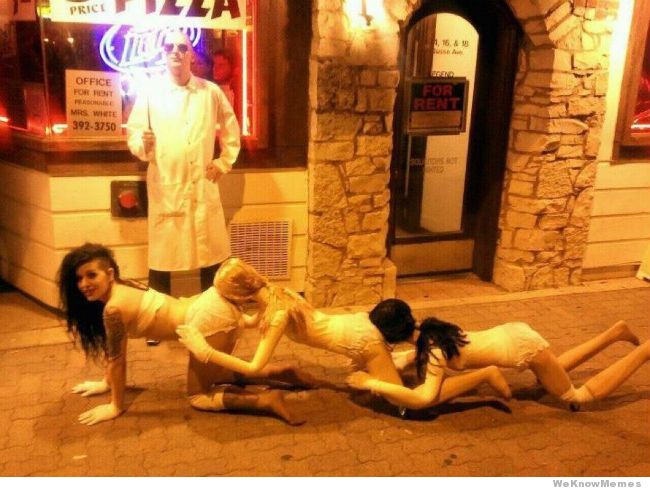 If you're a fan of the movie The Human Centipede, then you'll love this clever grotesque halloween costume inspired by an evil surgeon who takes pleasure on stitching people together to form a self crap eating creature. Eww!
14. MIRROR MAN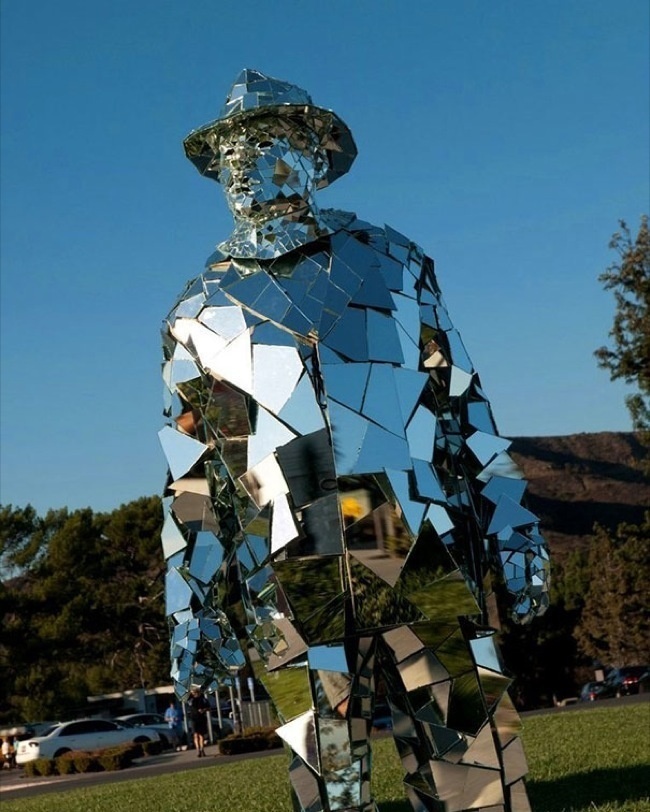 Just when you thought vanity couldn't be more expressed in physical terms, here's one guy who decides to dress like a human mirror for Halloween. The costume is pretty smart, if you put it in a way that you're exactly dressed as whoever's reflection is present in the mirror.
15. Roller Coaster Men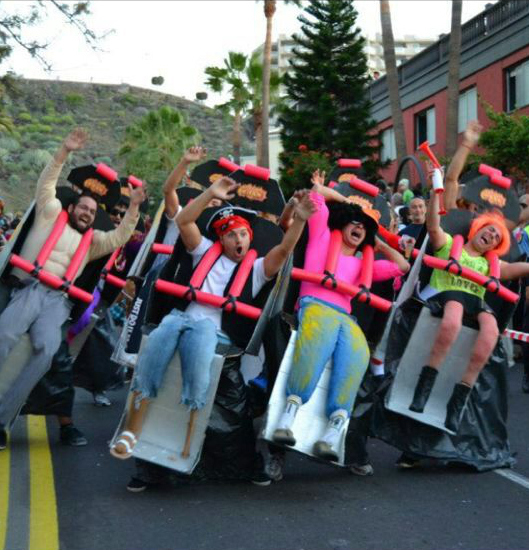 This is one uniquely planned halloween costume that's suited for 5 or more group of friends. To dress up as roller coaster passengers, who's extremely enjoying their ride is one way to kill drama for halloween night.
16. MR. CLEAN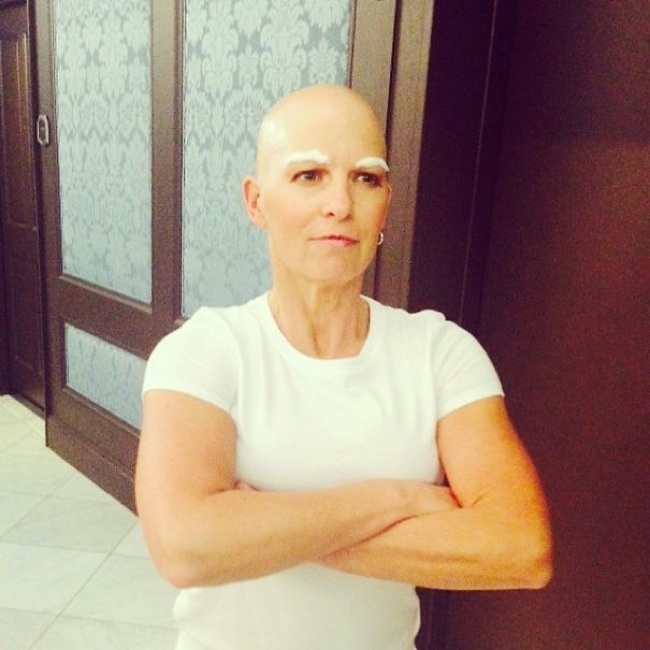 What's more fun than dressing up as the famous all around detergent Mr. Clean? The costume is very simple yet unique. If you're already bald, all you need to do is color your eye brows white using face paint or make up to go with a plain white shirt and pants and you're all set!
17. Pad & Guy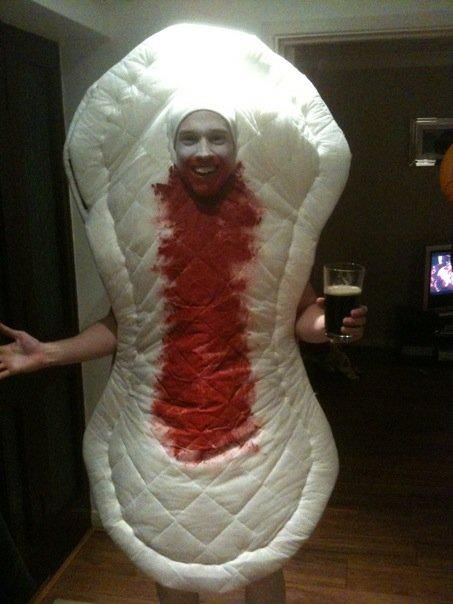 This could possibly be the most disgusting costume on this list. For goodness sake, Why in the world would you think you could get ladies for halloween night by dressing up as sanitary stained pads?
18. New Born Couple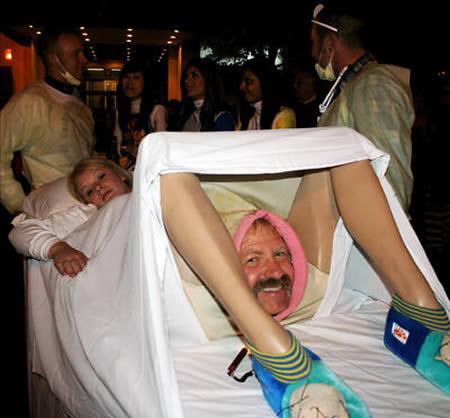 I think we have a winner folks! This lady dressing up as a mom giving birth and her husband as the new born baby totally knocked our socks off! This is the most hilarious halloween costume so far.
19. Toy Soldiers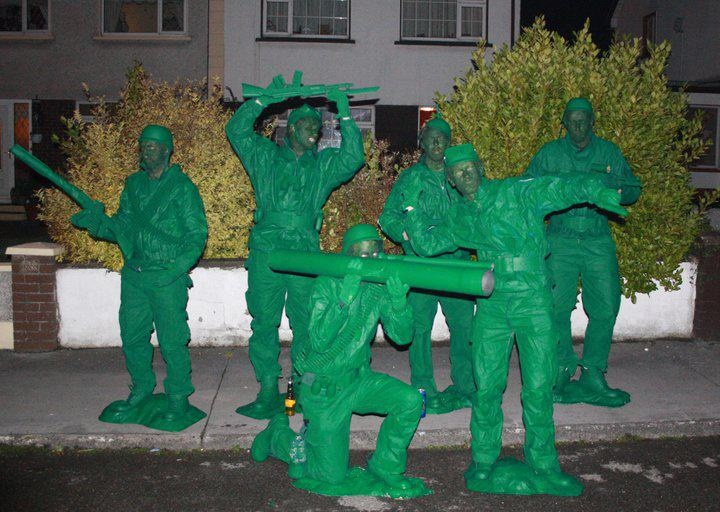 So if there's a lego squad, then no doubt there's a toy soldier squad. A clever idea for ex marines who wants to dress up their real life characters.
20. Pixelday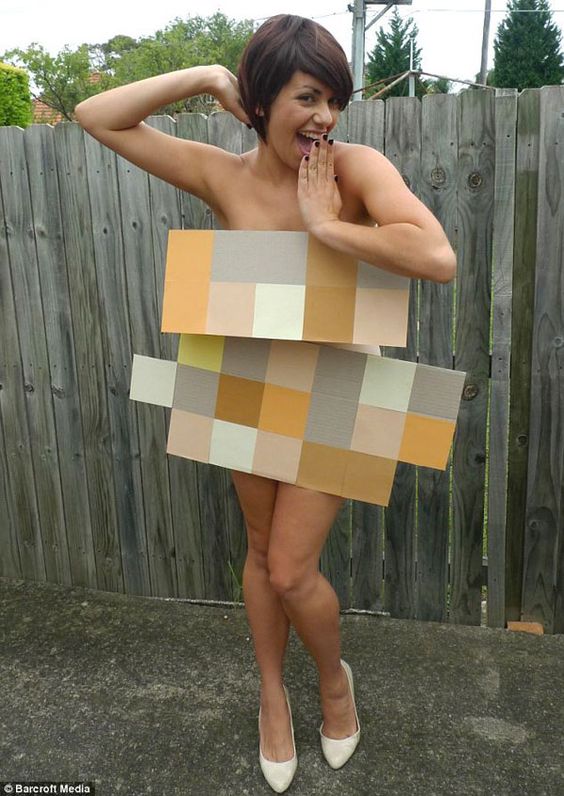 This lady found a way to dress censored in halloween by not actually dressing censored. Her pixelated costume surely nailed this metaphor.