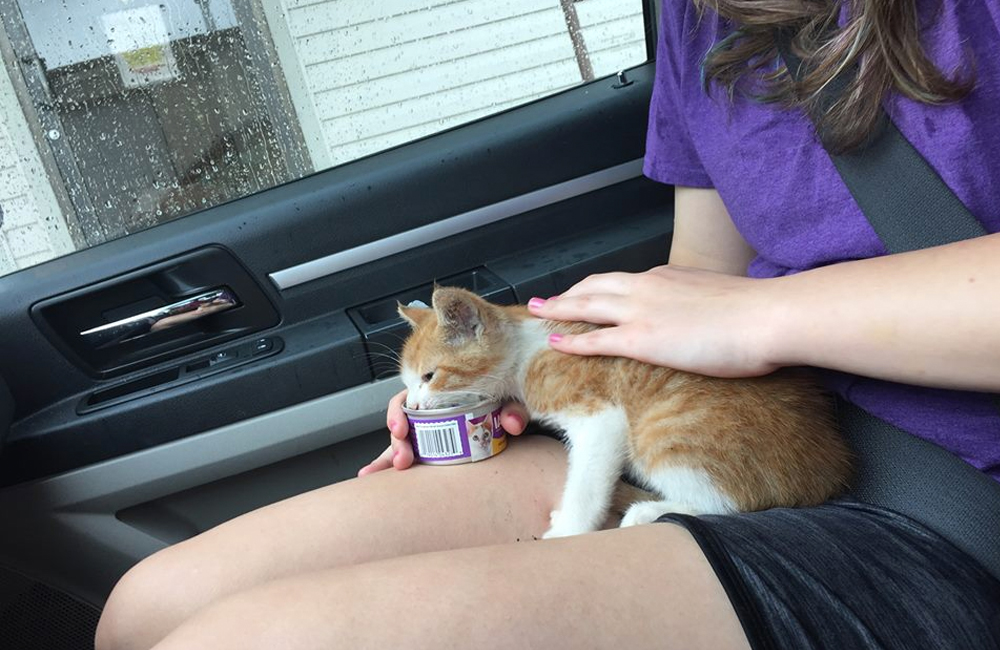 It's pouring with rain in Arkansas. Teenager Rachel Draper and her mum Maury are in town, running a few errands. They stop outside their local police station and disembark. Suddenly, Maury hears what sounds like the desperate cries of a young kitten. Assuming she's hearing things in the downpour, Maury brushes it off and her and Rachel head into the station unperturbed. But on their way out she hears it again.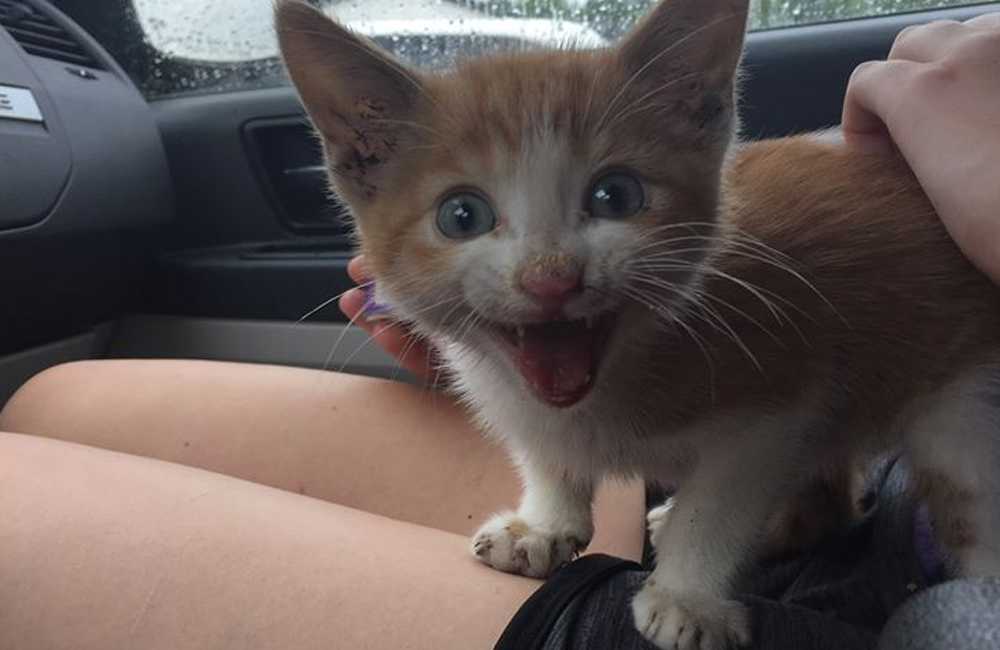 Together, Rachel and Maury follow the panicked calls for help. It's bucketing down and difficult to see but Rachel soon spots it; a tiny ginger kitten taking shelter under a nearby storage shed. She reaches down and grabs it, feeling the terrified cat shake in her arms as she carries it to the car.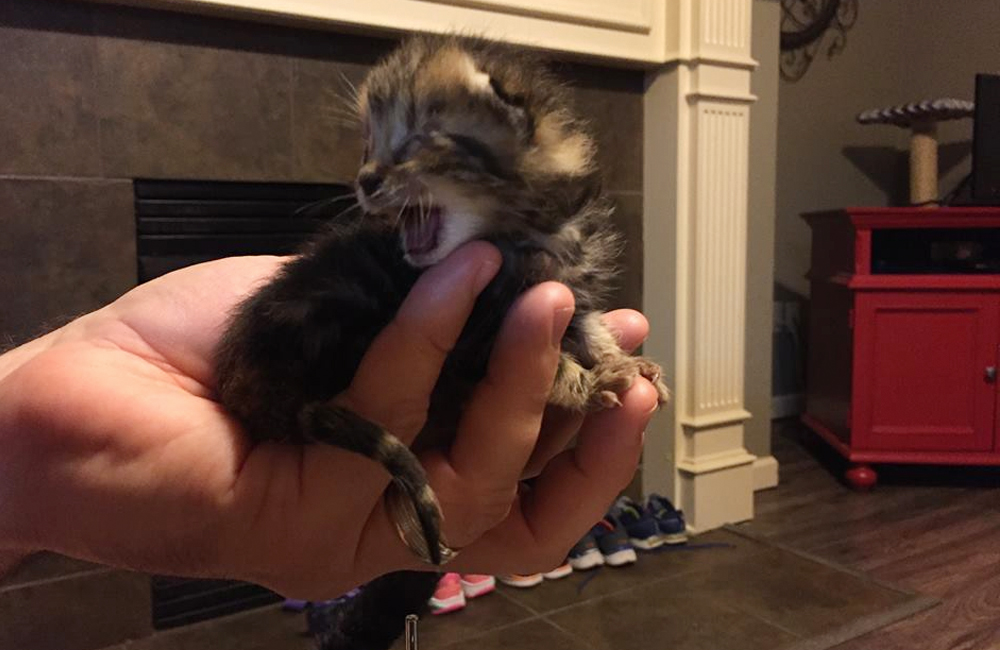 Luckily, Rachel and Maury always carry a can of cat food in the car. And needless to say, it doesn't last long. Overcome with emotion, Rachel and Maury well up with tears.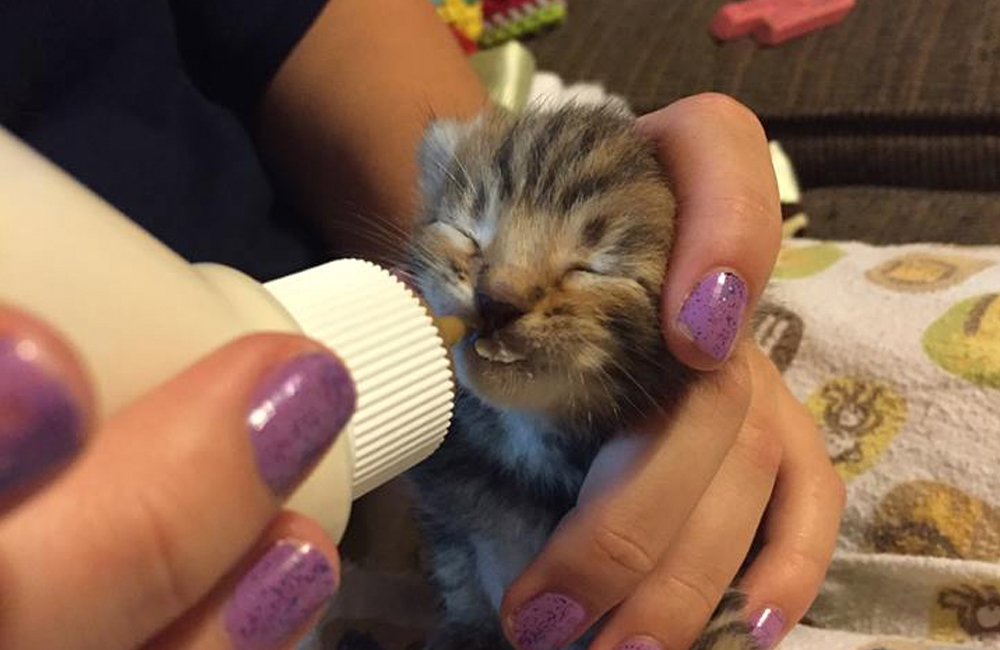 "He was alone crying for help and his voice was hoarse," says Rachel, speaking to website LoveMeow. "We think he had been there for a few days. His paw pads had been burnt from the hot pavement. He was so happy that someone rescued him," she continues.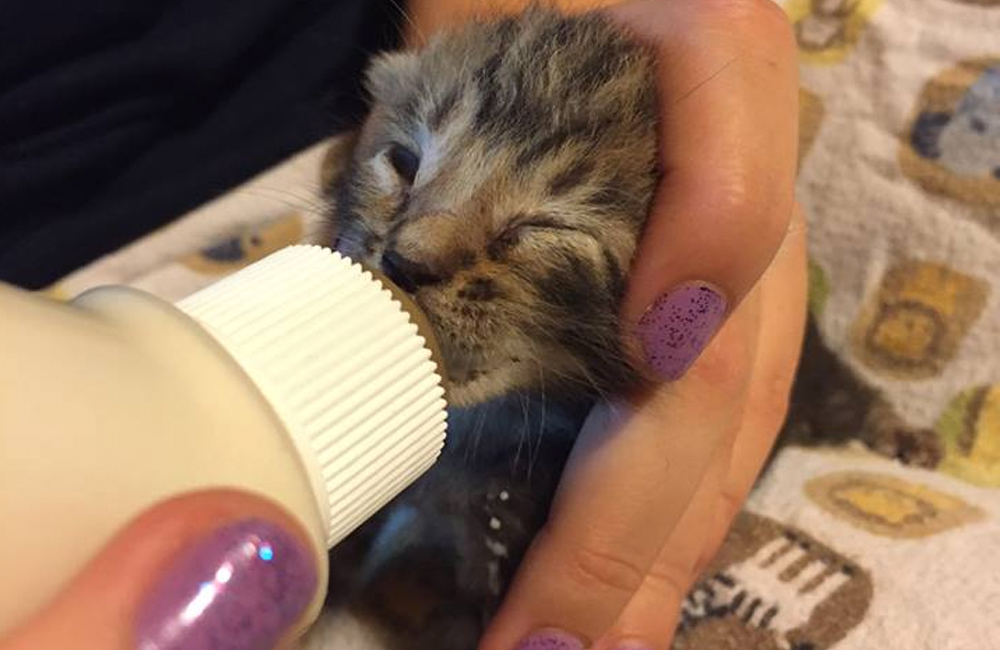 "We rarely find a kitten ourselves," explains Maury. "They are normally brought to us. We were excited that we had rescued him together, and so thankful that we were the ones… that heard his cries."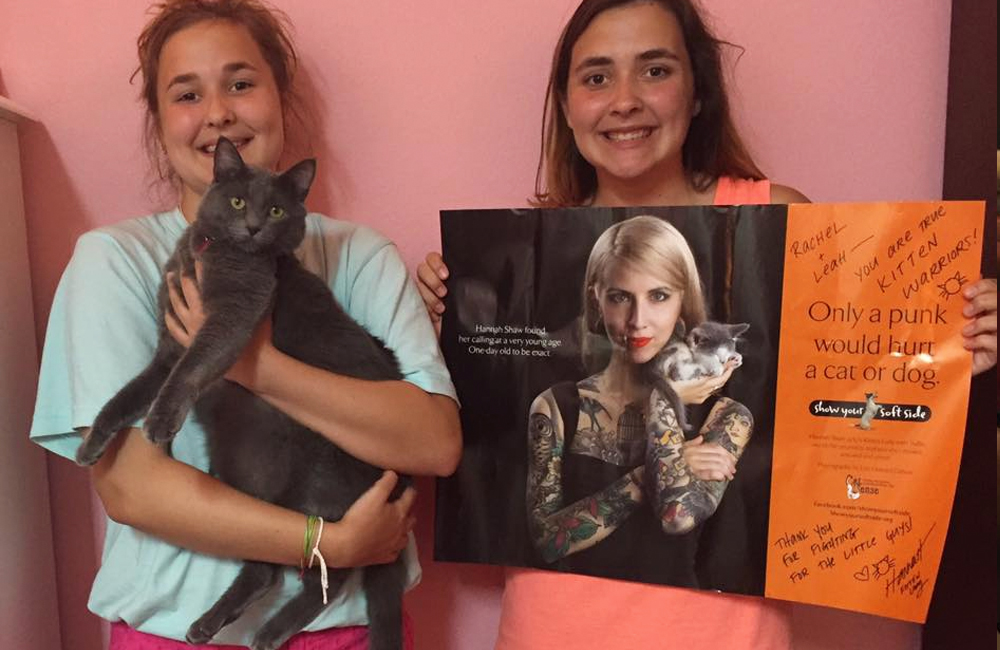 For teenage Rachel, though, it's all in a day's work. You see, operating under the name Kitten Warriors, Rachel and her sister Leah have been helping stray cats find their forever homes for years now. Ever since their first "miracle" rescue, Mason.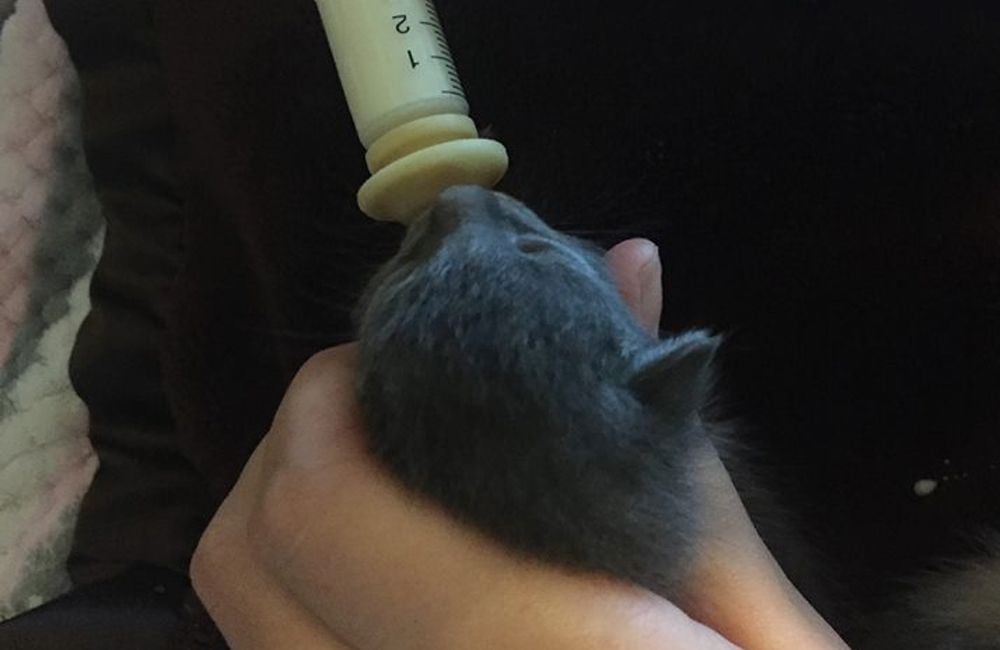 "He is the reason we started fostering," says Rachel, speaking to LoveMeow. "We have taken in around 150 kittens… a big majority of them being orphaned or sick."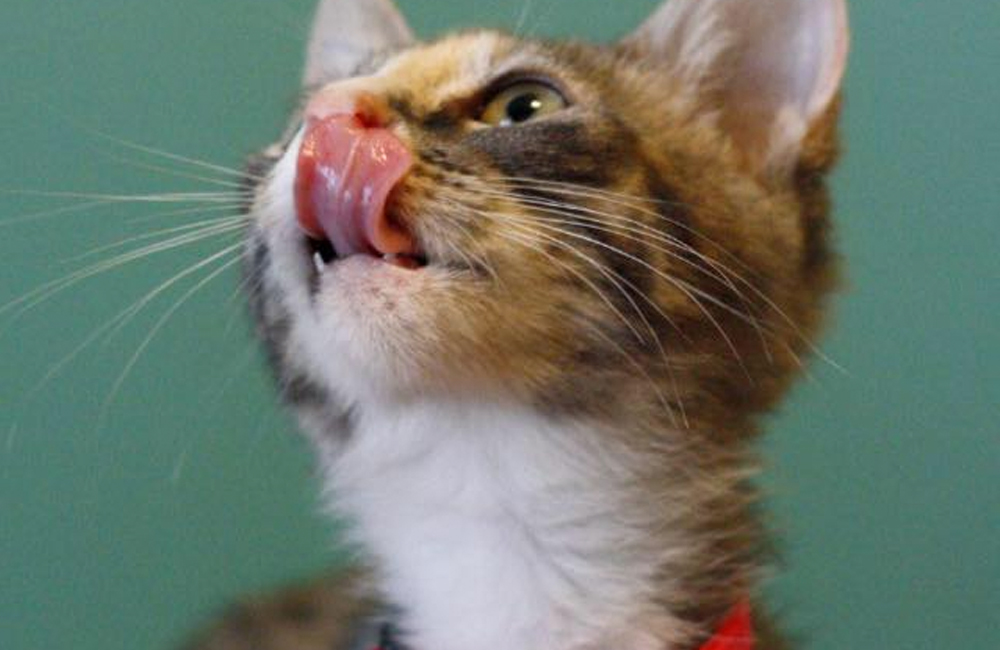 Rachel and Leah named the little ginger kitten Ollie. And sure enough, the compassionate teenagers found him a new home, a new family and a new shot at happily ever after.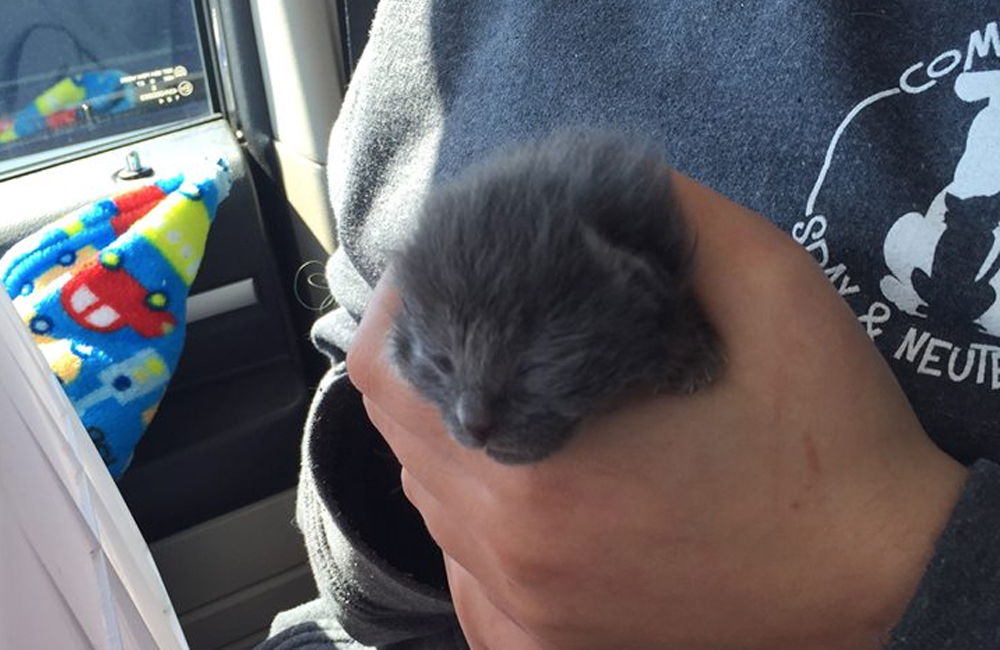 Ollie was paired off with another foster kitten the girls had named Darwin. "The family that adopted them has two… dogs, and a cat that was very lonely after losing his best cat friend," Maury tells LoveMeow.
"These two kittens have helped him so much. He had been very depressed and stopped playing and now he's active again and plays with his new kitten friends," she adds.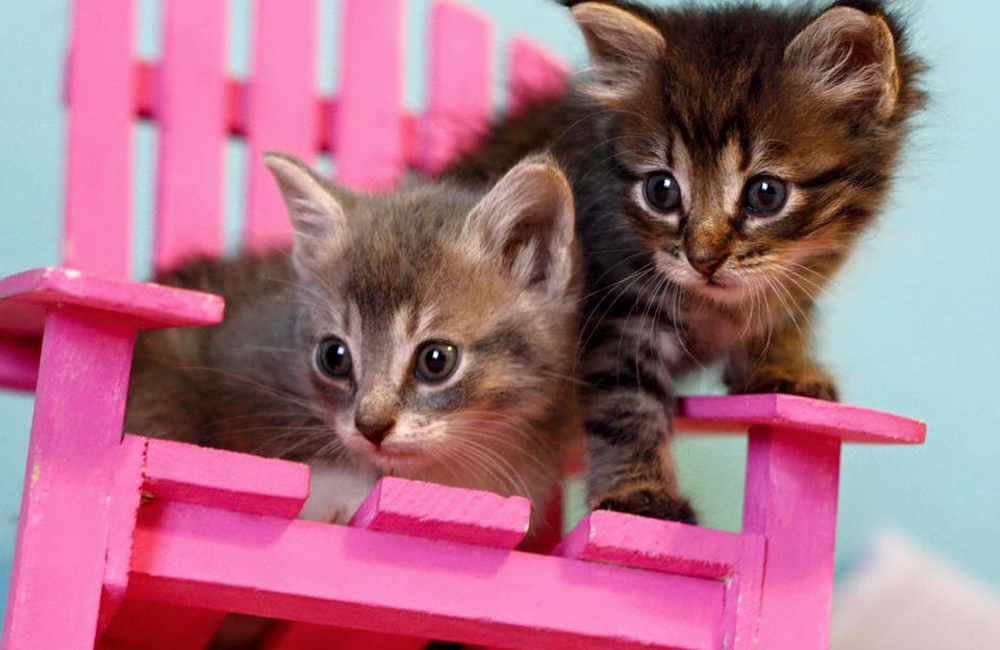 Rachel and Leah were partly inspired by popular, Washington-based animal advocate Hannah Shaw. Shaw founded her own "orphaned kitten rescue and advocacy" organization, Kitten Lady, in 2014. And currently, she has 188,788 likes on Facebook and just under half a million followers on Instagram.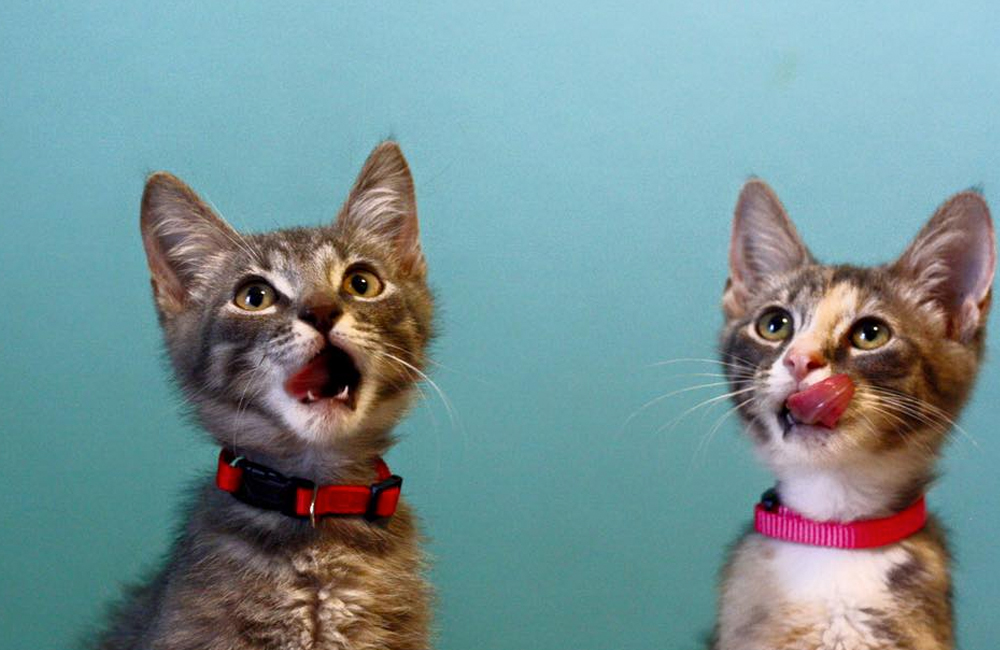 In August 2017, Shaw shared a touching story online. She had been contacted by a follower of hers based in Arkansas. The follower told Shaw all about Rachel and Leah, and the incredible, selfless work they're doing with Kitten Warriors.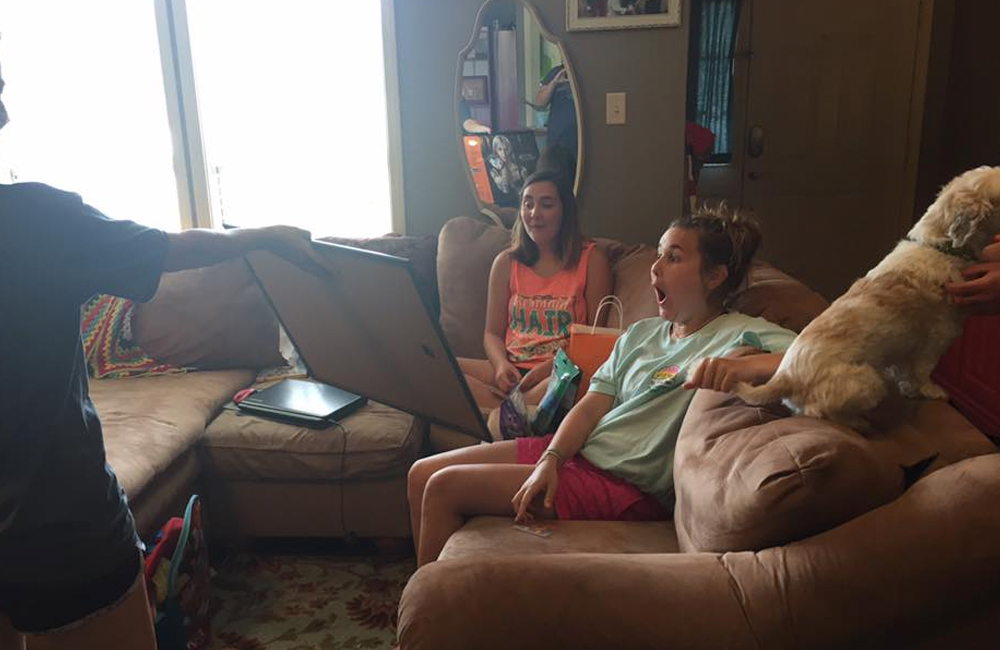 Moved by the Draper girls' story, Shaw sent them a signed poster and personal note, letting the two girls know how "freaking awesome they are." And when the package arrived, Rachel and Leah were over the moon.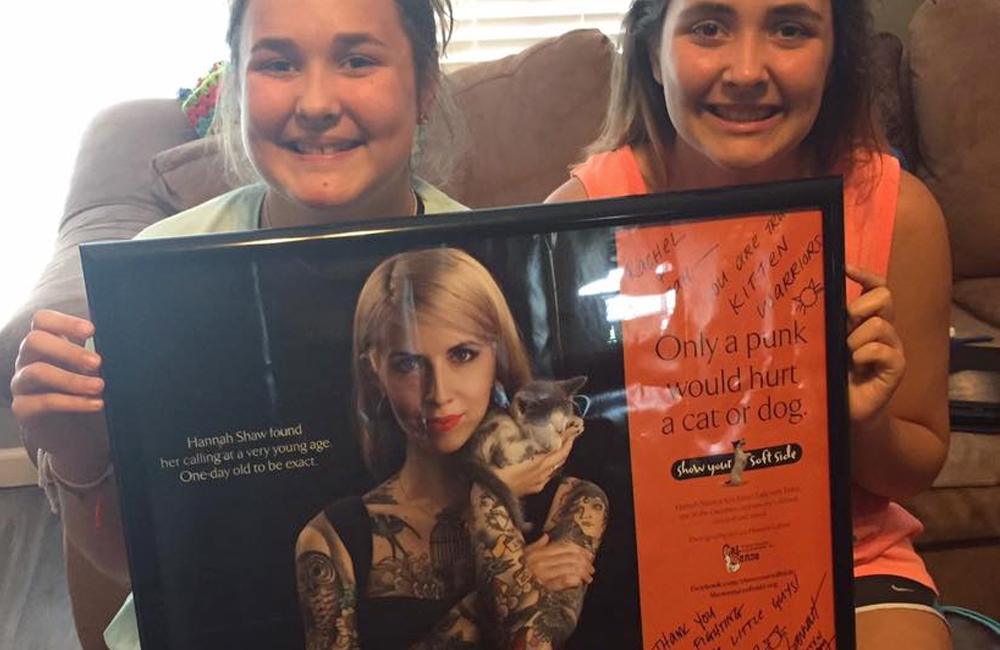 "This means the world to me. Thank you so much for everything you have done. You have inspired me so much," wrote Leah on Shaw's Facebook profile. "Thank you so much… You are such [an] inspiration and I am beyond excited to have a poster with your autograph," added Rachel.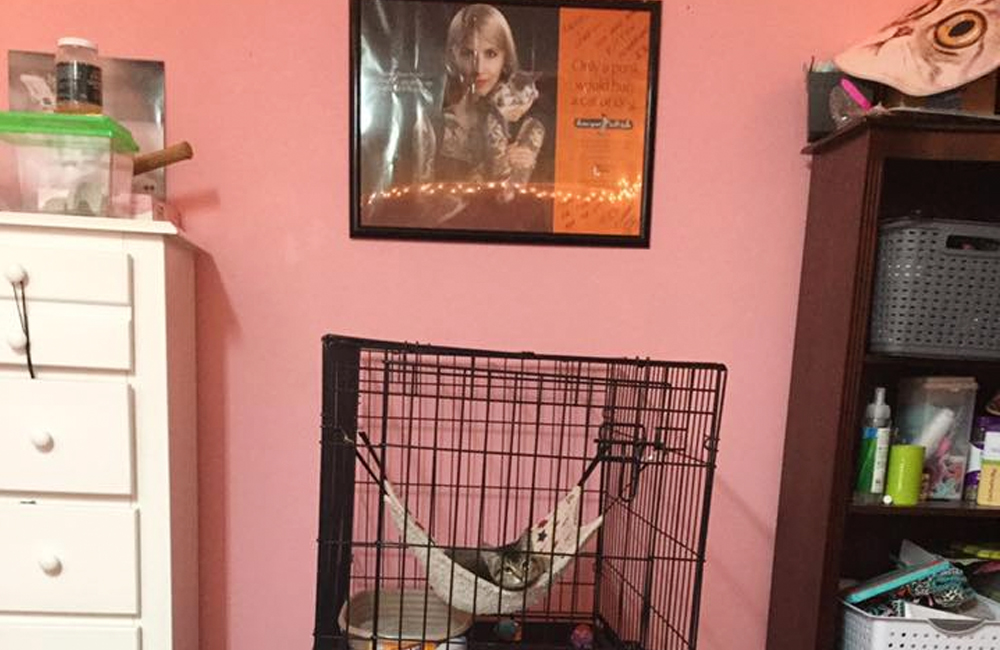 The signed, "show your softer side" poster now hangs with pride in the girls' foster room, like a personalised certificate, trophy or badge of honour from one kitten warrior to two others.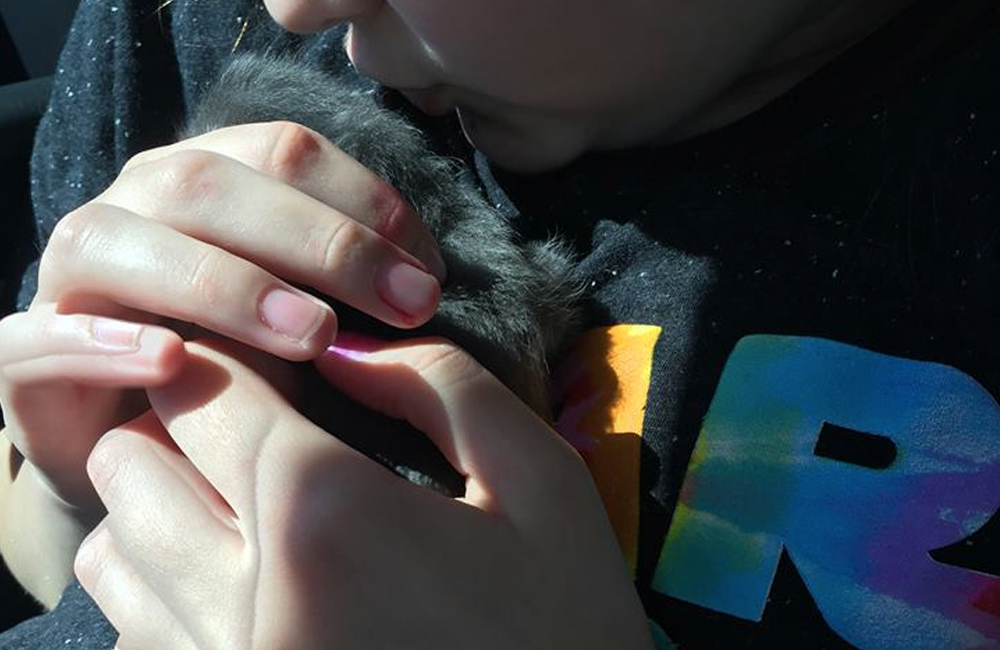 From hand-feeding tiny kittens and clearing up eye infections to finding them new homes, Rachel and Leah always have their hands full. And In August 2017, the enterprising young girls set up a PayPal donation page to help them cover their rising costs.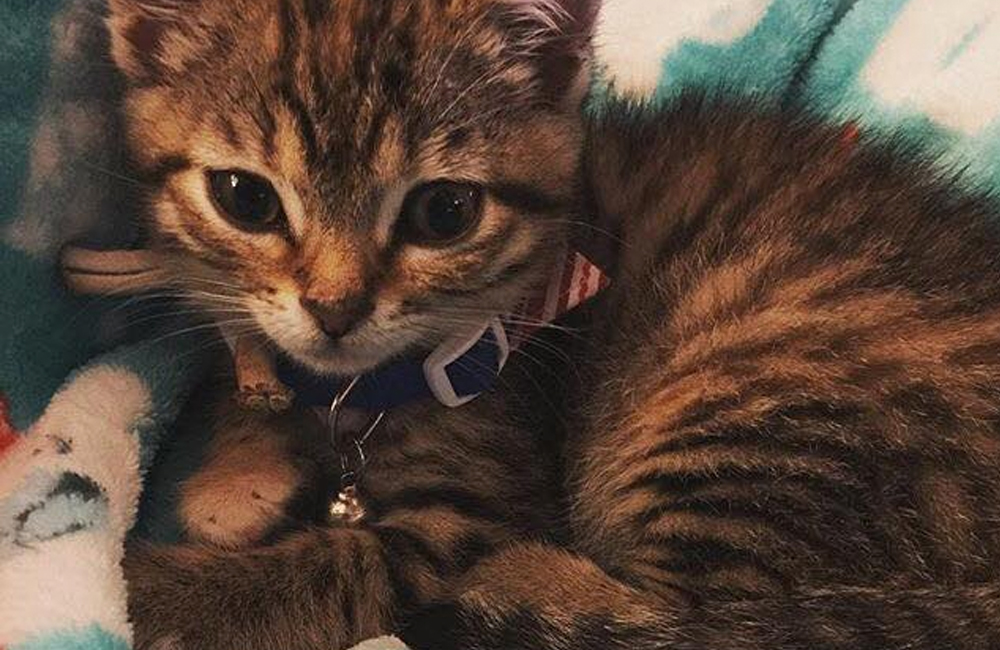 It's a tough job balancing school and kitten rescuing as well. A few weeks ago, for example, the girls were trying to take a break from Kitten Warriors to focus on their studies, but "a late night emergency text" came in and they simply couldn't say no.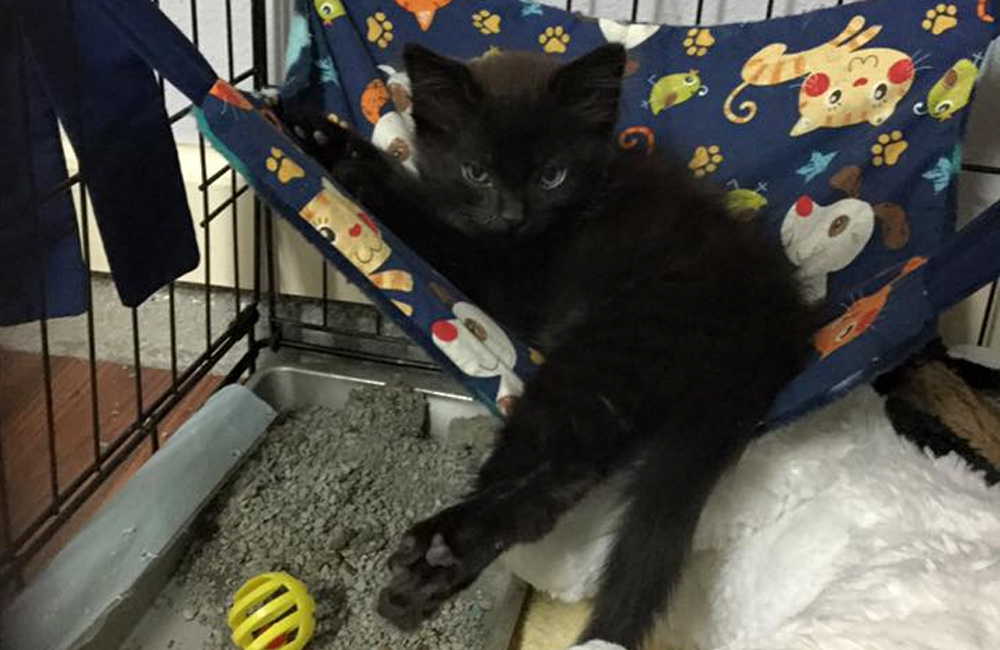 That night Rachel and Leah found themselves nursing seven tabby kittens. Fortunately, the abandoned young cats were rescued just as a raccoon had stumbled across them.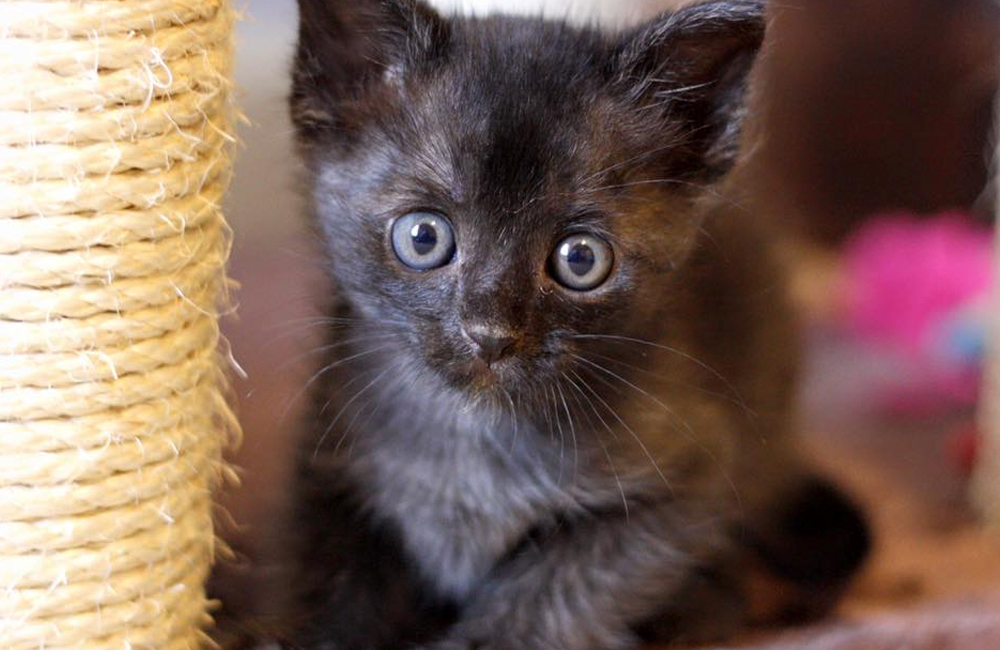 Sadly, not all the Kitten Warriors' stories have happy endings. And along with their tales of success and redemption, Rachel and Leah do face heartbreak and tragedy as well.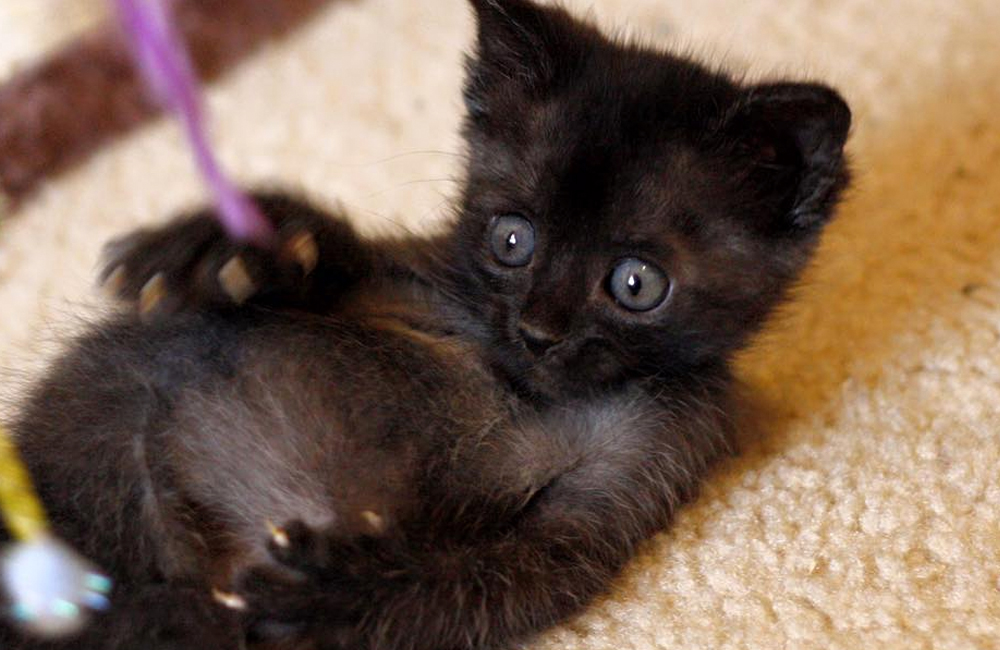 Scrolling through the Kitten Warriors Facebook page, there are a few sadder posts about kittens who didn't hang in there and pull through. Typically, each one of these touching posts is shared with the kind emotion and empathy you'd expect from two such caring girls.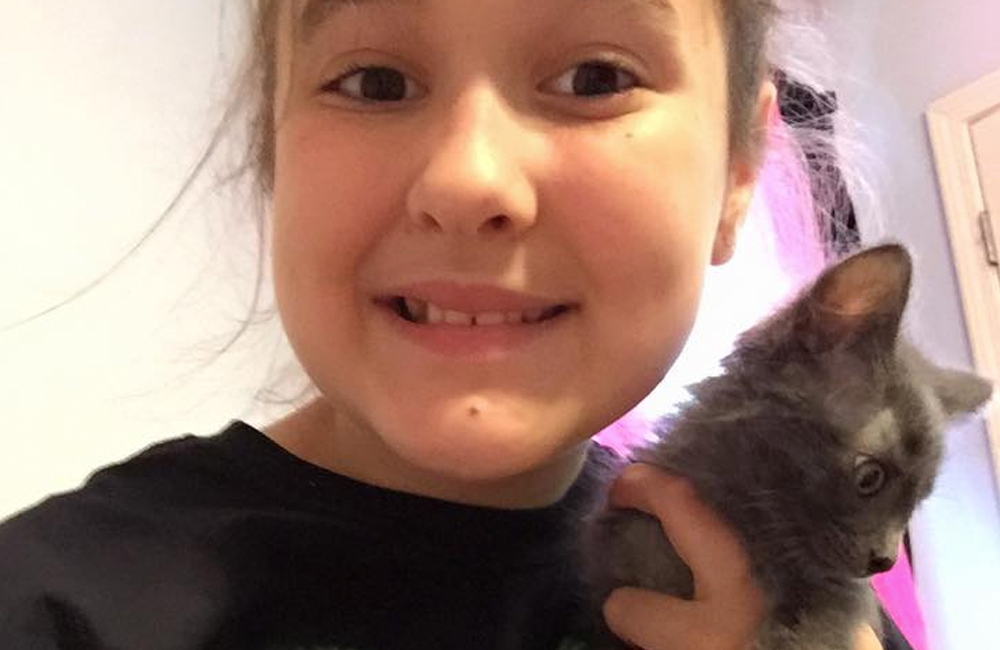 It's heart-warming, really. That two teenage girls care more about saving tiny, defenceless kittens than snapchat and Taylor Swift. At the same time, however, you do have to wonder what kind of monsters leave kittens by the side of the road in "Walmart" bags and toss them out of their car windows.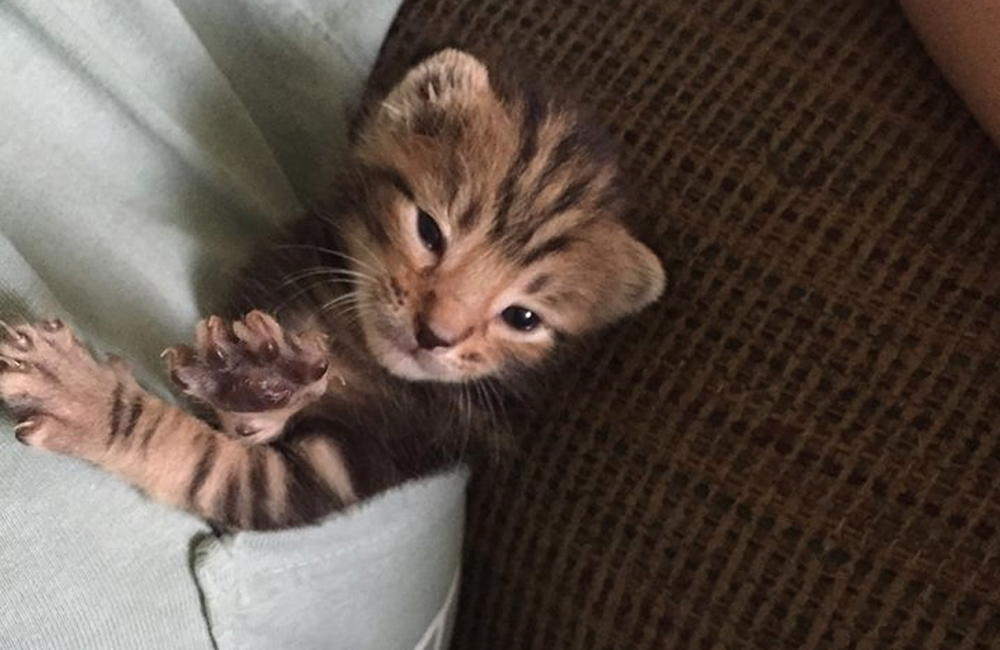 Thankfully, Rachel and Leah are there to pick up the pieces. And with all the bad news forced down our throats on a daily basis, it's nice – and inspiring – to stumble across something so positive, earnest and selfless. Something so pure, kind and heartfelt. To quote Hannah Shaw, "Keep it up Rachel and Leah. You two are superheroes."