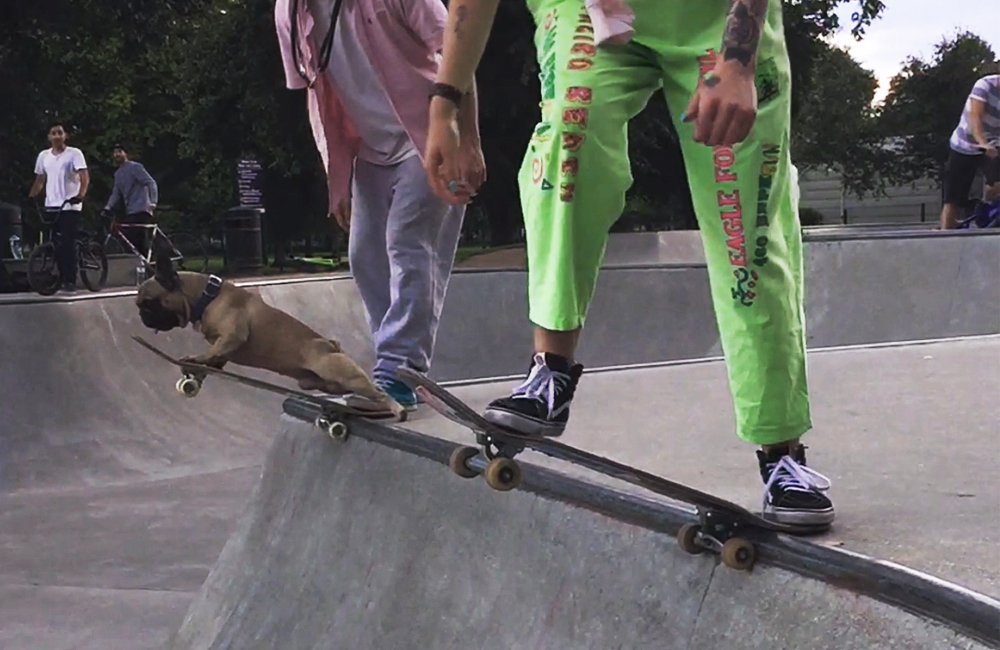 Imagine the scene. You're walking in the park. You hear the familiar sound of skateboard wheels spinning on asphalt. Nothing out of the ordinary. But for some reason, this park skater has attracted a huge crowd of people. They've all got their phones out. Cameras click. Videos roll. Adults giggle like children. Then you realise, this skater barks. Non-stop.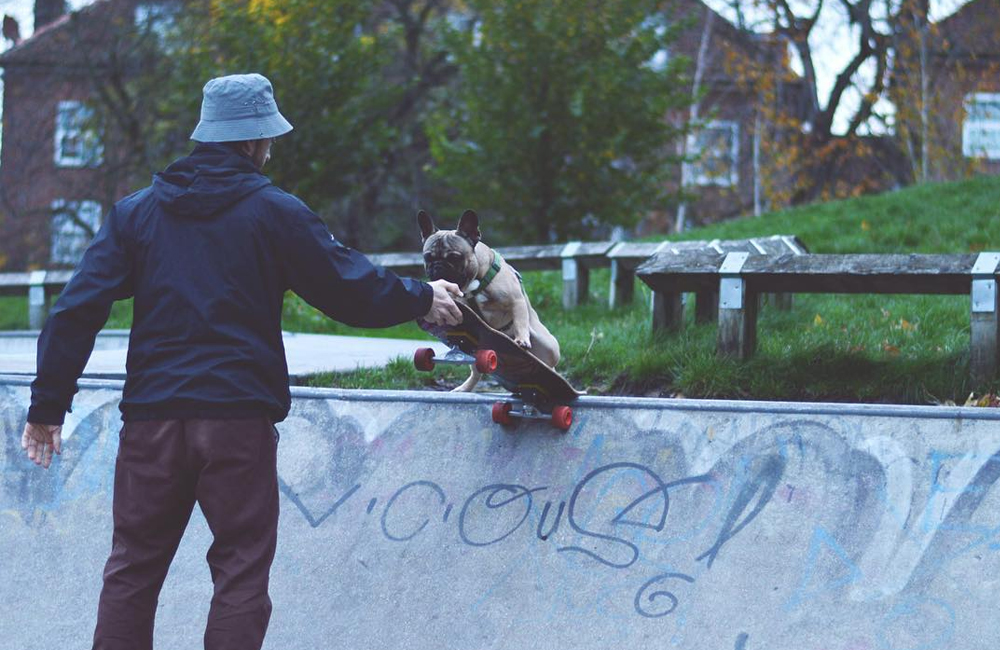 It's no gimmick, though. This loveable pooch is a "sponsored" skater, with his own custom board, endorsements and merchandise. He's a big deal on social media as well, with more than 31,000 followers on Instagram and a collection of viral YouTube videos that have been shared and viewed by thousands. Oh, and he's rolled with skate legend Tony Hawk.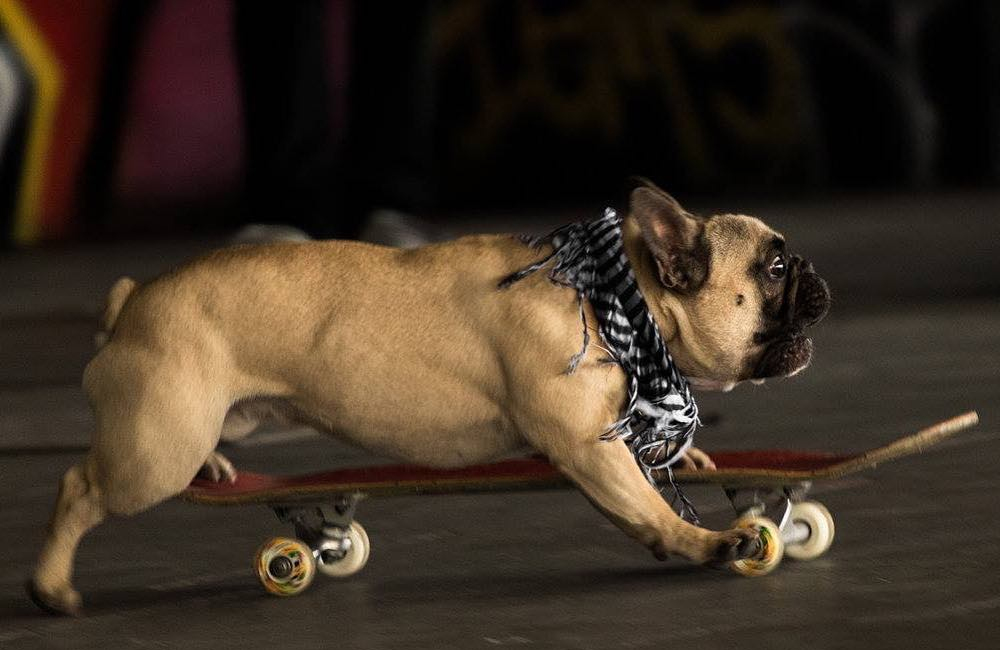 The skater in question is Eric, aka Eroc the Dog, an excitable, two-and-a-half-year-old French bulldog from Hackney, north London. And watching him hop on his board, push himself along with his paws, hop off, grab the board in his mouth, spin it around and hop back on is quite something. Watching him drop in on a bowl, on the other hand, is completely surreal.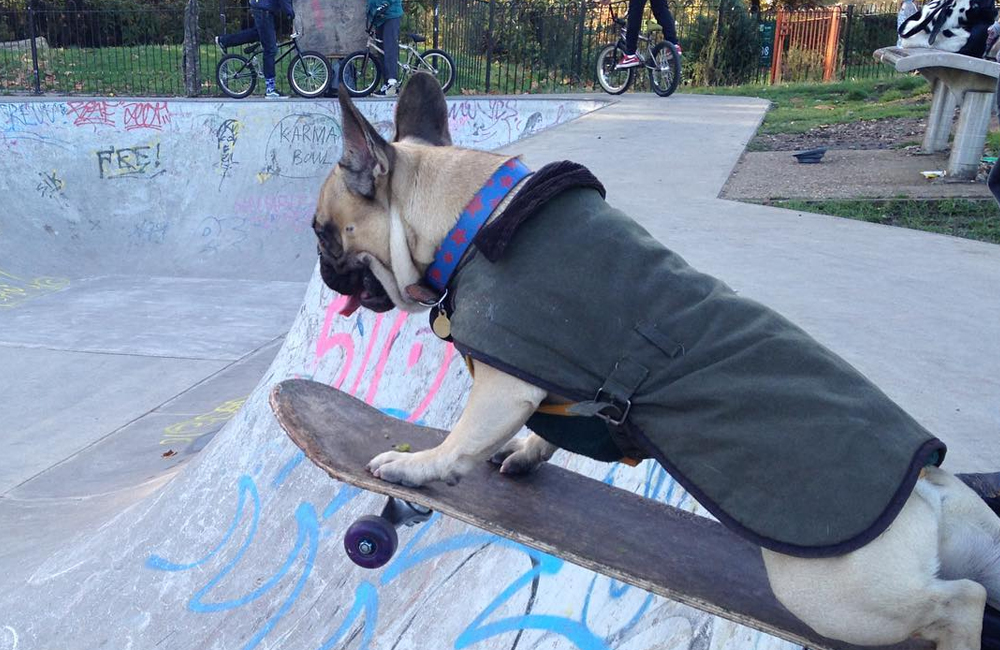 According to his owners Claire Maclean and Joel Deason, Eric taught himself how to skate when he was around six months old. "I was walking him in the park, and I heard this kid screaming," says Maclean, speaking to the Hackney Gazette. To her amazement, Eric had stolen the kid's skateboard and was making a swift getaway down the hill.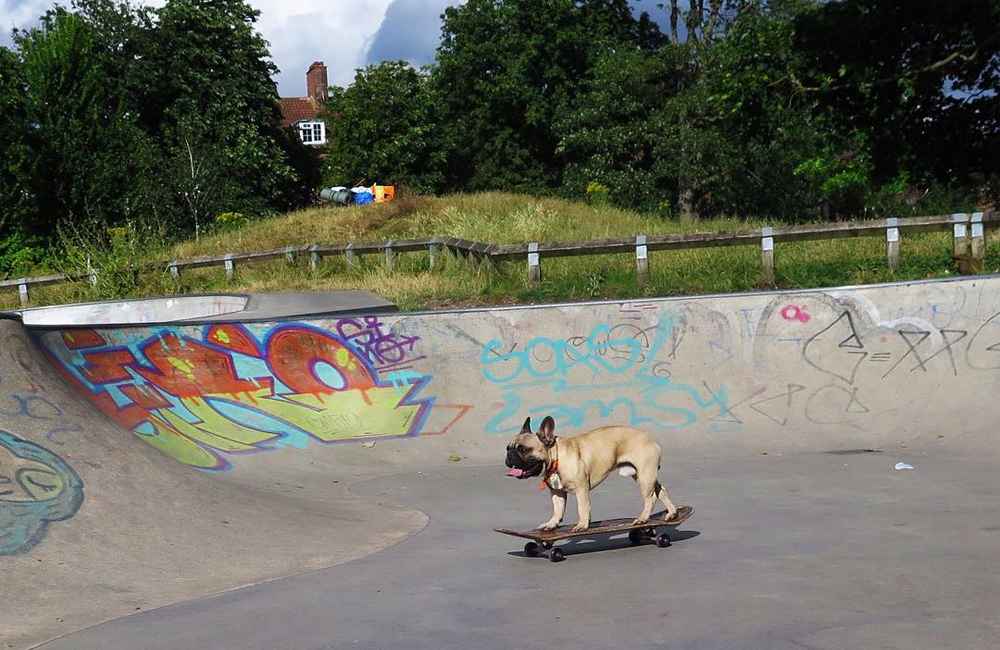 "He was totally standing on it, even pushing himself," she continues. "I was a bit in shock, as I'd never seen it before. [We've] never put him on the board and pushed him." Eric's interest in the sport, at least at first, was sparked by Deason, who has been skating for more than 20 years.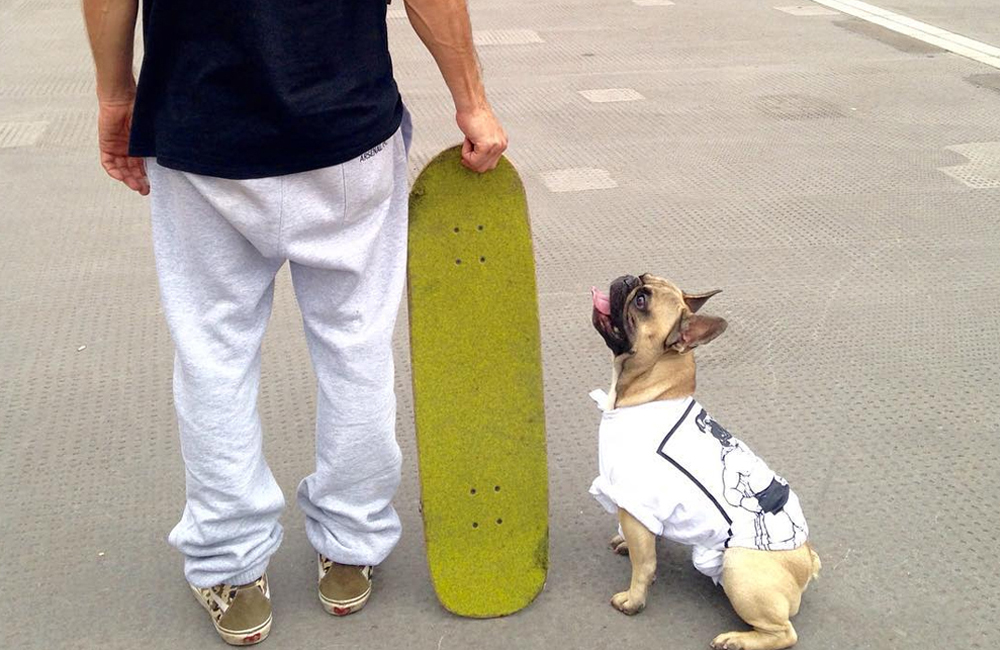 Eric got his first taste of skateboarding early on. When he was a pup, Deason used to take him to skate parks, carrying him around in a harness and popping him down while he skated. But even Deason could never have guessed just how much of an impression these trips would make on his young Frenchie.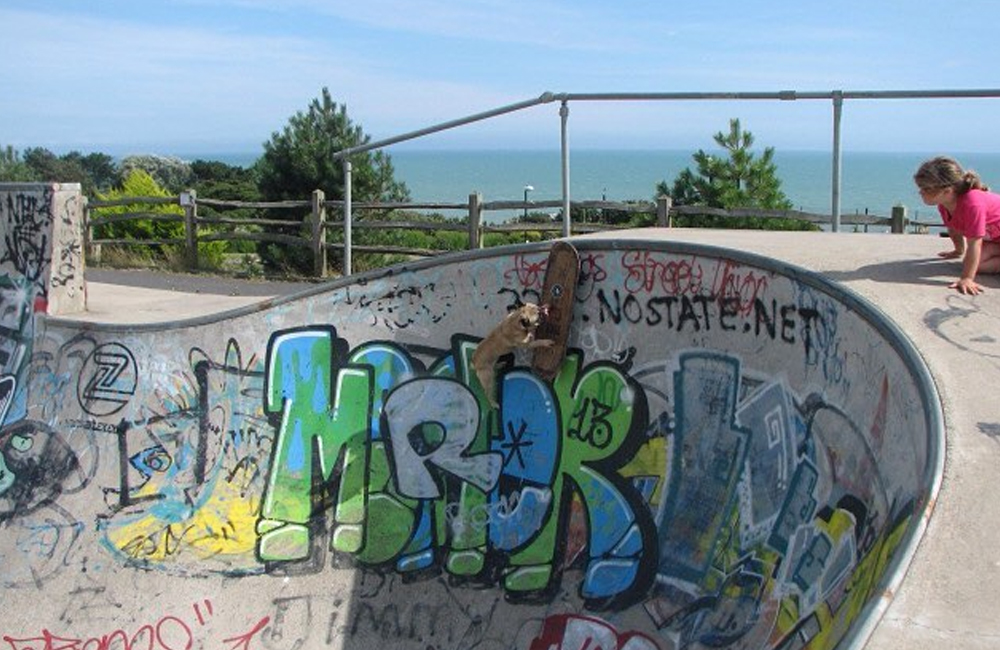 "I wasn't keen on Eric skating at first," Deason tells website The Tab. "[I] wanted to wait at least until his legs had fully grown. But now he's improving all the time."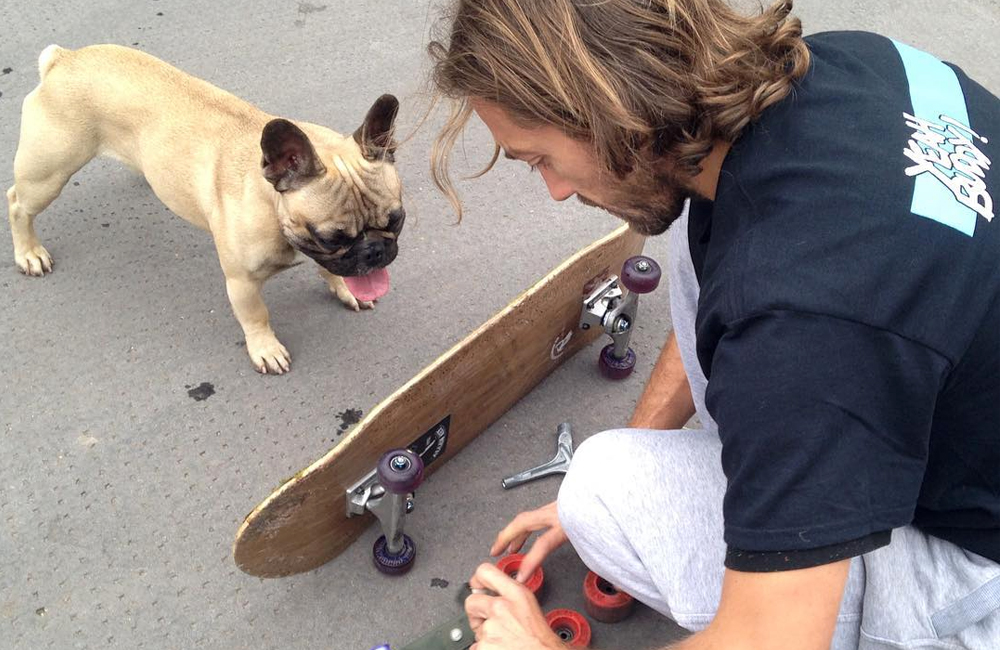 Deason admits that, at first, he actively tried to discourage Eric's skateboarding. Speaking to raw pet food company Nature's Menu, he explains that he just wanted Eric to get use to the surroundings and hang out quietly while he skated. But Eric had other ideas.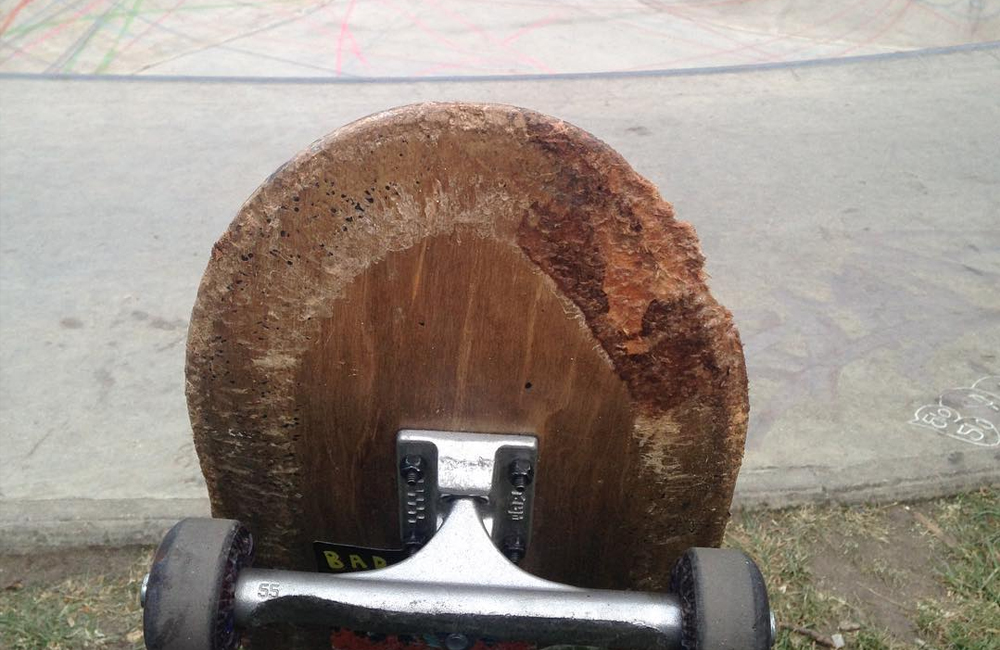 "[He] made lots of noise, and chewed the edges of the board. It all looked a bit wild to me," says Deason. "The third time he made a dash for the skatepark, and took someone's board into the bowl, I found myself being roundly booed when I took the board off him and ordered him out."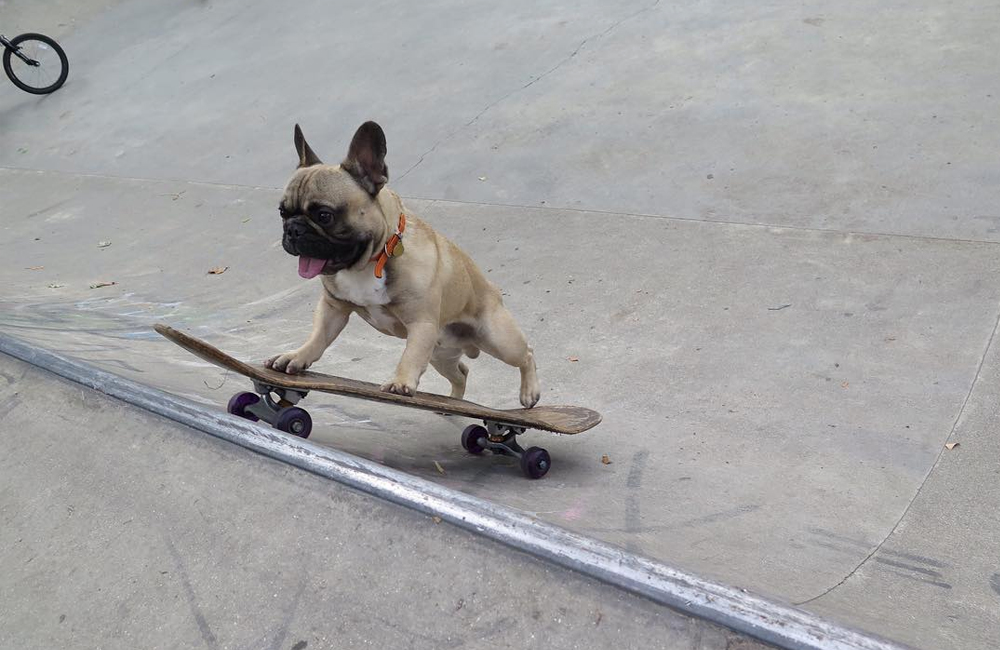 Eric is "sponsored" by the Three Amigos skate shop in Camden, north west London. And due to his special needs, the shop, which is run by a friend of Deason's named "Camo Pete," provided Eric with a custom ride with no grip tape, as the rough fabric wears down his nails and hurts his mouth when he picks up the board.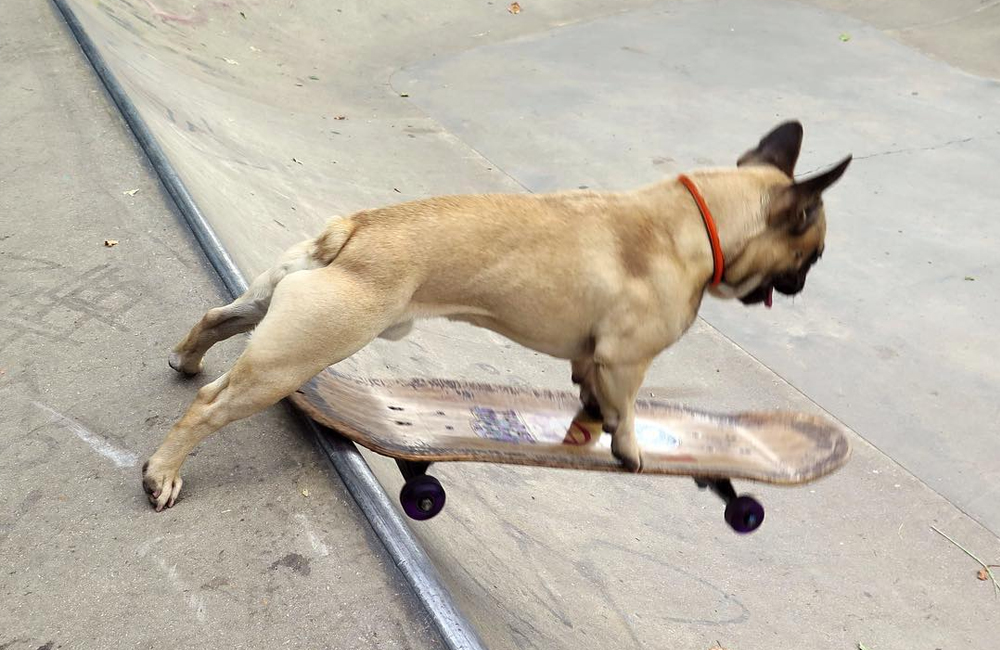 Like Derek Zoolander, Eric also struggles with turning left, so the trucks of his board have been adjusted to suit his unique skating style. "The next step is teaching him to wait for his go on the bowl," jokes Deason.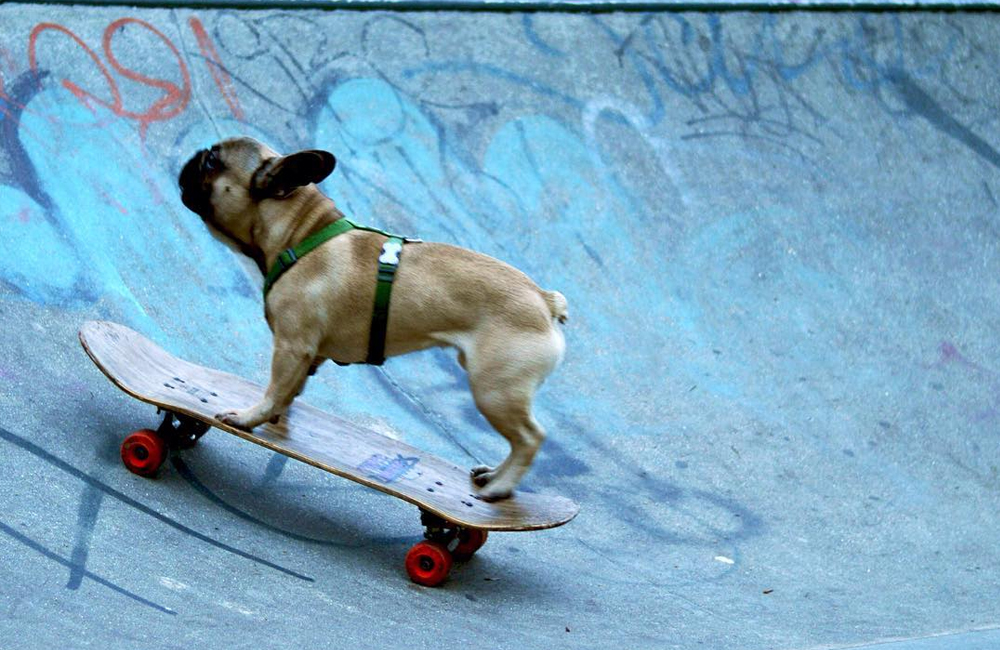 Still, the most difficult thing, it seems, is to convince Eric not to bark all through his skate sessions. "He loves to bark at the board every time we take him out," jokes Maclean. "He just won't shut up!"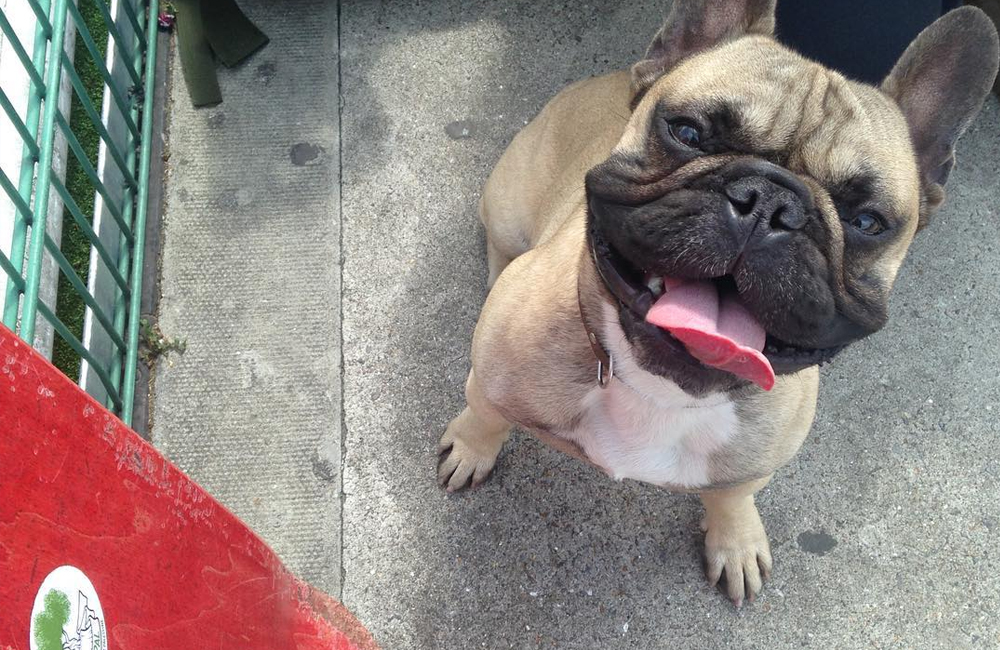 Maclean and Deason have taken Eric to various skate spots in north London, but his favourite place to skate is Clissold Park Skatepark in Stoke Newington. Specifically, the park's two medium-sized skate bowls.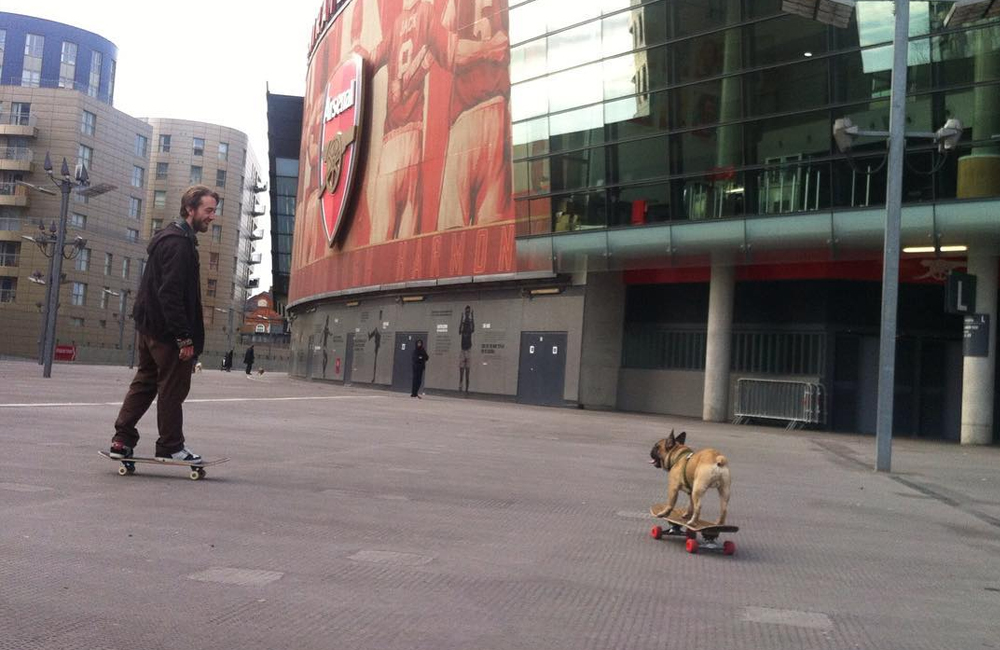 Apparently, Eric is well known and loved by the local skaters and BMXers at the park. But Maclean admits the attention her pooch attracts can get quite embarrassing at times. "While we're at the park excited children gather round and a growing crowd applauds as Eric skates up and down."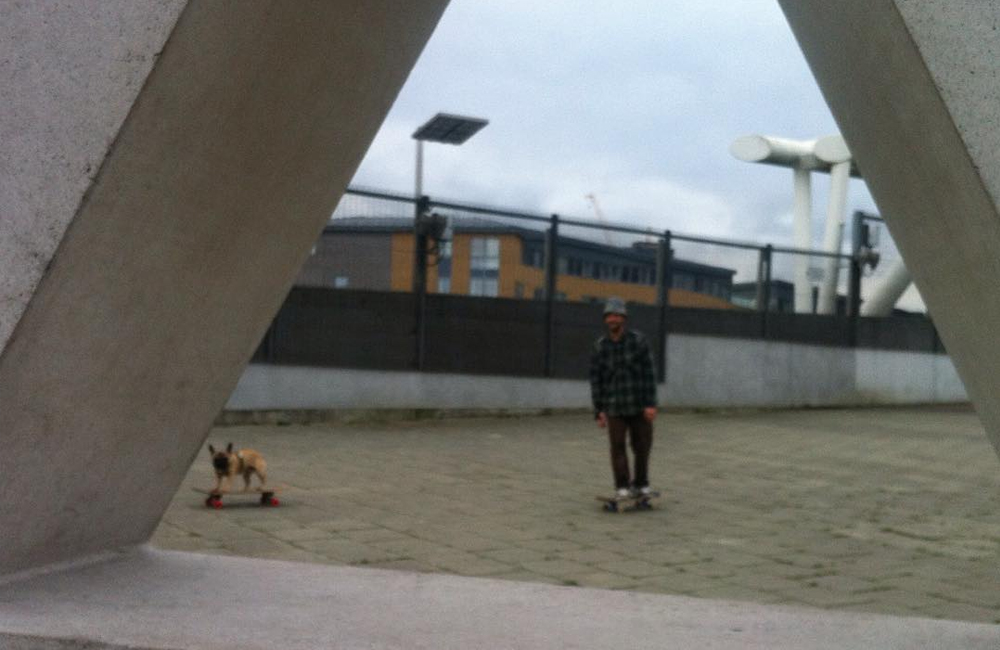 Still, Maclean is quick to stress that Eric isn't a "circus trick," and that it all happened "organically." As a breed, French bulldogs are known for breathing issues and their inability to cool themselves down efficiently.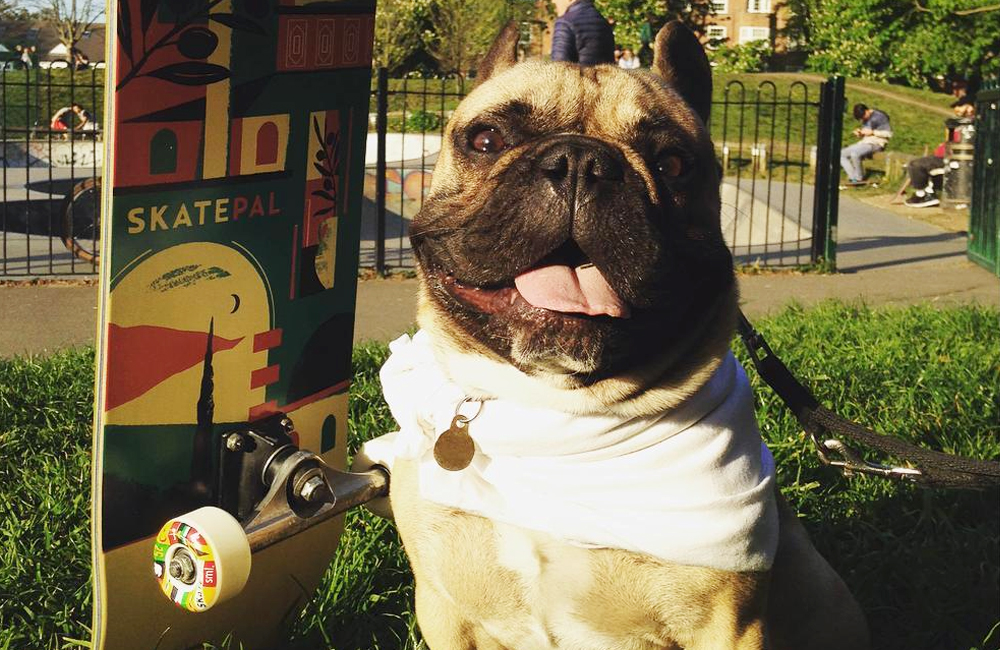 As such, Maclean and Deason are always conscious that Eric has limits and they monitor how long he skates for, ensuring that he takes enough breaks to calm down. Still, they admit that Eric would be at the park all day if it was up to him.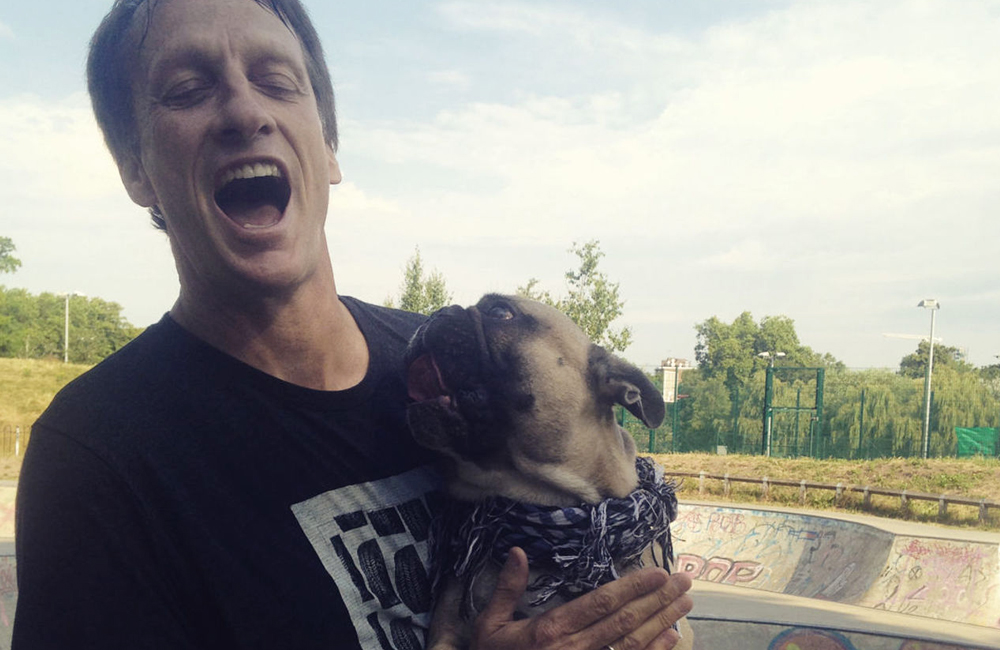 In July 2017, Clissold Park Skatepark hosted a very special guest when skateboarding legend Tony Hawk turned up for a low-key session. Apparently, he called Eric out personally. And of course, Eroc the Dog didn't take much convincing.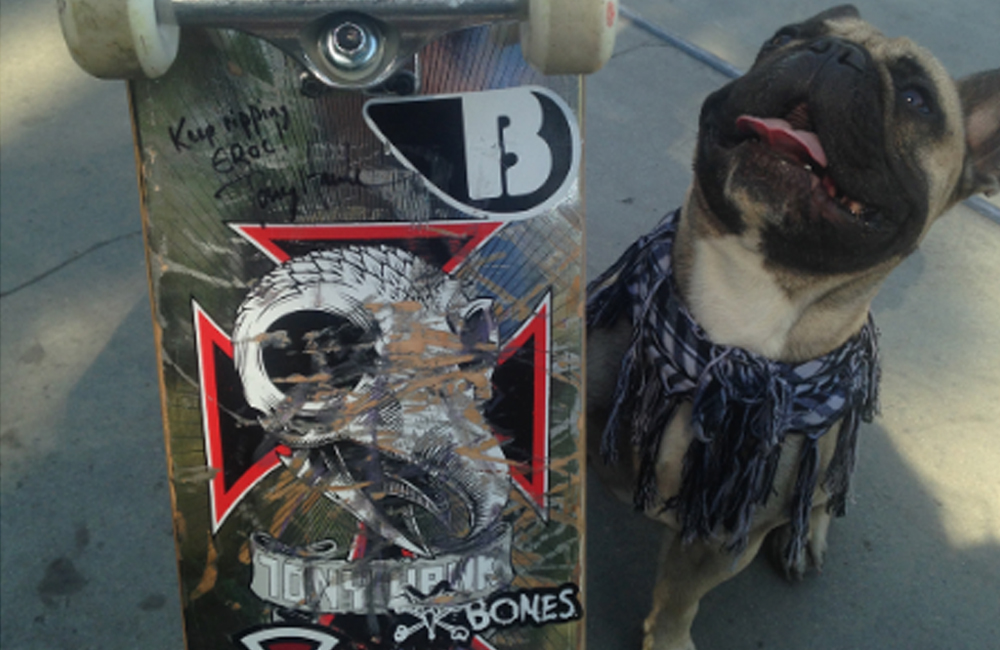 "My pal Tony was in London and called me out for a skate… so I just took him down my local," wrote one of his owners on his official Instagram account. "Had the privilege of skating with @erocdog today," posted Tony Hawk on his own profile. "Caution: only bites when snaked. Best body varials though," he added.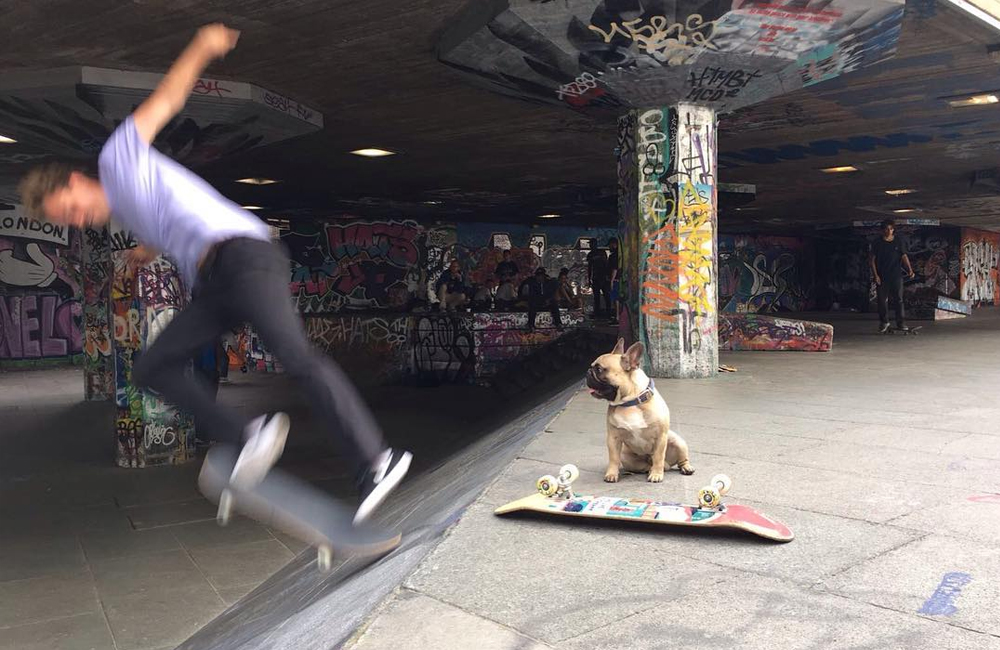 Eric often makes guest appearances at various skate events around London. In June 2017 he lent his support to the SkatePal Southbank Jam at London's legendary Southbank Skatepark – one of Eric's regular haunts. SkatePal's mission is to build a skatepark for young people in Palestine and Eric is a big supporter of the cause.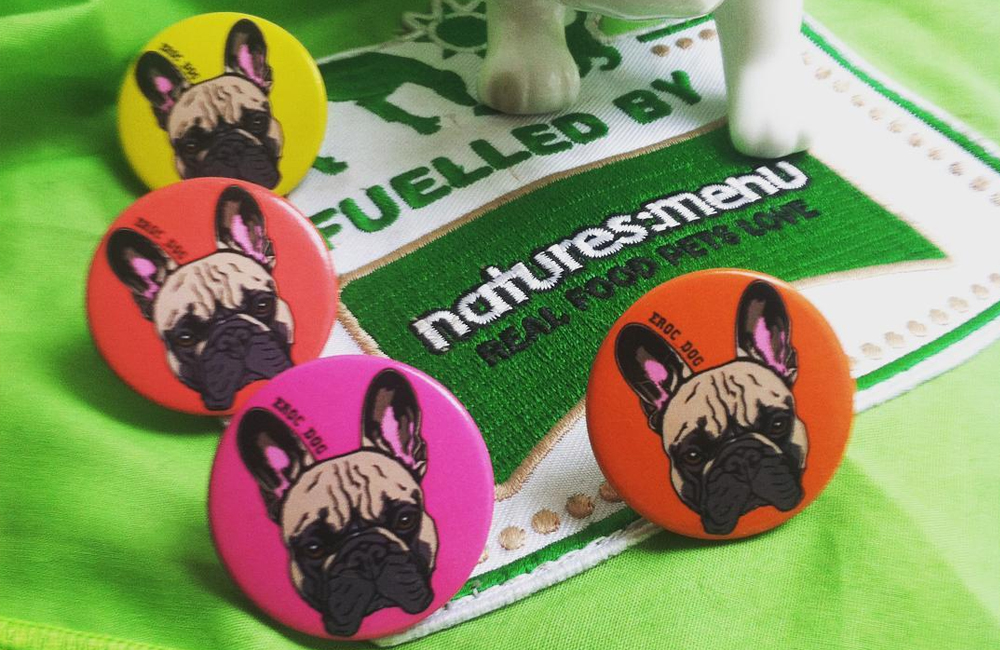 Eric has also featured in magazines, including Vogue, and gone viral several times. Once, in 2016, he was spotted by South African professional BMXer Greg Illingworth, who filmed Eric tearing it up in Clissold Park.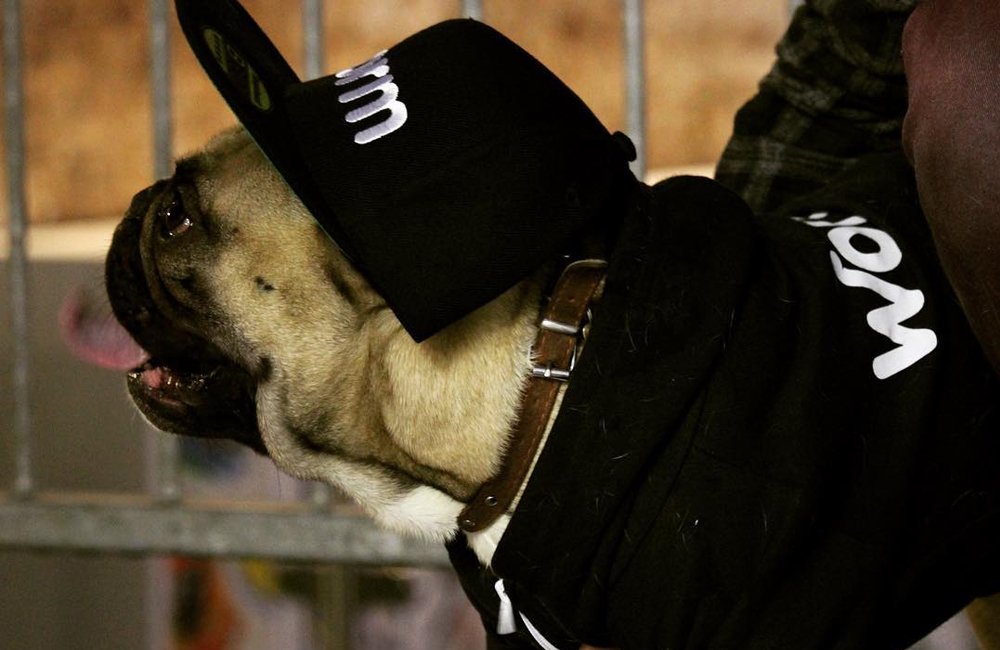 The video blew up online and Eric earned more than one new admirer. Incredibly, his newfound fame comes with newfound perks. And suddenly, he was endorsing brands on Instagram and getting his own merchandising made up by food brands eager to be associated with him.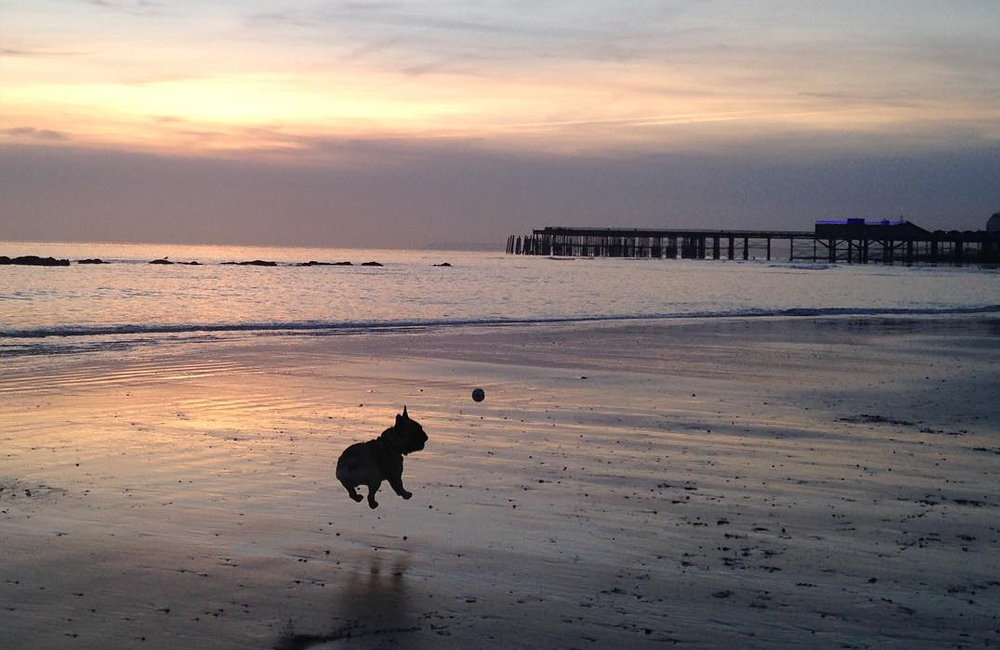 Eric's enthusiasm and sheer joy for skateboarding is infectious. At first, his antics might come across as a fun novelty. A gimmick. But the more you watch him in action, the more you're struck by how good, and how fearless, he actually is. "I've seen dogs get on skateboards and push them around before but this was incredible – he looked like he really knew what he was doing. I think he's really talented," says Illingworth. The most incredible thing, however, is that it's all self-taught, and he just can't get enough of it.