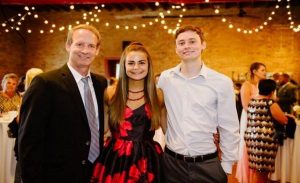 Five months after Bill Conner suddenly lost his 20-year-old daughter Abbey, he felt he had to do something to honour her short life. What he decided to do is heart-breaking. Tragedy had struck on a winter break in Cancun, Mexico, when Abbey and her brother Austin had been found unconscious, face down in a resort pool, victims, it's thought, of having had their drinks spiked with drugs. By the time the pair were discovered and pulled out of the water, Abbey had suffered irreversible brain injury.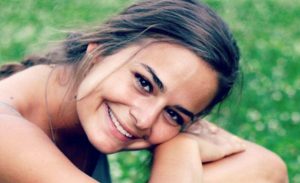 She was flown to Broward Health Medical Center in Fort Lauderdale, Florida, where she was kept on life support until doctors could harvest her organs for transplant. It transpires that as soon as she had got her driver's license at the age of 16, Abbey had made the decision to be an organ donor. It was something her family had previously discussed, and, talking to CBS News, Conner said: "She registered. It's something that she knew a long time ago. Unfortunately, it came to fruition, but that's Abbey. If you had her as a friend she always had your back, and for her to be helping people in need – that fits who she is."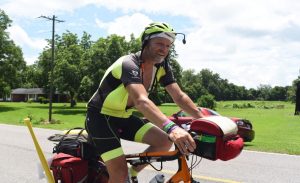 Conner decided to cycle over 2,000 miles, from his hometown of Madison, Wisconsin, to Fort Lauderdale, Floridato to honour his daughter's memory and as a way of helping him to deal with his own grief. The arrival point in Fort Lauderdale was to be the Broward Health Medical Center. It was at this hospital that Abbey had died in January this year. It's a place which, in Conner's own words, "took exceptional care of my daughter and prepared her to donate her organs."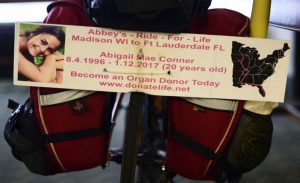 But he wanted to do more than that. Along the way on this epic bike ride, Conner wanted to encourage every stranger he met to become a registered organ donor. Just like Abbey. So, on May 22 2017, a day after his 23-year-old son, Austin, graduated from college, Conner hopped on a bike and began riding across the country as a way of processing his grief and bonding with the memory of his daughter: "This is what she would want me to do," he told CBS News.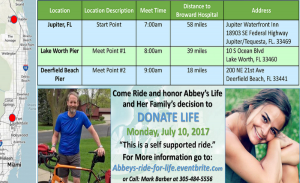 The bereaved father has been riding an average of 60 to 65 miles a day, six days per week. Along his route, he as been sharing the story of his daughter with countless people who ask him about the 'Abbey's Ride for Life' sign on the back of his bicycle. Conner said: "Through my entire ride, I will be bringing awareness to the impact of organ donation and how important the gift of life truly is when tragedy shows up on your doorstep. I will be asking people to register online to become organ donors. Helping people and coming to their aid in a time of need, knowing that your child, spouse, family or your friends have allowed someone else to live due to their generosity will be a comforting moment in the midst of your own tragedy."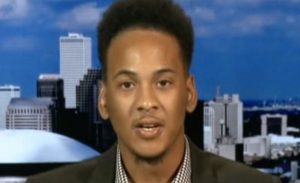 However, Conner's road trip was set to take a detour. He hadn't known it at the time, but as the family had been saying their final goodbye to Abbey, another family's drama was unfolding in another hospital a few states south. There, 21-year-old Loumonth Jack, Jr. a business management student from Lafayette, Louisiana, was given just 10 days to live after suffering two heart attacks brought on by the damage caused by a viral infection. His days were numbered and he needed a miracle.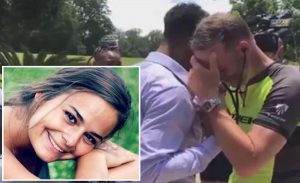 A seemingly healthy Loumonth Jack, Jr. had thought the tight sensation in his chest was just heartburn. It turned out he was having a heart attack. After appearing to recover with treatment Jack took a setback. His heart was failing, fast. And that's where two stories collide and Abbey provided the miracle that Jack needed.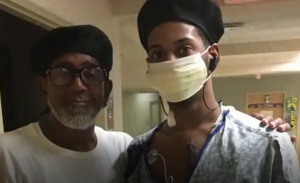 She died on January 12 and Jack received her heart the very next day. Knowing that they were matches eased the heartache for Abbey's family. Helping someone in need was what Abbey had been all about.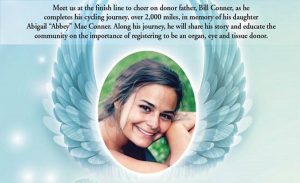 All in all, Abbey was able to donate four organs, allowing four males, aged between 20 and 60, to live. She also donated her eyes and other tissues. An amazing gift of life.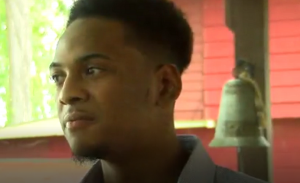 Conner had informed the Florida donation center that handled Abbey's organs about his decision to ride on her behalf, and as a result the group sent letters to every recipient, asking if they'd be interested in meeting their donor's father. The only person to respond at that point was Jack Jr.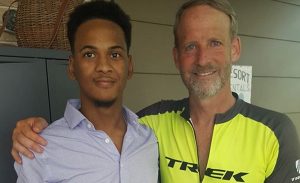 The two reached out to one another, striking up a friendship over the phone before arranging to meet in Baton Rouge on Father's Day – 1,400 miles into Conner's trip. What happened when they met is so touching it will make you well up with tears.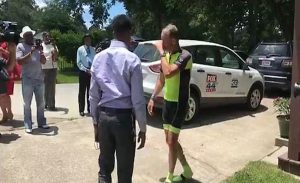 With four weeks of cycling and 1,400 miles under his belt, Conner pulled into the driveway of a camp where he would be taking a well-earned break, located along the north-eastern end of False River at Ventress, Pointe Coupee Parish, Louisiana. Minutes later a young man arrived with the most heart-rending Fathers' Day gift a father could receive.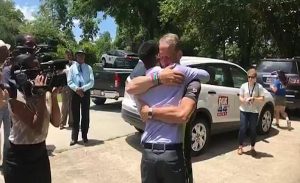 Loumonth Jack, Jr., recipient of the heart donated by his dear daughter, strode towards Conner, his arms outstretched. The pair held each other in their arms for a minute-long hug, before Jack revealed the amazing present he'd brought with him.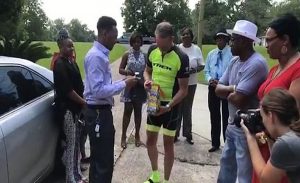 Jack handed the grieving father a gift bag containing a stethoscope. What happened next is achingly powerful.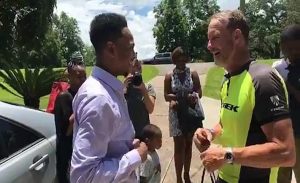 Jack unbuttoned his shirt, revealing a long, pink scar, and Conner places the stethoscope on Jack's chest. The two men become emotional and both cry as Conner listens to his daughter's heart beating once more, on Fathers' Day.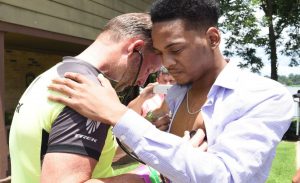 As he holds the man his daughter saved in his arms, Conner manages to joke through his tears, "Well, it's working!" before adding, "She's alive. Jack's alive and she's alive. It's her heart. This isn't about me. This is about Abbey and helping other people in need."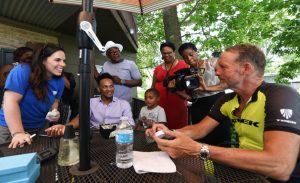 Conner spent the afternoon with Jack and his family. He told CBS News: "Knowing he's alive because of Abbey, Abbey is alive inside of him – it's her heart having him stand up straight. I was happy for him and his family, and, at the same time, I got to reunite with my daughter."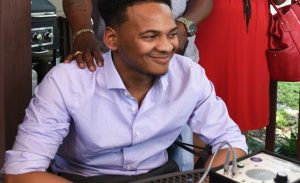 Jack's family made a recording of Abbey's heart beating inside Jack so that Conner can listen to it whenever he wants. Tragedy changes us, but out of sadness can come new beginnings and new relationships.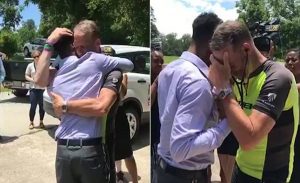 Jack said he's thankful not only for Abbey's heart, but for the connection he now has with her father, "You can't get relationships like that," he said. "His daughter is living in me."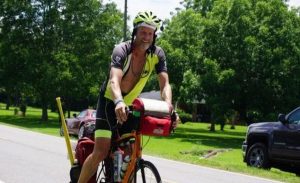 After meeting Jack and taking a well-earned break, Conner continued on his journey, spreading awareness about the importance of organ donation, and sharing his daughter's story along the way.